English @ the Movies: 'I'm From A Different Planet'
Today on English @ the Movies we talk about the saying "I'm from a different planet." It is from the movie "The Space Between Us." It is about a boy who grows up on Mars, but falls for a girl on Earth. What do you think "I'm from a different planet" means? Watch our video and find out!
.....................................................
What is the meaning of the word confront? Find out in this week's News Words.
..........................................................
A look at the best news photos from around the world.
Show more
1
Firefighters march up Fifth Avenue during the St. Patrick's Day Parade in New York City. St. Patrick's Cathedral displayed both the American and Irish flags and a special Mass was held there before the parade stepped off.
2
People hang on to a rescue line to cross a flooded street after a massive landslide and flood in the Huachipa district of Lima, Peru.
3
Ribbons featuring messages are displayed on a fence at the Imjingak Peace Park near the Demilitarized Zone (DMZ) separating North and South Korea in Paju. Washington's top diplomat, Secretary of State Rex Tillerson, visited the Demilitarized Zone dividing the two Koreas to gaze on the North for himself, a day after he declared 20 years of efforts to denuclearize it had failed.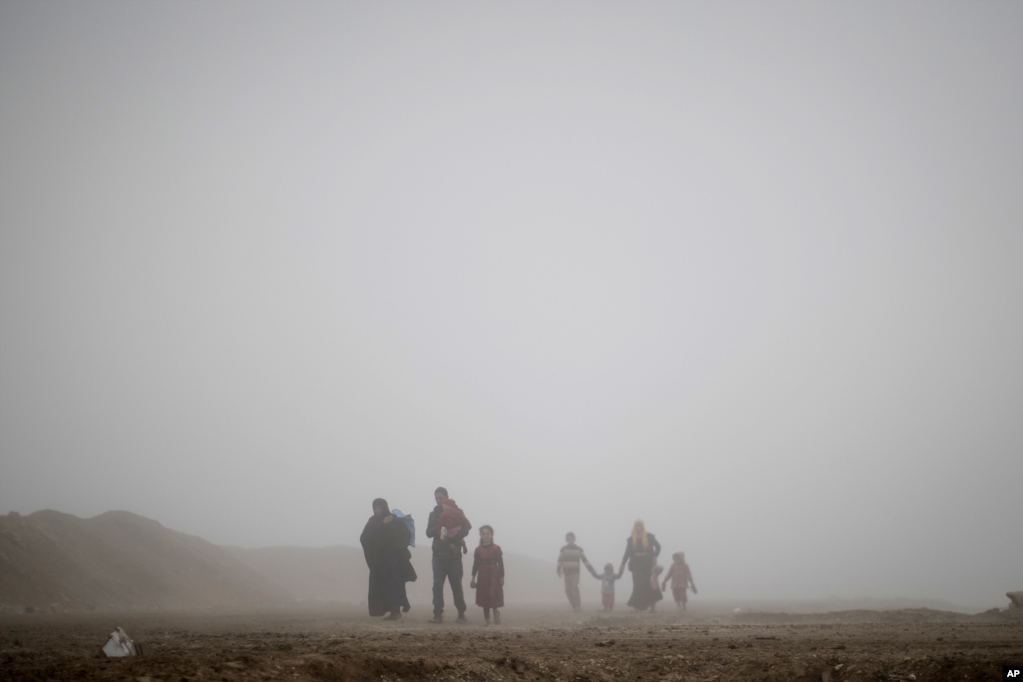 4
Displaced people walk through heavy fog during fighting between Iraqi security forces and Islamic State militants in west Mosul, Iraq.
.......................................................................
Pure 'Madness' on Words to the Wise
University of Michigan guard Derrick Walton Jr. (10) is fouled as he shoots by Oklahoma State University forward Leyton Hammonds (23) during a first-round game in the men's NCAA college basketball tournament in Indianapolis, Indiana, March 17, 2017.
We are getting wordy once again in the Learning English studio. I'm Caty Weaver and here with me are reporters Ashley Thompson and Dan Friedell.
Hey, Caty.
Hi, Caty.
Hello, you two. Thanks for coming in! We are going to try another installment of "Words to the Wise," our new program where we discuss, explain, and learn very current words and terms.
It's...it's that time of year again. The most wonderful time of the year…
My birthday?!
Really? Happy Birthday, Ashley.
Yes, Ashley, happy birthday, again. But actually that is not the event Dan is talking about. March Madness has begun. I thought we should go over some related language.
Ah, yes, the big college basketball championship. It begins in the middle of March. And people definitely go "mad" over it.
But not mad as in angry, right Dan?
Well, Caty, some people might get a little mad if their favorite team does poorly. But March Madness refers to the wild nature of the tournament. There are so many teams and a lot of games ending at the same time -- dramatic endings, especially! We'll hear about some of those endings later on.
And the "madness" also refers to the wild excitement the tournament causes. Actually, college basketball, or NCAA [National Collegiate Athletic Association] basketball, is very popular here in the United States. In many parts of the country, it's a lot more popular than the NBA even, or National Basketball Association.
Yeah. So, anybody checking out American news and social media will likely face some of the "madness" online.
That's right, Caty. The tournament really begins on Selection Sunday, and that's when a committee decides which universities' teams will get into the tournament. They start out with 68 teams, and then it gets down to the championship game, which doesn't actually happen in March. It happens at the beginning of April. So, we go from one Sunday in March all the way to the beginning of April.
Wow, Dan...March Madness, Selection Sunday. There sure are a lot of alliterations involved. Those are phrases where many or all of the words start with the same letter or sound.
And we haven't talked about the "Final Four" yet!
Oh, another one!
So, we start out with 68 teams in the men's tournament and 64 in the women's. And then they start dancing, right Dan?
Yeah, I've heard everyone say 'Oh, this school or that school...they're all going to the Big Dance.'
Mhmm.
What is this "Big Dance?"
Well the Big Dance...that's just what they call it for fun. They don't dance. They play basketball. It's like a big party for a few weeks. Each of the teams are ranked, based on their performances during the regular season. And those rankings are called "seeds." Each group of teams is put into one of four regions. And each region has the number-one seed all the way down to the 16th seed.
Um, just to be clear, Dan, the word "seed" in this case does not relate plant life, right?
That's right, Ashley. "Seed" has to do with the ranking of the teams in the competition. And they wanna make sure that the best teams don't play each other too early. So, there are four sets of number-one seeds, and four sets of number-two seeds, and so forth and so on.
So, in other words, you want to spread around the competition to produce a better sporting event. Kind of like a farmer spreads seeds for a good crop.
So, it does come back to that literal meaning that I mentioned.
Mhmm. So, before it began, a lot of people in the United States tried to pick which team would win each game of the tournament.
That's right, Caty. That's called the "bracket." And it's a chart. It shows all of the teams and their projected next-round opponent. But nobody knows for sure which team will win the subsequent games. So you choose the winner, the team that you think will win, and filter it all the way down to the Sweet Sixteen, and the Elite Eight, and the Final Four, and all the way down to the championship game.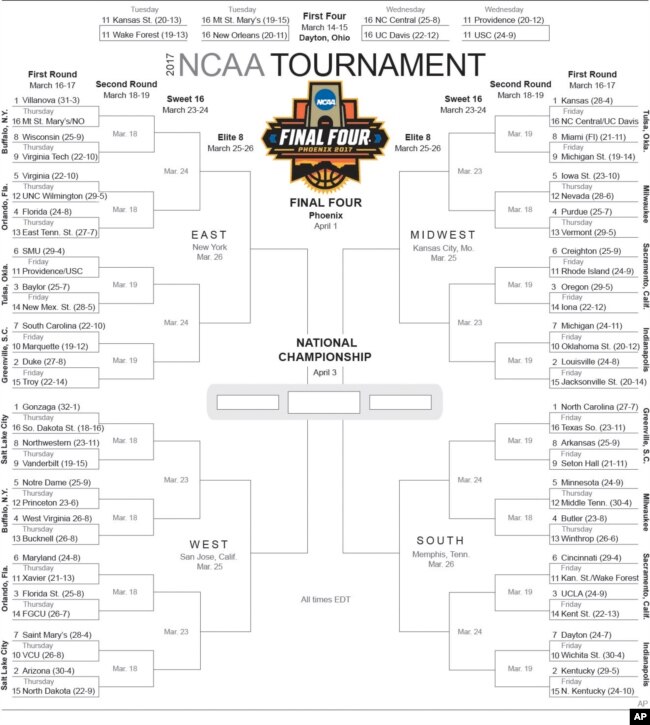 This image shows the 2017 NCAA Division I men's college basketball tournament bracket.
Okay, so it sounds like someone here has his own bracket all finished up!
Wait, um, why don't people just pick the higher-seeded team to win each game when they're filling their brackets out? I mean, that's what I would do.
Seems sensible.
It seems like a sensible method, right.
Well, it rarely works out that way. Sometimes two or three of the best four teams will make it to the Final Four. But usually there's a team that's unexpected.
Okay, so there's that "Final Four" phrase again, Dan...Can you explain that to our audience?
So the Final Four, those last four teams that make it, that's the semifinals of the tournament. And the previous round is the quarterfinals. And we call that the Elite Eight.
Another alliteration!
And before that you have the Sweet Sixteen!
Oh my gosh. So you might say there are a lot of "upsets" along the way, then?
Right, an upset is when one team that's favored doesn't win the game. The "underdog" team upsets the favorite. And some of those upsets happen with dramatic moments at the end of the game. Those are called "buzzer beaters."
That sounds violent!
So, it's not violent, usually! The "buzzer" is a device that makes a loud sound to signal end of play. And a "buzzer beater" is a moment at the very end of the game, when that game can be decided with one just shot that goes into the basket before the buzzer.
It might even go in after the buzzer, right? The shooter has to have let go of the ball before the buzzer...buzzes.
Yes. A really exciting game might combine a "Cinderella Story" team and a buzzer beater.
Cinderella? Are we going to Disneyland?
Tell her. Go ahead, Dan. Tell her.
So, a Cinderella team is a team that is not expected to do well. Maybe they don't have the best record. Maybe they were not the best team in their conference during the season. But usually something happens where they start winning some games, they get confident, and it's a surprise...like Cinderella getting to the ball and winning the prince's favor.
Okay you guys, so do want to tell the world about your brackets, who've you got picked? Who do you think, Dan, will "cut down the net" this year?
Cut it down? What...is this destructive all the sudden?
Actually, it is.There's a tradition where the winning team takes scissors and cuts down the net so that they can put it in their trophy case back at their university for future generations of fans to admire.
Oh, well, in that case, the net will go home to the University of Kansas.
Oh really?
That's my guess.
Oh yes, Dan? Who do you think's gonna cut down the net?
I think I'll go with Villanova, which is a small school near Philadelphia, Pennsylvania. They were the champions last year, in one of the most exciting championship games ever -- won on a buzzer beater! And I think they can do it again this year.
Villanova players celebrates after Kris Jenkins, center, made the game-winning basket as they defeated North Carolina 77-74 in the championship game of the 2016 NCAA Final Four college tournament. (AP Photo/Charlie Neibergall, File)
Okay, cool. Well I have no idea who might win. I'm not even sure -- now I know two teams that are actually involved in the tournament --
...both number-one seeds!
Okay, I didn't know that! But I will say, I will watch the games, 'cuz I love watching basketball. So I'm gonna watch this weekend.
I'm Caty Weaver.
I'm Ashley Thompson.
And I'm Dan Friedell.
Let us know what kinds of words or topics you are interested in hearing about for next week's edition of Words to the Wise!
_______________________________________________________________
Words in This Story
madness - n. behavior or thinking that is very foolish or dangerous​
committee - n. a group of people who are chosen to do a particular job or to make decisions about something
alliteration - n. the use of words that begin with the same sound near one another
literal - adj. involving the ordinary or usual meaning of a word
bracket - n. a diagram representing the rounds of games in a sports tournament, especially as used for making predictions about its outcome.
seed - n. a player or team that is ranked as one of the best in a competition (such as a tennis tournament) in order to be sure that the best players or teams do not play against each other in the early part of the competition
set - n. a group of similar things that belong together
projected - v. to plan, calculate, or estimate (something) for a time in the future
subsequent - adj. happening or coming after something else
filter - v. to remove (something unwanted) by using a filter; often used figuratively
elite - adj. successful and powerful
upset - n. an occurrence in which a game, contest, etc., is won by a person or team that was expected to lose
upset - v. to win a game that you were expected to lose
underdog - n. a person, team, etc., that is expected to lose a contest or battle
buzzer - n. an electric device that makes a loud sound
conference - n. a group of sports teams that play against each other and that are part of a larger league of teams
net - n. a device that is attached to a frame and that is used as the goal in some games (such as soccer, hockey, or basketball)
trophy case - n. a place where people keep objects that are given as a prize for winning competitions
.............................................................
NEWS TO KNOW AROUND
Suthep insists on reforms before poll
March 18, 2017 01:00
By KASAMAKORN CHANWANPEN
THE NATION
Former PDRF head says no problem if election delayed.
THE PEOPLE'S Democratic Reform Foundation (PDRF) remained firm in its stance of "reform before election", saying it did not mind a delay in the holding of the next election.
The group admitted to being fans of junta head General Prayut Chan-o-cha and the desire to complete key reforms.
Meanwhile, Deputy Premier Prawit Wongsuwan, who heads the panel on reconciliation preparation, said he would call a meeting on Monday with the three subcommittees, as the initial stage – gathering opinions – had already been mostly completed. The PDRF was the last group it has met.
After four hours of reconciliation talks at the Defence Ministry yesterday, PDRF president Suthep Thaugsuban said: "We've made the point in the meeting that the masses expect the National Council for Peace and Order [NCPO] and the government led by [Prayut] to finish the reforms so the country can continue as a democracy with the monarch as the head of state."
The former Democrat politician said people had followed the government's work closely and found it to meet their expectations. But there were still many issues left to be tackled so people wanted the government to carry on the work, Suthep said.
Politics remained the most pressing matter needing reforms, the PDRF told the military-initiated reconciliation meeting, he said.
"Politics has to serve the people. In the past, it was [dominated by] politicians and financiers as well as interest groups. It's never about the people," Suthep said.
"Most importantly, political parties must be run by people who support democratic rule with the monarch as the head of state, not a republic."
Contrary to the opinion of the red-shirt United Front for Democracy Against Dictatorship, the PDRF president said absolute power under Article 44 of the interim charter was not a problem for reform. Suthep said it as an opportunity for the junta to effectively reform the country.
He insisted that even if continuation of reform work delayed the promised road map to democracy, people would still support it.
"To my knowledge, the people are not in a hurry for election to take place. They want to see changes and reform in the country before moving forward," he said. "The PDRF has no concerns over the NCPO staying in power so long as it works to push reforms."
In response to a question that the PDRF's stance made it seem as though the group was siding with the military, Suthep said it has always been "explicit" that it rooted for the military and Gen Prayut. This was never hidden, he said.
But the PDRF president said the group would accept the results of an election and not march in the streets as long as the process followed proper rules.
Suthep declined to speak on reaching an agreement as a result of the reconciliation talks. The former politician said he was not certain if everyone was on the same page when referring to such an agreement as 'the social contract', as Prawit has called it.
The PDRF was also represented by Satit Wongnongtoey, Akanat Promphan, Chitpas Kridakorn, Thavorn Seniem, Nattapol Teepsuwan, Chumpol Julsai, and Sakoltee Patthippayakul at the reconciliation talks.
..........................................................
25 public hospitals nominated for emergency patients referral scheme
March 18, 2017 01:00
By The Nation
The Emergency Medical Committee will designate 25 public hospitals in Bangkok and nearby provinces to accept referral patients from Bangkok private hospitals at the end of the first 72 hours of emergency medical treatment, while patients upcountry will be referred to provincial hospitals.
The resolution was made at Thursday's meeting on Universal Coverage for Emergency Patients (UCEP) policy at the Public Health Ministry in Nonthaburi.
The meeting, presided over by Public Health Minister Dr Piyasakol Sakolsatayadorn, designated 15 public hospitals to take referral patients.
These hospitals are Nopparatrajathanee, Lerdsin, Rajavithi, Taksin, Bangkok Metropolitan Administration General (Klang Hospital), Charoenkrung Pracharak, Phramongkutklao, Veterans General, Bhumibol Adulyadej, Somdejprapinklao, Police General, Faculty of Medicine Vajira, Ramathibodi, Chulalongkorn and Siriraj.
If the first group of hospitals were full or the patients needed special treatment, another five specialist hospitals would provide backup. These are Priest Hospital, Central Chest Institute of Thailand, Queen Sirikit National Institute of Child Health, National Cancer Institute and Prasat Neurological Institute.
Five other hospitals in nearby provinces will also offer backup. These hospitals are Pathum Thani, Pranangklao, Mettapracharak Watraikhing (Wat Rai Khing), Nakhon Pathom and Samut Songkhram's Somdej Phraphutthaloetla Hospital.
National Institute for Emergency Medicine officials said they would send out a letter asking for cooperation and arrange the signing of a memorandum of understanding with these hospitals to move the UCEP policy forward.
UCEP aims to allow all emergency patients to seek treatment at nearby public and private hospitals without having to pay treatment bills in the first 72 hours – after which the patients would be referred to the hospitals their healthcare schemes had registered with.
The policy is not yet in effect throughout the country pending approval of the Sanatorium Act's three related ministerial regulations and publication in the Royal Gazette for implementation.
.....................................................
FINISHED
March 18, 2017