Hello ! My everyone dear friends
In the historical time, there were sex purchase in many countries of the world. And as the same in Thailand. On that time, sex purchase was not strange matter. But it was normal and legally. Until many countries became developped, caused that purchasing was disappeared. But however, we've to accept that, there are still sex purchasing obtainable in Thailand, because of poverty still happen yet in some locations.
Many thanks to Google Translate today again.
Reviving the 'silk road' - Inside Story https://youtu.be/FH-X8vv2rGk
Chinese roads and presence in Aksai Chin https://youtu.be/q-CKlBQdWTI
http://learningenglish.voanews.com/p/5610.html
Documentary on Myanmar Monk at Cannes Film Festival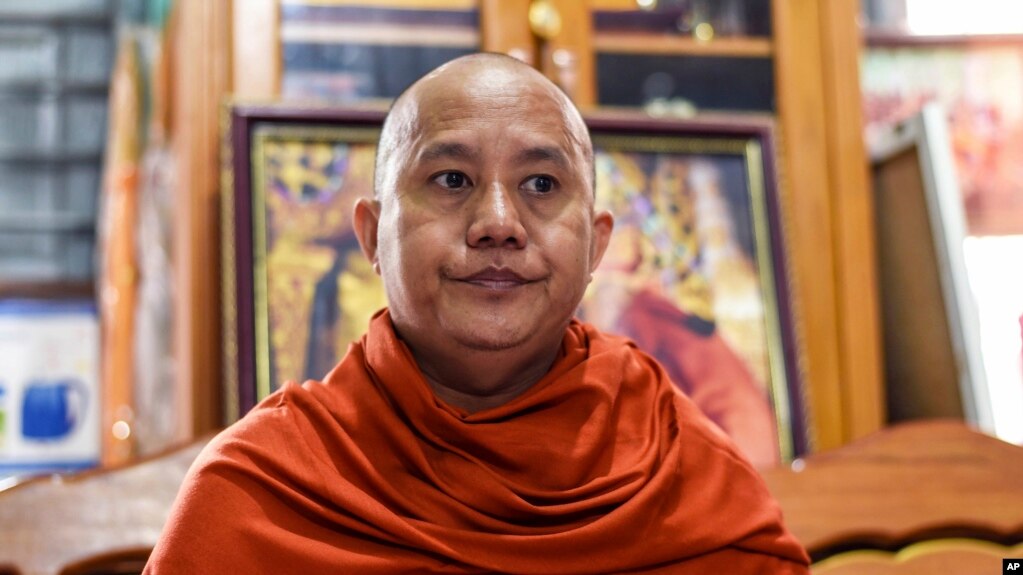 FILE - Wirathu, a high-profile leader of the Myanmar Buddhist organization known as Ma Ba Tha, is interviewed at his monastery in Mandalay, Myanmar, Nov. 12, 2016.
A documentary about Ashin Wirathu appears at the prestigious Cannes Film Festival this week. But some in Myanmar question whether the media attention has helped his rise to fame.
Wirathu is known for his anti-Muslim views. The film "The Venerable W", made by Barbet Schroeder, appears in a special screening at the festival. The festival will run from May 17 to the 28.
Fame from media attention
In 2003, Wirathu was sentenced to prison for 25 years for inciting violence. He was released in 2012. This was the same year that Myanmar experienced the first of several violent riots in its transition to democracy.
When TIME magazine featured Wirathu on the cover in 2013, the world began to understand Wirathu's connection to the problems.
FILE - People demonstrate against Time magazine in Yangon June 30, 2013 when its cover story dubbed radical Buddhist monk U Wirathu, "The Face of Buddhist Terror".
Over time, Wirathu's fame grew, as he was interviewed by many journalists. He also has a strong following on social media, with his inflammatory posts.
However, the fact that he has not faced strong resistance in Myanmar leaves some to question if he has political connections.
Thiha Saw is the director of the Myanmar Journalism Institute. He credits Wirathu's rise to the growing access to internet. He adds that the mainstream media in Myanmar is now careful about how much exposure they give him.
Thitsa Hla Htway is the secretary of the Foreign Correspondents' Club of Myanmar. He says Wirathu "has been famous because of the interviews and because of the posts in the local media."
Htway asks journalists to not report the offensive things that Wirathu has said, and focus on more diverse issues.
"What I want to stress is that they should just stay away from him and his popularity will go down. There are many important issues in Myanmar which are more important than him."
In support of military rule
Wirathu has had mixed success with his political influence. He supported the military-backed ruling party in a 2015 election against Aung San Suu Kyi's National League for Democracy.
This past March, Wirathu was banned from giving sermons for one year. But he was still allowed to travel to a part of northern Rakhine State. This is unusual because northern Rakhine has been largely closed to outsiders since Rohingya militants attacked border posts in October, killing nine [people].
According to British journalist Oliver Slow of the weekly magazine Frontier Myanmar, there needs to be a mix of scrutiny and restraint in the reporting of Wirathu.
"I think obviously he needs to be heavily scrutinized. His group and the people behind him have the potential to cause massive issues, so I think it's important to be reporting on him and what they are doing," Slow says.
"But I think we pretty much know all his views now, they've been aired for the past four or five years. His views on Muslims, his views on religion, have been so well aired, I just don't really see any benefit any more of interviewing him."
Matthew Smith is the executive director of the [non-governmental organization] NGO Fortify Rights. He wants more investigative coverage of Wirathu.
Since most foreign readers regard Buddhism as a religion of peace, Smith feels editors chose to report stories about an extremist monk who preaches hatred.
I'm Phil Dierking
This story was originally written by Joe Freeman for VOA News. Phil Dierking adapted it for VOA Learning English. Hai Do was the editor.
Should the media give less coverage of controversial people? We want to hear from you. Write to us in the Comments Section or on our Facebook page.
_____________________________________________________________
Words in This Story
prestigious - adj. the respect and admiration that someone or something gets for being successful or important​
extremist - n. someone who has extreme ideas about politics, religion, etc.​
controversial - adj. relating to or causing much discussion, disagreement, or argument ​
inflammatory - adj. causing anger​
scrutiny - n. the act of carefully examining something especially in a critical way ​
................................................................
English @ the Movies: 'Let's Roll'
On English at The Movies we are talking about the saying "let's roll." It is from the movie "The Fate of the Furious." This action film tells about a group of friends who drive fast cars as they fight their enemies. Do you know what "let's roll" means? Watch our video and take the quiz!
...........................................................
How to Protect Yourself from 'Ransomware'
Last Friday, the largest cyberattack ever affected more than 200,000 computers in more than 150 countries. The attack used a virus that locked the computers' data. The attackers demanded payment to unlock the computers.
WannaCry Notice
The virus, called WannaCry, infected computers in organizations including the British healthcare system, the American company FedEx and Russia's Interior Ministry.
Our story, 'Ransomware' Affects Computers Worldwide explains more about the virus.
Although Friday's cyberattack was stopped, the virus may soon return in a different form. It is important to learn about the virus and the steps you should take now to protect your data from future versions of WannaCry.
How the virus locked computers
WannaCry attacked computers that were connected to the Internet and used Windows operating systems. The systems affected had not yet been updated with a security patch that Microsoft released in March.
How WannaCry was blocked
A developer accidentally discovered a way to prevent WannaCry from spreading. He looked at the computer code and noticed that the virus was directing computers to a domain name. He checked on the domain name and discovered that it was available, so he bought it for less than $11. That simple move enabled a "kill switch" that prevented WannaCry from spreading further.
Unfortunately, the kill switch does not unlock computers that were already infected by the virus.
The developer has chosen to remain nameless but uses the Twitter account @malwaretechblog. He wrote a blog post that explains in detail how he happened to discover the kill switch for WannaCry. The post is called How to Accidentally Stop a Global Cyber Attacks.
But we are not safe yet
This cyberattack used a security hole that still exists for computers running older versions of Windows. Computers running Windows 10 that have not yet installed the update are also at risk.
The virus may attack again. All the hackers have to do to launch a new cyberattack is to change the domain name in WannaCry, then release the updated virus.
How to protect your data against future cyberattacks
You can protect yourself against future cyberattacks. Make sure to download the latest Windows security patch to your computer. Microsoft, the maker of Windows, has now released security patches for older versions of Windows that give protection against WannaCry.
For help, visit Microsoft's page called "How to Keep Your Windows Computer Up-to-date."
Permit automatic Windows updates if you do not want to worry about keeping your computer updated.
Also, make sure that you save, or back up, your data. Do regular backups of your data, both locally with an external drive and in the Cloud. That way you can protect your data when another cyberattack occurs.
Be sure not to click on links or download attachments in emails unless you are sure that they are not "phishing" emails from hackers. Although the WannaCry virus attack did not happen this way, others have happened this way in the past.
I'm Caty Weaver.
Carolyn Nicander Mohr wrote this report for VOA Learning English. Catherine Kelly Weaver was the editor.
Had you heard about the cyberattack last week? Were you affected by WannaCry? Have you updated your computer and downloaded the latest version of Windows (or MacOS if you use an Apple computer)? Do you backup your data regularly?
Share your thoughts in the Comments Section below or on our Facebook page.
________________________________________________________________
Words in This Story
cyberattack - n. an attempt by hackers to damage or destroy a computer network or system
virus - n. a program that is designed to harm a computer by deleting data, ruining files, etc., and that can be spread secretly from one computer to another
security patch - n. a software or operating-system update that is intended to correct an issue that could lead to hacking or viral infection
domain name - n. the part of a network address that identifies one or more web addresses
automatic - adj. having controls that allow something to work or happen without being directly controlled by a person
phishing - n. the practice of sending fake emails that appear to be from actual companies in order to get individuals to share personal information, such as passwords and credit card numbers
........................................................
NEWS AROUND
Deputy national police chief Srivara Ransibrahmanakul, left, talks to Chuchat Poungchin, black shirt, second right, a member of the Tambon Ban Mai Admini-strative Organisation arrested yesterday for allegedly buying sex from a minor.
I bought sex, politician admits
May 20, 2017 01:00
By THE NATION
Confession by Ban Mai politician is latest twist in Mae Hong Son underage prostitution case.
THE MAE HONG SON forced-prostitution ring scandal, that had landed numerous policemen and a provincial governor in hot water, took another turn yesterday.
A Nonthaburi local politician was arrested and reportedly confessed to buying sex services from a minor last September and also misrepresenting himself as the governor of Mae Hong Son.
As the scandal has unfolded, nine policemen have been dismissed from civil service and seven civilians have been taken into custody. The then governor of Mae Hong Son, Suebsak Iamwichan, who is accused of buying sexual services from a minor despite his claims of innocence, was transferred on May 2 to an inactive post until the investigation was complete.
Chuchat Poungchin, a 56-year-old member of the Tambon Ban Mai Administrative Organisation in Nonthaburi's Bang Yai district, was arrested yesterday morning for allegedly buying sexual services from a minor under 18. He was taken into custody by investigators from Provincial Police Region 5 led by deputy national police chief Srivara Ransibrahmanakul.
Investigators said Chuchat confessed to paying for sex with a minor, but initially denied that he drunkenly claimed to be the governor of Mae Hong Son. However, while police was talking to reporters following the arrest, Chuchat confessed that he had bought sex services from an underage girl and also admitted he claimed to be the governor.
"The girl saw my picture in uniform on my cellphone and asked me what I do for a living so I said provincial governor," he said, adding that he apologised for the damage caused to Seubsak. Three more Ban Mai politicians, accused of buying underage sex services, also met police at the Bang Mae Nang precinct to give testimony and were temporarily released.
The latest developments backed Suebsak's claim of innocence and followed the statement by Srivara on Thursday that the ex-governor and several policemen were cleared of involvement in the case.
Suebsak yesterday also showed photo evidence that he was attending an Interior Ministry seminar in Bangkok from September 22 to 28 last year.
The results of the fact-finding committee's probe against Suebsak, led by deputy permanent secretary Prayoon Rattanasenee and submitted to Interior Minister Anupong Paochinda yesterday, also found no grounds of the alleged wrongdoing by Suebsak, Anupong said.
After the Interior Ministry investigation cleared his name, Governor Suebsak said he had no plan to pursue legal action against those who had made the allegation against him.
"No, I consider this case has already ended," Suebsak said, "What I want to do now is to solve problems in Mae Hong Son, particularly human-trafficking issues".
Meanwhile, Federation of Assistant District Chiefs of Thailand chairman Boonyarit Nipawanit said that the mother of the teenage girl who reportedly provided sex services to a senior official had claimed she had been asked not to pursue charges against the accused official. She was told that it was for the sake of country's reputation, he said.
Boonyarit said the Tambon Ban Mai Administrative Organisation president would request that the Department of Special Investigation (DSI) take up the investigation into the scandal to ensure justice for all sides.
He added that Provincial Police Region 5 investigators seem to be rushing to close the case involving Ban Mai politicians.
Boonyarit claimed that the ring reportedly sent four girls to provide sex services at a resort on September 22 last year and sent three girls to provide sex services on September 23.
However, lawyer Kerdpol Kaewkerd, representing the teenage victim's mother who first exposed the ring and another three alleged victims of the ring, said he did not know about Boonyarit's phone conversation with his client.
Kerdpol also said that the accusation against Suebsak stemmed from a claim by one girl, whom he did not represent, that the man using the sex services resembled the governor. He said it was within Suebsak's right to sue for defamation but they insisted the accusation came from damaged persons.
He said the damaged persons he represented were content with the result of the police probe that led to punishment of a policeman running the ring and others procuring girls for the ring.
Meanwhile, 20 rights advocates led by Angkhana Inthasa, head of the Women and Men Progressive Movement Foundation's gender equality promotion, submitted a complaint to deputy police spokesman Pol Maj-General Songpol Wattanachai at the Rights and Liberties Protection Department to pass on to Srivara.
The complaint came after Provincial Police Region 5 officers showed names and faces of the Mae Hong Son investigation witnesses and interviewed them in front of the media on May 11.
The witnesses in human trafficking cases must be protected, and police should not identify them.
They urged that the DSI take over the case to ensure justice and prevent criticism, as policemen were involved in the scandal.
.............................................
FINISHED
May 20, 2017