Academic Writing: Common Patterns, Part 1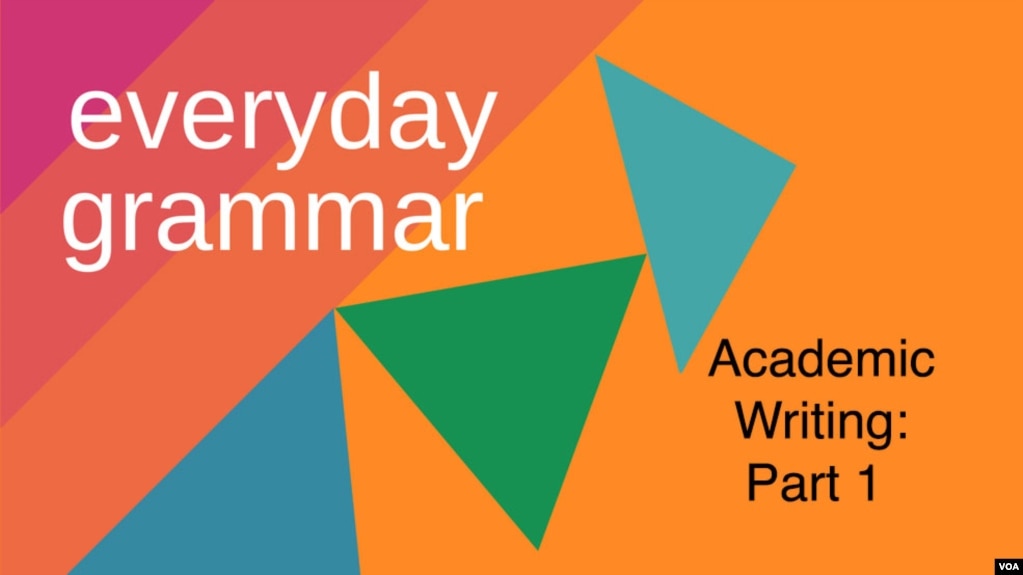 everyday grammar - academic writing part 1
The new school year is beginning in communities across the United States.
Many students are busy at work in their new classes. Some are already thinking about all the homework they will face in the weeks to come.
Schools often require students to read academic articles -- short or long reports about a class-related subject. Teachers also ask students to write book reports and research papers.
Today on Everyday Grammar, we will explore two grammatical structures that you will see often in academic writing.
We will show you how to use these structures. We also will show you when not to use them.
#1 Evaluating an idea
If you are writing or reading for academic purposes, you will likely see the following structure: It + is + an adjective + that-clause.
This is a common way to express an attitude, opinion or position. It is often used when considering an idea, note grammar experts Susan Conrad and Douglas Biber.
Here is an example:
"It is clear that the evidence is inconsistent."

Here is how you can understand the sentence. The subject in our example is the word it. Then comes the verb is. After is, there is an adjective: the word clear.
After clear, there is a that-clause. A that-clause is a group of words, beginning with the word that. It has a subject and a predicate. A predicate is the part of a sentence that expresses what is said about the subject.
The that-clause has the idea that the writer is considering. In the example we gave you, the idea under consideration is the following statement: "the evidence is inconsistent."
The adjective clear suggests the writer's judgment.
By saying "it is clear," the writer is saying that he or she agrees the evidence appears to be conflicting with other information.
Note that the writer did not write, "I think that the evidence is inconsistent," even if it has the same meaning as the example sentence. Why? We will explore that issue later in the report.
Academic writers often use it + is + an adjective + that-clause to raise questions, note possibility, and express importance.
For example, you might read the following sentence:
"It is unlikely that the results will be conclusive."
Or,
"It is likely that the information was incomplete."
In the former case, the writer is using the adjective unlikely to raise questions. In the latter one, the writer is using the adjective likely to express possibility.
#2 Evaluating an action
A second common structure, it + is + an adjective + an infinitive phrase, is often used to judge an action. The infinitive phrase describes the action. The adjective shows the writer's evaluation.
Consider this example:
"It is difficult to define these ideas."
In this example, the infinitive to define relates to an action, while the adjective difficult shows the writer's evaluation.
Writers often use it + is + an adjective + an infinitive phrase to show possibility, difficulty, importance, and so on.
So, for example, you might read the following sentences: "It is hard to understand these effects," or "It is necessary to carry out further research."
In the former example, the writer is expressing difficulty, while in the latter the writer is expressing necessity.
Other ways to express the same ideas
The two structures we have discussed are common in academic writing.
You should try using them with your own adjectives, that-clauses, infinitive phrases, and so on.
There is one point to keep in mind, however. You should know that sometimes you might not want to use these structures – especially if you are writing for business or even artistic reasons.
In those situations, it might be better to use more direct language.
Consider the first example we gave you, "It is clear that the evidence is inconsistent."
This is a common, acceptable way to write a sentence for academic purposes. It is grammatically correct.
However, the statement uses indirect language to express an evaluation. The writer is expressing an opinion without specifically writing "I think...," for example.
However, if you are writing for other purposes other than college professors, you could simplify your language. You could give a very direct evaluation by writing "I think the evidence is inconsistent," or simply "The evidence is inconsistent."
The structure that you choose to use depends on what kind of writing you are doing.
It is difficult to improve your writing. But with practice, you can do it!
I'm John Russell.
And I'm Pete Musto.
John Russell wrote this story for Learning English. George Grow was the editor.
We want to hear from you. Write to us in the Comments Section.
_____________________________________________________________
Words in This Story
that-clause – n. a part of a sentence (beginning with that) that has its own subject and verb
evaluate – v. to judge the value or condition of (someone or something) in a careful and thoughtful way
inconsistent – adj. having parts that disagree with each other
conclusive – adj. showing that something is certainly true
data – n. facts or information used usually to calculate, analyze, or plan something
infinitive phrase – n. an infinitive phrase is a group of words consisting of an infinitive, objects, and modifiers
concept – n. an idea of what something is or how it works
academic – adj. of or related to a school, especially of higher education
article – n. a piece of writing or story about a subject
verb – n. a word that expresses an action, event or state of being
......................................................................
Lesson 46: May I Borrow That?
Summary
Anna finds out it's Marsha's birthday. She wants to give her a present. But she does not have much money. What will she do?
Speaking
In this video, learn how to say the new words. Then learn how to talk about borrowing or lending.​
Pronunciation
Use this video to practice the pronunciation of words that end with an "r" sound in American English.
Conversation
Anna: Have a nice day at work Marsha!
Marsha: You too, Anna. Oh, wait. Do you have pen and paper I can borrow?
Anna: Of course.
Marsha: We are meeting at this restaurant tonight.
Anna: What is happening tonight?
Marsha: Today is my birthday. We are celebrating at 7pm tonight. Did you forget?
Anna: Sorry, Marsha! I gotta go! See you later!
Marsha: Don't forget! Tonight … 7pm!
Anna: I forgot Marsha's birthday! And I don't get my paycheck until next week. I know. I'll make her a gift. I'll just have to borrow a couple of things.
Anna: Amelia, may I borrow your stapler?
Amelia: Sure. I can lend you my stapler, Anna. But please return it. It's my favorite stapler.
Anna: You can trust me. I understand. One time, I loaned my stapler to the wrong person.
Anna: Thanks, Amelia.
Amelia: Don't mention it. Bye, stapler!
Anna: Jonathan! Can I borrow your scissors?
Jonathan: Oh! Hi, Anna! What're you doing?
Anna: Can I borrow your scissors? Sorry to bother you.
Jonathan: Yes, I can lend them to you, but you must return them. These scissors -- they are the sharpest scissors in the office. Watch.
Anna: Wow, those are sharp. I will be very careful.
Jonathan: Okay.
Anna: And I'll bring them back tomorrow.
Jonathan: Good.
Anna: Thank you.
Jonathan: You're welcome.
Anna: Happy Birthday, Marsha! (gives Marsha a gift)
Marsha: Thanks, Anna! I love birthday gifts! Anna, it is … interesting. What is it?
Anna: Well, I know you love hats. And you need office supplies. So, this is your own office supply hat!
Marsha: Wow! That is a lot of office supplies!
Anna: Many people loaned or shared their supplies with me. Some people really love their office supplies. It has paper, pens, tape, erasers, rubber bands, binder clips, paper clips, and a light!
Marsha: What is the balloon for?
Anna: The balloon will help your friends find you. Let's try it! You get a seat in the restaurant - I will find you!
Anna: Sometimes all the money in the world can't buy the perfect gift. Until next time!
Writing
In this lesson, Anna makes a gift for her friend Marsha. Did you ever make a gift for a friend or a family member? What was it? How did you make it? Write to us by emailor in the Comments section.
Click on the image below to download the Activity Sheet and practice talking about borrowing and lending office supplies. You can now fill in the activity sheet on the computer!
Activity-Sheet-Lesson-46
Learning Strategy
Learning Strategies are the thoughts and actions that help make learning easier or more effective.
The learning strategy for this lesson is Act it Out. When we act out something, using our body instead of using words, we are finding another way to communicate our meaning. That helps when we do not know a word, or when it is too loud to talk. We can also use this strategy to build stronger memories of the things we are learning.
In this lesson, Anna wants to ask Jonathan if she can borrow his scissors. But he is listening to loud music, so she acts out using scissors. He understands that she wants to use his scissors easily before he hears her question.
Do you ever act out the new words you are learning in English? Try it with the new words for office supplies in this lesson. Say each word and make an action with your hands as if you are holding or using that thing. Does it help you learn the new words? Write to us about it in the Comments section or send us an email. Teachers, see the Lesson Plan for more details on teaching this strategy.
Quiz
Listen to short videos and test your listening skills with this quiz.
______________________________________________________________
New Words
borrow - v. to take and use (something that belongs to someone else) for a period of time before returning it
bring back - phrasal verb. to return with (something or someone)
celebrate - v. to do something special or enjoyable for an important event, occasion or holiday
gift - n. something that is given to another person
lend - v. to give (something) to (someone) to be used for a period of time and then returned
loan - v. to give (something) to (someone) for a period of time
mention - v. to talk or write about something or someone in a brief way
don't mention it -used to answer someone who has just thanked you for something
paycheck - n. the money that you regularly earn
sharp - adj. having a thin edge that is able to cut things
supplies - n. [plural] : things (such as food, equipment, fuel, and so on) that are needed for a particular purpose
Office Supplies
Office Supplies
..................................................