Imagine that you are at a restaurant for breakfast. You want something to drink, but you are not sure what. When the server walks over to your table, he says:
Let me help. Do you prefer coffee or tea?
You answer:
I prefer tea to coffee.
You just told the server about a general preference. The server then makes a few suggestions about the teas available.
When we are given choices, there are special phrases we use to say which thing we like more than another. We call these choices "preferences."
In our program today, we will show you how to use general and specific preferences. We have different phrases for each.
General Preferences
To begin, let's look at general preferences.
A general preference is something you like more as a whole. It is not tied to a specific event or time. It is simply a fact about your likes. For example, you probably like one style of music more than another style. And, you like one kind of food more than another food.
Phrases we usually use for general preferences are "prefer" and "like better." They have the same meaning.
Prefer…
Let's talk about the word "prefer" and hear the coffee and tea example again:
Do you prefer coffee or tea?
Notice that the word "or" is used in the question form. In the answer, we use the preposition "to" or "over."
I prefer tea to coffee.
I prefer tea over coffee.
As you might know, in English, when we answer a question, we do not usually answer with full wording. If asked about a preference, you can simply name the preference, like this:
I prefer tea.
Here is another example of a question and answer:
Do you prefer living in the city or the suburbs?
I prefer living in the city.
In American English, "prefer" is a little more formal but still common enough to use in everyday speech.
Like better…
But Americans are more likely to use the phrase "like…better" when talking with others. We use the word "than" after this phrase. Here is how we do that in a question and answer:
Do you like tea or coffee better?
I like tea better than coffee.
Again, when answering, we usually only name the preference:
I like tea better.
Here is another example of a question and answer:
Do you like living in the city or the suburbs better?
I like living in the city better.
Notice that, in question form, the word "better" comes at the end of the question.
Specific Preferences
Now, let's turn to specific preferences.
A specific preference is something you like or want more at a given point in time, either right now or in the future.
We use the expressions "would prefer" and "would rather" to talk about such things. These phrases have the same meaning.
Would rather…
Let's look at the phrase "would rather." It is much more common in American spoken English than "would prefer."
For both phrases, we almost always use the short form of the word "would" with a personal pronoun. We call the shortened form a "contraction." For example, the contraction of "I would" is "I'd." When "would" is contracted, it looks and sounds just like the letter "d."
Listen to the normal form and the contraction of "would rather." With "would rather," we use the word "than" in the response.
Would you rather go out or stay home?
I would rather go out than stay home.
I'd rather go out than stay home.
Again, we usually only name the preference in responses.
I'd rather go out.
And, if there is only one main verb after "would rather," we do not say it two times. Here is an example:
Would they rather study French or English?
And the answer:
They'd rather study English.
Notice that the verbs "go," "stay" and "study" are in simple form – the basic form without "to" before it or any letters at the end. After "would rather," we always use the simple form of verbs.
Would prefer…
Just like "would rather," we can use "would prefer" to talk about specific preferences. But, to Americans, "would prefer" sounds more formal and we do not use it often in speaking. Here is an example of a question and answer:
Would you prefer to go out or stay home?
I'd prefer to go out.
Note that, when Americans do use "would prefer," we usually only name the preference, as in the example.
However, when the answer mentions both choices, Americans usually say it this way:
I'd prefer to go out than stay home.
The sounds of "would"
It may take time for you to become comfortable with the sounds of the contraction of "would" with personal pronouns. It helps to pay attention to what comes after the d sound. If you hear the word "rather" or "prefer" afterward, then you know someone is telling you about a preference.
And, I could say a lot more on this subject, but I'd rather end it here!
I'm Alice Bryant.
Alice Bryant wrote this story for Learning English. George Grow was the editor.
What are some types of foods, music and other things that you prefer? Write to us in the Comments. We would love to hear from you.
_____________________________________________________________
Words in This Story
prefer – v. to like someone or something better than someone or something else
phrase – n. a group of two or more words that express a single idea but do not usually form a complete sentence
style – n. a way in which something is done, created, or performed
suburb – n. a town or other area where people live in houses near a larger city
formal – adj. suitable for serious or official speech and writing
comfortable – adj. causing no worries, difficulty, or uncertainty
mention – v. to talk about, write about, or refer to in a brief way
............................................
Last year, $466 billion in remittances flowed to low and middle-income countries. That figure is estimated to grow to $485 billion this year. Remittances are a lifeline to many countries that are facing some sort of a crisis. The poorer the country, the larger the dependence on remittances.
.....................................
Astronauts Make Emergency Landing in Failed Russian Space Launch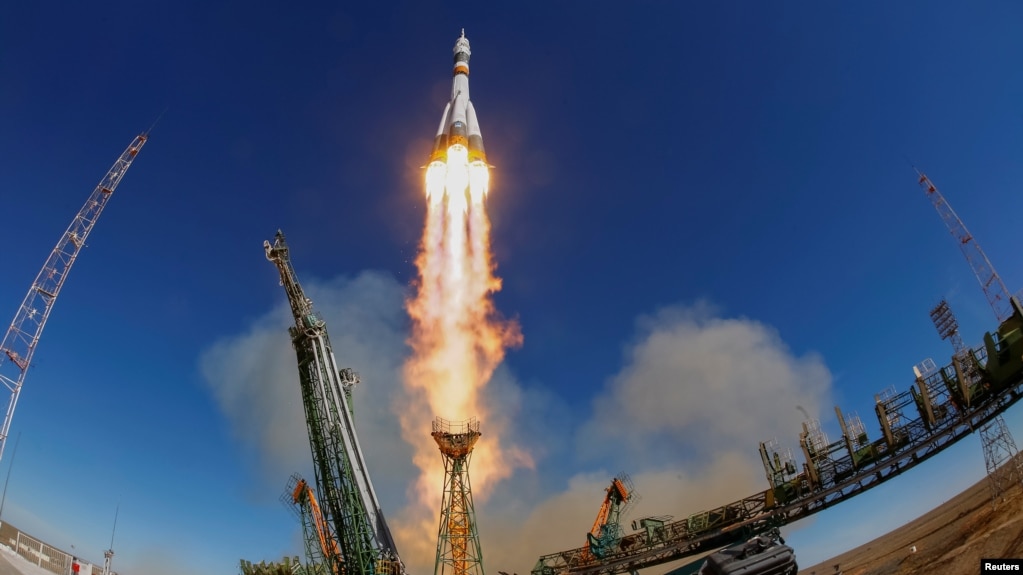 The Soyuz MS-10 spacecraft carrying the crew of astronaut Nick Hague of the U.S. and cosmonaut Alexey Ovchinin of Russia blasts off to the International Space Station (ISS) from the launchpad at the Baikonur Cosmodrome, Kazakhstan October 11, 2018. Two minutes later they made an emergency landing when a booster rocket failed.
A Russian spacecraft traveling to the International Space Station Thursday had to make an emergency landing when a rocket engine failed to fire.
It was the latest in a recent series of failures for the Russian space program, which is also used by the U.S. to carry its astronauts to the station.
United States astronaut Nick Hague and Russian cosmonaut Alexei Ovchinin landed safely about 20 kilometers from Dzhezkazgan in Kazakhstan. The city is about 450 kilometers from the Russia's Baikonur space center, which Russia operates through an agreement with the Republic of Kazakhstan.
Both the U.S. space agency NASA and Russia's Roscosmos reported that the two were quickly recovered from the landing area by rescue crews.
A spokesman for Russian President Vladimir Putin said, "Thank God the crew is alive" after they had landed safely.
NASA Administrator Jim Bridenstine, who watched the launch at Baikonur tweeted that Hague and Ovchinin are in good condition. He added that a "thorough investigation into the cause of the incident will be conducted."
What happened?
About two minutes after launching, the three-stage Soyuz booster rocket suffered an unspecified failure of its second stage.
American astronaut Nick Hague (right) and Russian cosmonaut Alexey Ovchinin speak before taking off aboard a Soyuz MS-10 capsule to the International Space Station, in Baikonur, Kazakhstan, on October 11, 2018. (AP Photo / Dmitri Lovetsky)
Russia's TASS news agency said the capsule carrying the two men separated from the troubled rocket safely. This caused the capsule to drop very sharply into the Earth's atmosphere. Parachutes helped slow the returning capsule. Search and rescue teams were sent to recover the crew.
Russia's RIA news agency reported that Russia has immediately suspended all manned space launches after the failure.
Roscosmos head Dmitry Rogozin said he had ordered a state commission to carry out an investigation into what went wrong. He said Russia will share all relevant information with the U.S.
The Russian space program has suffered several failures in recent years.
In August, the crew found a hole in a Russian Soyuz capsule docked to the orbiting space station. The hole caused a brief loss of air pressure before being fixed. The Russian space agency also sent 70 rocket engines back to production lines in 2016 to replace broken parts.
However, Thursday's incident was the first manned launch failure since 1983 when a Soyuz rocket exploded in the launch area. The cosmonauts safely escaped in that accident as well.
International Space Station not threatened
The two astronauts were to arrive at the International Space Station (ISS) six hours after the launch to join an American, a Russian and a German currently aboard the station.
The TASS news agency said that the ISS crew has enough supplies and that the failed launch will not affect operations.
Relations between the U.S. and Russia have been very tense in recent years. Russian activities in Ukraine, charges of interfering in the U.S. presidential election of 2016 and the conflict in Syria are some of the main issues. However, the two sides have continued their cooperation in space.
The U.S. and other nations have depended on Russia to carry astronauts to the ISS since the retirement of the Space Shuttle program in 2011.
In coming years, American aerospace companies SpaceX, with its Dragon 2, and Boeing, with its Starliner, are expected to return to space.
I'm Mario Ritter.
Mario Ritter adapted this story for VOA Learning English from AP and Reuters stories. Hai Do was the editor.
We want to hear from you. Write to us in the Comments section,and visit our Facebook page.​
_____________________________________________________________
Words in This Story
capsule –n. a small part of a spacecraft that is separate from the rest of the ship where people live and work
stages –n. a section of a rocket that has fuel and an engine
booster –n. part of a rocket that provides force for the launch and the first part of flight
relevant –adj. relating to a subject in an appropriate way
..............................................
KNOW NEWS AROUND
File photo
Pet registration bill to be rethought after public fury and worries over fallout
national October 12, 2018 09:06
By KORNRAWEE PANYASUPPAKUN
THE NATION
A BILL approved by the Cabinet making it mandatory to register dogs and cats was derailed yesterday after pet lovers cried foul over the high fee for the registration document, and threatened to abandon their pets.
The bill, which got the Cabinet nod on Wednesday, allows municipalities to charge a maximum fee of Bt450 – Bt50 for registration, Bt100 for a book of identity and Bt300 for identification tools such as microchips.
It sets the maximum fine for violation at Bt25,000. However, the bill does not specify where the money will go or how it would be spent to improve animal welfare.
"We don't object if the government charges registration fees, but the amount must be appropriate and the agency must explain how the income is spent," wrote the Watchdog Thailand page.
"Personally, I think it [the registration bill] doesn't tackle the problems, but makes them worse. Who will want to adopt stray cats and dog?" wrote the admin of Moh Maew Yak Bok Tard Maew Facebook Page (What a cat doctor wants to tell cat lovers).
The pricey fees will discourage owners from adopting pets and may even encourage some to abandon their dogs and cats on the street or in the care of temples to avoid paying the fees, according to comments in social media in response to the bill.
Bill to be reconsidered
"If the bill was passed into the law, more dogs would be abandoned, uncared for, starve and spaying or neutering is harder. The dogs will also be at greater risk of rabies, said Dr Thiravat Hemachudha, a rabies expert and professor at Chulalongkorn University's Faculty of Medicine.
Instead of charging high fees from people who help take care of unwanted dogs and cats out of kindness, the government should ask for their cooperation to get the animals spayed and neutered as well as vaccinated for rabies, he said.
Following the public outcry, the Cabinet will reconsider the bill.
At its core, the bill intends to regulate family pets and reduce the number of strays, but the Cabinet promised not to make registration a burden for people.
Prime Minister Prayut Chan-o-cha was worried that if the registration move led to people abandoning their pets, the municipality, the City Hall, or the Agriculture Ministry would not be able to take care of these unwanted pets," Deputy Prime Minister Wissanu Krea-ngam said yesterday.
The Livestock Development Department agreed to take the bill back for reviewing, as it might create too much burden for the people, director-general Sorawit Thaneto said yesterday.
The bill, in fact, aims to prevent pet owners from abandoning their pets and to provide welfare for the unwanted ones. With such a law, families would be required by law to provided good care for their pets, and thus reduce the number of stray dogs and cats, he explained.
..............................
Jeweller to go ahead with RM60mil suit against Najib's wife
Breaking News October 12, 2018 07:58
By The Star
Asia News Network
PETALING JAYA
Lebanese jeweller Global Royalty Trading SAL will proceed with its RM60mil suit against Datin Seri Rosmah Mansor (pic) for the return of 44 pieces of jewellery following the dismissal of her bid to strike it out.
Its lawyer Datuk David Gurupa­tham said that if the jewellery were not seized by police but in the possession of the former prime minister's wife, then she would have to return it or pay the price of the items together with damages and costs, if the court decides in its favour.
"On the other hand, if the goods have been lawfully seized, she can try to strike out the case again.
"But for now, the trial dates have been fixed for March 4 and 5. We will go to trial," he said.
Since Rosmah asserted that the jewellery was seized, he said the onus was on her to prove it.
"Since her application to strike out Global Royalty Trading's case has been dismissed with costs, she will have to come to court and testify as to how these goods came to be seized and prove that they were seized, and provide the court with the seizure list.
"As for the government, they have to sift through 12,000 pieces of jewellery to confirm if the 44 pieces are there or not," he said, adding that Bukit Aman Commercial Crime Investigation Department director Comm Datuk Seri Amar Singh confirmed in an affidavit filed on behalf of the government in support of the application to intervene that they could not confirm whether the 44 pieces of jewellery were with them or not.
..............................................
FINISHED
October 12, 2018