Plastic remains one of the most-used materials for making many of the things we use in our everyday lives.
Things made of plastic can be very strong and last a long time. They also do well in extreme heat and cold. Plastic is also much lighter than metal and can easily be formed into different shapes. This makes the material ideal for countless uses across many different industries.
But the widespread use of plastics across the world is causing major problems for the environment. Plastic material is flooding landfills and causing severe damage in the world's oceans.
Plastic garbage is displayed prior to a press conference of the Ocean Cleanup foundation in Utrecht, Netherlands, Thursday, May 11, 2017. (AP Photo/Peter Dejong)
Plastics can take hundreds of years to break down on their own. Very few kinds are highly recyclable. This is because of the way plastics are formed.
It has been estimated that even the most reusable kinds of plastic can only be recycled at a rate of 20 to 30 percent. Even when recycling is possible, the process is costly, can use a lot of energy and, in many cases, produces poor-quality materials.
But a team of researchers working at the U.S. Department of Energy says it has created a kind of plastic that could lead to products that are 100 percent recyclable.
The team works at the Department of Energy's Lawrence Berkeley National Laboratory in California. It recently reported the discovery in a study in the journal Nature Chemistry.
Members of the scientific research team at the Department of Energy's Lawrence Berkeley National Laboratory included (left to right) Peter Christensen, Kathryn Loeffler and Brett Helms. (Credit: Marilyn Chung/Berkeley Lab)
The researchers say the new material is a plastic polymer called polydiketoenamine, or PDK. The team reports that the material can be broken down in parts at the molecular level.
It can then be built up again to form plastics of different shapes, textures, colors and more. The researchers say this process can be repeated over and over again -- without the plastic material losing any performance or quality.
"Most plastics were never made to be recycled," lead researcher Peter Christensen said in a statement. Christensen works at Berkeley Lab's Molecular Foundry center. "But we have discovered a new way to assemble plastics that takes recycling into consideration from a molecular perspective."
The team explained that all plastics – from water bottles to automobile parts – are made up of polymers with a molecular structure. These polymers are made up of carbon-containing compounds known as monomers.
In this photo taken on Tuesday, April 23, 2019, plastic bottles and other garbage float in the river Drina near Visegrad, eastern Bosnia-Herzegovina. (AP Photo/Eldar Emric)
Many plastics have different chemicals added to them to make them more useful and powerful. The problem is that these chemicals attach to the monomers, which remain in the plastics even after the material gets processed at a recycling plant.
The research team reported that, with the newly discovered PDK material, the monomers could be recovered and separated from any chemical additives. This part of the process would involve putting the plastic material into "a highly acidic solution."
Brett Helms is a scientist at Berkeley Lab's Molecular Foundry who worked on the study. He said the team is interested in the chemistry that can redirect plastic lifecycles from "linear to circular." This could be especially important for materials that currently have very few recycling possibilities, he added.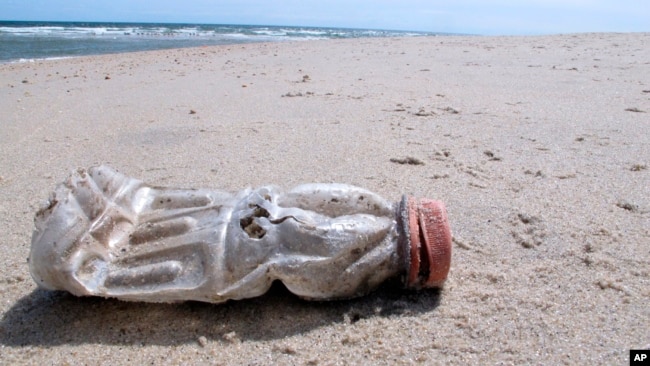 A discarded plastic bottle lies on the beach at Sandy Hook, N.J. on Tuesday, April 2, 2019. (AP Photo/Wayne Parry)
Next, the researchers say they plan to develop PDK plastics "with a wide range of thermal and mechanical properties." These plastics could be used for many kinds of cloth, as well as things such as 3D printed materials and foams. In addition, the team is looking to include plant-based materials in the process.
Helms said the world is currently "at a critical point," at which new recycling plants and processes need to be developed and modernized to deal with long-lasting plastic waste. New recycling centers could be designed to recycle or upcycle PDK and related plastics.
"Then we would be able to more effectively divert plastic from landfills and the oceans," Helms said. "This is an exciting time to start thinking about how to design both materials and recycling facilities to enable circular plastics," he added.
I'm Bryan Lynn.
Bryan Lynn wrote this story for VOA Learning English, based on a report from Nature and online sources. Ashley Thompson was the editor.
We want to hear from you. Write to us in the Comments section, and visit our Facebook page.
Quiz - Scientists Create New Plastic that Could Be Fully Recyclable
Start the Quiz to find out
________________________________________________________________
Words in This Story
ideal – adj. perfect, of the best choice possible
polymer – n. a natural or artificial substance made from many smaller molecules
texture – n. the way something feels then you touch it
assemble – v. to build or put together
perspective – n. way of thinking about or looking at something
thermal – adj. relating to heat
foam – n. lightweight material produced from a chemical process
divert – v. send something somewhere different from where it was expected to go
enable – v. make something possible
...............................................
Lesson 36: I Can Fix This!
.................................................
The English We Speak
INTERMEDIATE LEVEL
On fire
Summary
Neil is feeling good about himself after having a lot of success recently. But when Feifei tells him he's 'on fire' he starts looking for the flames! Learn this expression about succeeding over a period of time in The English We Speak.
Transcript
Feifei
Hello and welcome to The English We Speak, I'm Feifei.

Neil
And I'm Neil! How are you today, Feifei?

Feifei
Yes, I'm well thanks – is everything OK with you Neil? You seem very smug!

Neil
I'm doing great! I've had a very busy, but very productive day – my most recent video has reached 100,000 views, my new project has been commissioned by a top TV company, I've recorded and edited three videos, written two scripts and now I'm here in the studio recording with you.

Feifei
Wow! You are on fire today, Neil!

Neil
What? Fire! Where? Put it out! Where's the extinguisher? Evacuate the building!

Feifei
Woah! Just calm down there. There isn't an actual fire. It's just an expression!

Neil
Phew! Thank goodness! I thought you were saying I was burning!

Feifei
Really, Neil! Just take a breath and think before acting! When someone has had a string of successes, we can say they're 'on fire'.

Neil
Ahhh, I get it. Shall we give some examples?
Examples
I can't believe my team have won ten games in a row – they're on fire.

My friend is taking two extra classes and I thought she'd be exhausted by now – but she's on fire! She's getting really good grades in every subject.

The actor was on fire in the early 2000s, but his recent performances haven't been to the same standard.

Feifei
This is The English We Speak from BBC Learning English and we're talking about the phrase 'on fire'. Though this can mean that something is burning, a more informal use is to say that someone is experiencing a series of successes, one after another.

Neil
That's right, Feifei, so for example, I've been on fire this month – I exceeded all my targets at work and earned a bonus for my success!

Feifei
That's great, Neil – congratulations! Your work is on fire!

Neil
Hmmm, not quite, Feifei! That would mean my scripts are burning! You can only use this expression to describe the person or people who are experiencing success.

Feifei
Ah OK – so we can say a footballer is on fire if he has scored lots of goals, but we can't say his football is on fire.

Neil
That's 100% right, Feifei! It seems we're both on fire today!

Feifei
I couldn't agree more, Neil! Join us again for more The English We Speak. Bye!

Neil
Goodbye!
....................................................
File photo: Thailand port
Grim outlook for exports as trade war escalates
business May 13, 2019 01:00
By PHUWIT LIMVIPHUWAT
THE NATION
Trump frazzles nerves with gamesmanship as tough negotiations with Beijing continue.
EXPORTERS WILL pay a heavy price due to the escalation of the US-China trade war, which will also have a negative impact on Thailand's economy, according to experts.
On Friday, the US launched a new round of tariffs on Chinese imports. That morning, President Donald Trump tweeted: "Talks with China continue in a very congenial manner – there is absolutely no need to rush – as Tariffs are NOW being paid to the United States by China of 25 per cent on US$250 billion worth of goods and products. These massive payments go directly to the Treasury of the US."
(FILES) In this file photo taken on May 9, 2019. A photo illustration shows a label inside an item of clothing reading "Made in China," in New York.// AFP PHOTO
The US tariffs target technological goods such as machinery parts, electrical circuits and auto parts that are manufactured in Thailand. These goods are then shipped to China, from where they are exported to the US after value addition, according to the National Economic and Social Development Council.
The implementation of more tariffs could be a part of the US strategy to gain leverage in negotiations with China, Thai acting Commerce Minister Chutima Bunyapraphasara said.
"The increase in tariffs is a demonstration by the US that President Trump is willing to act on his threats," said Chatree Rojana-Arpa, executive vice president for strategy and product development at KTB Securities (Thailand).
"President Trump wants to use this move to negotiate with China from a favourable position," he continued. "If there is progress in the negotiations, the tariff rates will likely be brought down."
This sentiment is reflected in Thailand's capital market, which has not taken a significant hit from the trade war escalation. This is because investors are still expecting the tariffs to come down in the near future as US-China trade negotiations make progress, Chatree said.
On the other hand, a drawn-out escalation of the trade war would further hamper Thailand's exports, which have been performing poorly in 2019.
In the first quarter of this year, Thai exports were valued at US$61 billion, a 1.64-per-cent contraction compared to the same period last year.
In 2018, Thai exports grew by 6.7 per cent year on year. As a result of the trade war escalation, various financial institutions have cut their export forecasts for 2019 to less than half of last year's growth.
"If US-China trade tensions continue to escalate, Thai export growth for 2019 is likely to be lower than our recent forecast of 2.7 per cent," said Yunyong Thaicharoen, first executive vice president and head of Siam Commercial Bank's Economic Intelligence Centre.
Sustained suffering
In particular, goods in the supply chain affected by the trade war, such as computers and parts, integrated circuits and rubber, have already shown a year-on-year contraction of 25.5, 28.8 and 18.2 per cent, |respectively, in the first quarter of this year, he said.
In terms of investments, a drawn-out trade war would not benefit Thailand, either. If it continues, the global and regional supply chain may be disrupted, causing a net negative in investments for Thailand, Yunyong claimed. Krungthai Bank's Global Business Development and Strategy Group predicted that Thailand's export growth could be belowtwo per cent in 2019 as a result of the trade war escalation.
Moreover, Thailand does not stand to benefit in terms of investment resulting from an escalation of the trade war. Most international manufacturers have already set up bases in various countries across Asia.
Hence, they may simply start to produce more at their production bases outside China, according to Phacharaphot Nuntramas, senior vice president of the Global Business Development and Strategy Group.
Yunyong suggested that Thai exporters seek alternative markets to diversify their destinations.
"And they should also seek opportunities to benefit from substituting Chinese exports to US markets as well as US exports to China's markets. These products include agricultural goods and auto parts for US markets and processed food, copper and hard-disk drives for China," he said.
The Commerce Minister said Thailand would gear its trade negotiations to open up more tariff-free opportunities for Thai exporters.
file photo
Democracy camp ready to give up PM post to block pro-junta camp
politics May 13, 2019, 01:00
By THE NATION
ANTI-JUNTA PARTIES Pheu Thai and Future Forward hinted at being ready to sacrifice hopes of naming the next prime minister if that's what it will take to block the generals from remaining in politics, even as medium-sized parties become the determining factor in forming the next government.
The Democrat and Bhumjaithai parties, which have about 50 MPs each, now hold the key to deciding which camp will run the country after both major blocs failed to muster enough seats on their own to form a government.
The Democrats will reportedly make their decision after the party chooses its new leader on Wednesday. Bhumjaithai, meanwhile, has kept mum, saying it was listening to the voice of the people. There have been news reports that neither part was satisfied with the Cabinet seats offered them by the pro-junta camp.
The anti-junta camp led by Pheu Thai and Future Forward has 245 MPs, short of a simple majority in the 500-member House of Representatives, while their rivals have about 120, mainly from three parties – Phalang Pracharat, Action Coalition for Thailand and People's Reform.
While the anti-junta camp has been pressing the medium-sized parties to make a decision and "show respect" for the people's voice, it also appeared ready to give up important seats in the government despite the large number of votes they gained.
Pheu Thai de facto leader Sudarat Keyuraphan said yesterday that the medium-sized parties joining the anti-junta bloc did not necessarily mean they had to support Pheu Thai's bid to secure power.
"We don't mean to have them back us as a government or our choice for prime minister," she said. "We're only looking for ways to stop the junta from retaining power. If political parties join forces, the National Council for Peace and Order [NCPO] will have to go home. They [the parties] don't have to support Pheu Thai's bid for power at all."
Sudarat, however, denied offering the government's top job to Bhumjaithai leader Anutin Charnvirakul.
"We haven't talked yet," she said. "Now, let's focus on their stance – whether they want this election to be a rebirth of democracy for the people or justify the NCPO's status."
The Future Forward Party, which gained more than 80 seats in the Lower House in its election debut, also said it prioritises elimination of the junta and was ready to vote for any good candidate as PM. Its leader Thanathorn Juangroongruangkit, however, dismissed news reports that his party would even support Democrat ex-leader Abhisit Vejjajiva as PM in order to put an end to the current regime.
Thanathorn reiterated that Future Forward was ready to vote for anyone who could muster sufficient MPs to stop the junta. This did not mean they would back the Democrats unconditionally, he stressed.
..................................................
Vast majority of poll respondents oppose ministers and NCPO members joining Senate
Published
1 min ago
on
May 13, 2019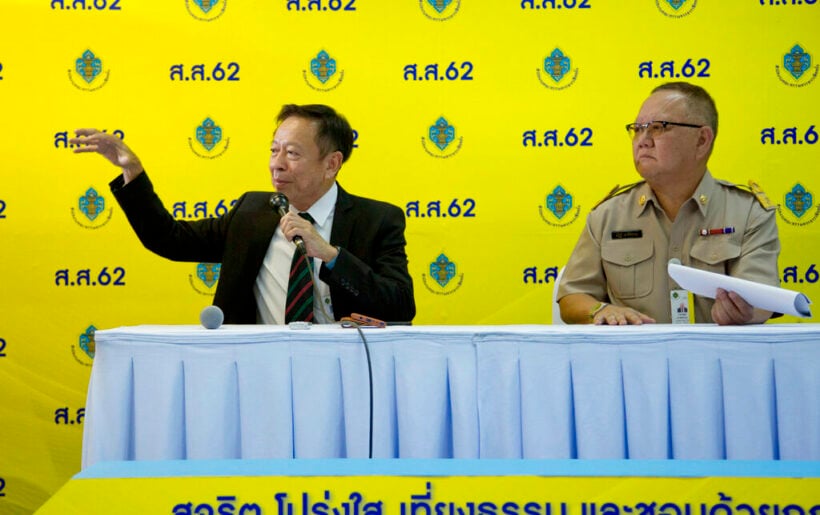 PHOTO: Trying to explain the unexplainable
Most Thais are unhappy with the party-list seat announcements and the perceived nepotism in the selection of parliamentary Senate members.
A majority of respondents in a Suan Dusit Poll disagree with the 'formula' used to calculate party-list seats and with cabinet ministers and members of the military junta taking up new roles in the Senate.
On the EC's endorsement of party-list MPs, 75.4% of the respondents say they disagreed with it, reasoning that many sides believe the method used by the EC to calculate the party-list MPs was unfair to many parties and gave little value to the voice of the majority.
The Suan Dusit Poll gauged the opinions of 1,187 people nationwide between May 7–11 regarding the EC's endorsement of 149 party-list MPs and 349 constituency MPs, as well as the resignation of 15 cabinet ministers and others ahead of the announcement of the full list of 250 senators.
The poll shows 83.2% oppose the resignations, in order to clear the way to become senators, because they don't want the ministers to be used to prop up the stability of a Palang Pracharat-led coalition government.
85% of the respondents also disagree with junta members joining the Senate for the same reason.
75.4% of those surveyed disagree with the EC's endorsement of 149 out of 150 party-list MPs on the grounds that the EC's allocation formula is being challenged by many people and parties.
.........................................................
FINISHED
May 13, 2019