Every day, millions of students receive meals at schools across the United States.
The National School Lunch Program is a federally assisted program that operates in public and non-profit private schools. It provides meals to around 30 million children nationwide.
About 20 million of the students meet requirements for a free lunch, or light meal, during the school day. About two million others qualify for a reduced price. They pay 40 cents a day for lunch.
The nearly eight million remaining students are charged the full price for their meals. But some of their parents may struggle to pay these costs.
Over the years, U.S. schools have tried different methods to collect unpaid lunch money. But not all of these methods are popular.
What happened in Rhode Island?
Rhode Island school officials learned recently that denying children a hot meal led to strong criticism on social media. Some parents had not paid lunch money for their children. So the school district had planned to serve the children cold sandwiches.
But after receiving hundreds of comments on Facebook and angry telephone calls, the school district last week canceled the plan.
Catherine Bonang is with Warwick Public Schools, the district receiving the criticism. She told The Associated Press that the bad reaction to the sandwich plan was "global."
Such plans are not new, but they are increasingly facing public criticism. If a child is seen eating a cold meal, for example, it becomes clear who owes money, and this can cause feelings of guilt or shame. The movement against "lunch shaming" is gaining popularity around the country.
In the past, Warwick students who owed lunch money were served cheese sandwiches that are not on the normal menu. School district officials wanted to make this less noticeable by changing to a kind of sandwich that is offered to everyone, Bonang explained.
But criticism pushed officials to say all students would get the choice of a hot meal. A policy of not letting older students with unpaid fees take part in school trips, dances or other activities was also recently stopped, the district said.
How common is the shaming?
It is difficult to know how common lunch shaming is among the nation's thousands of schools. But in 2011, most school districts had unpaid meal fees. That information comes from a study by the U.S. Department of Agriculture (USDA), which supervises the federal school lunch program. Among those districts, schools often served alternative meals, such as sandwiches.
Districts also reported taking other actions to collect money, such as not giving students their class marks.
Are there rules against shaming?
New Mexico passed a law against such actions in 2017. Several other states have followed its example. They include California, Iowa and Oregon.
Their laws generally do not permit actions like making students do work around the school. Yet serving alternative meals is not always banned. Supporters of the law say students should never go hungry at school or be shamed with food.
Last month, U.S. lawmakers proposed "anti-lunch shaming" bills to help protect children with unpaid fees. The USDA does not support actions that identify such students, but gives school districts permission to set their own policies.
Are the meals a form of shaming?
A child can feel shame even if other children do not know why they are getting a cold sandwich, said Jennifer Ramo. She is with an organization called New Mexico Appleseed. It works on improving the lives of poor people.
After forgetting to pay lunch money for one week, one parent said her young son was given a sunflower butter sandwich last year. The mother said her heart broke when she picked him up at school and he asked why she had not paid.
She was also charged $2.50 for the sandwich, the same price as for a hot meal.
The woman lives in Cranston, Rhode Island, not far from Warwick.
Cranston's school district said it no longer serves alternative meals.
Who is affected?
Reasons for unpaid fees can also be different. Some families may struggle to pay basic living costs, even if they do not qualify for free or reduced-price lunches. Others may feel shame in applyingfor such meals or not realize they qualify.
The School Nutrition Association represents lunch room operators and suppliers. It says providing free lunches for all students would end questions about charges for meal money.
Are unpaid fees a big problem?
The USDA report from a few years ago said lost money from unpaid meals represented a small part of a school food program's total spending. But situations are different. The School Nutrition Association says unpaid meal fees are a common issue. It said debt is increasing in places that started anti-lunch shaming policies.
The debt is at about $90,000 in Cranston, Rhode Island. In January, officials there started using a debt collector.
Michael Crudale is with Cranston Public Schools. He says simply getting a letter from a collection agency can sometimes get families to pay. He said parents' credit rating scores are not affected, but that letters are sent every 30 days until the school year ends. At that point, Crudale said the district decides to pay the cost and the debt is canceled.
I'm Jill Robbins. And I'm Alice Bryant.
Candice Choi wrote this story for the Associated Press. Alice Bryant adapted her report for VOA Learning English. George Grow was the editor. We want to hear from you. How do you feel about schools serving different (or the same) foods to students with unpaid meal fees? Write to us in the Comments Section.
Quiz - 'Lunch Shaming' Faces Criticism Around U.S.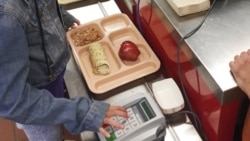 Start the Quiz to find out
Words in This Story
qualify – v. to have the right to do, have, or be a part of something
(school) district – n. an area or region containing the schools that a school board is in charge of
sandwich – n. two pieces of bread with something between them
global – adj. relating to the whole world
menu – n. a list of the foods that may be ordered at a restaurant
fee – n. an amount of money that must be paid
alternative – adj. offering or expressing a choice
sunflower butter – n. a food paste made from sunflower seeds
apply – v. to ask formally for something, usually in writing
A look at the best news photos from around the world.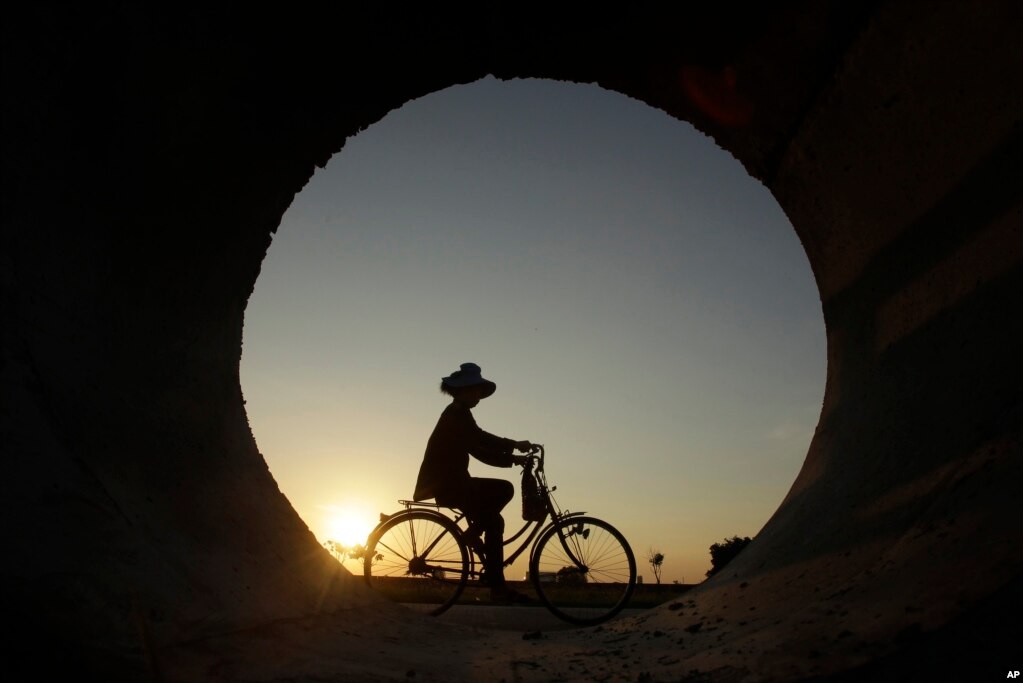 1
A builder rides a bicycle to work in Samroang village outside Phnom Penh, Cambodia.
2
President of Huawei's Honor brand, George Zhao, launches the Honor 20 range of smartphones at an event in London.
3
The white coats of doctors lie on the street around the Spanish message "No to the veto," directed at President Mario Abdo Benítez, asking him to not veto a proposed law that would allow doctors, from both the public and private sectors, to partially retire after 25 years of work, in Asuncion, Paraguay, May 20, 2019.
4
Daisies are seen in rain drops on a piece of grass in Laatzen, northern Germany.
...................................................
May 18, 2019
English in a Minute: Spill the Beans
..............................................
6 Minute English
INTERMEDIATE LEVEL
Being slim: Is it in our genes?
EPISODE 190516 / 16 MAY 2019
Scientists have found some evidence that our weight is not just controlled by what we eat. Research published in the journal PLOS Genetics, explains how twin studies have shown that about 40% of the variation in a person's weight is influenced by their genes. Neil and Dan talk about diets and serve you a tasty helping of vocabulary.
This week's question
What's the name of the popular diet that involves avoiding eating carbohydrates but involves eating as much fat and protein as they want? Is it…
a) The Mediterranean diet
b) The Atkins diet
c) The Graham diet
Listen to the programme to find out the answer.
Vocabulary
paunch
fat stomach that mostly men have
skinny
very thin
willpower
controlling your own behaviour to achieve something
come to terms (with something)
start to accept the difficult or unpleasant situation you are in
judgemental
quick to criticise people based on your own beliefs
burst
sudden and short increase in something
Transcript
Note: This is not a word for word transcript
Neil
Hello and welcome to 6 Minute English. I'm Neil and joining me for this is Dan.
Dan
Hello.
Neil
And can I say Dan, you're looking very slim – it looks like your diet is working!
Dan
This is my normal figure – and I have not been on a diet. But it looks like you've actually put on a bit of weight.
Neil
Well I may have a little paunch – or a fat stomach – but didn't you know that it's out of my control? Some of this has to do with my genes – not the ones I wear – but the cells in my body that control my development. That's what we'll be discussing in this programme.
Dan
However our audience might describe themselves – tubby and overweight or thin and skinny, which means very thin – they're more than welcome to join us on this voyage of discovery. So let's start with answering a question.
Neil
What's the name of the popular diet that involves avoiding eating carbohydrates and in which you can eat as much fat and protein as you like? Is it…
a) the Mediterranean diet,
b) the Atkins diet, or
c) the Graham diet?
Dan
I've heard of the Atkins diet, so I'll say b).
Neil
Well, you'll have to wait a bit to find out. But Dan, you may have also heard of a crash diet – that's where someone makes a rapid change to the types of food they eat with the aim of losing weight quickly.
Dan
Yes, I know that eating this way can be risky for your health and they don't always work.
Neil
That's true and now scientists have some evidence that shows that our weight is not just controlled by what we eat. So it might be quite natural for someone to be thin or fat - it's all to do with their genes. Research published in the journal PLOS Genetics, explains how twin studies have shown that about 40% of the variation in a person's weight is affected by their genes. And also, why thin, but healthy people have genetic advantages in terms of maintaining a healthy weight.
Dan
So that means that losing weight isn't just about having willpower – that's controlling your own behaviour to achieve something – it's actually about something that's out of our control?
Neil
Yes, possibly. Let's hear from the study's author, Sadaf Farooqi, who is Professor of Metabolism and Medicine at the University of Cambridge, and has been a pioneer in the genetics of obesity for more than twenty years. Obesity, of course, is where someone is very overweight, in a way that is dangerous for their health. Here she is speaking on the BBC World Service programme, Health Check. What does she say might be one of the benefits of this research for people who are overweight?
Sadaf Farooqi, Professor of Metabolism and Medicine at the University of Cambridge
It actually can be very helpful in trying to get them to come to terms with some of the difficulties they may be having but also help them engage with help and support to try and encourage weight loss… I hope one of the main outcomes of this work might be, to a little bit, to start to get people thinking about that. Because people are very judgemental and tend to think, look if I can stay thin and control my weight why can't you? And what I would say to that is, well the data now shows that you're probably quite lucky in terms of the genes that you have rather than just being either morally superior or having better willpower.
Neil
Some interesting thoughts there. For people who are overweight, this research can help them come to terms with the struggle they may be having to lose weight. When you come to terms with something, you start to accept the difficult or unpleasant situation you are in.
Dan
So I suppose she means accepting that if you're trying to shed a few pounds unsuccessfully, it's not all your fault. And it may stop people being so judgemental – that's so quick to criticise people based on their own beliefs.
Neil
A slim person might say, "Well, I ate less and lost weight, so why can't you?" – and now we know things aren't quite that simple. You are just lucky to have the right genes but it doesn't make you 'morally superior'.
Dan
So it's not just about having willpower.
Neil
This research is much more detailed of course than we have time to explain here but for someone who is overweight, will they feel defeated?
Dan
Absolutely not, according to Professor Farooqi. For people who are obese, this research is helpful. Not only should it give them hope, it could lead to the develop medicines to help them.
Neil
But as genes only play a part in our size and weight, we should all eat a healthy diet and do some exercise. And there is always new research about the best things to do and the right things to eat.
Dan
Recently, research published in the British Journal of Sports Medicine, said that bursts of high intensity interval training may be more effective for weight loss than longer less intense workouts. A burst is a sudden and short increase in something.
Neil
Even if diets don't help you lose weight – eating the balanced diet can certainly keep you healthy and make you feel good. And as I'm talking about diets, why don't I answer the question I asked you earlier? What's the name of the popular diet in which you should avoid eating carbohydrates but you can have as much fat and protein as you want? Is it…
a) the Mediterranean diet,
b) the Atkins diet, or
c) the Graham diet?
Dan
I said the Atkins diet.
Neil
And that is correct, well done. This well-known low-carb diet was developed by the American physician and cardiologist Robert Atkins in the 1960s. Others low-card diets are available!
Dan
Neil, I think it's time we reminded ourselves of some of the vocabulary we've discussed today.
Neil
Good idea. Let's talk about paunch – another name for a fat stomach that men like me – and you – have.
Dan
Speak for yourself! I'm closer to skinny – a word to describe someone looking very thin and sometimes ill. Our next word was willpower. If you have willpower, you can control your own behaviour to achieve something.
Neil

The next phrase, come to terms with something means you start to accept the difficult or unpleasant situation you are in.
Dan
If you are judgemental,you are quick to criticise people based on your own beliefs.
Neil
And finally, we mentioned a burst of high intensity interval training. A burst is a sudden and short increase in something.
Dan
Well we've had a burst of vocabulary there and it's time to say goodbye. Please join us next time.
Neil
And of course don't forget our website, bbclearningenglish.com. Goodbye.

Dan
Bye!
...................................................
Latest 6 Minute English
EPISODE 190509 / 09 MAY 2019

Do smart speakers make life easier or spy on you?

EPISODE 190502 / 02 MAY 2019

Has anxiety been good for humans?

EPISODE 190425 / 25 APR 2019

Everyone's wearing them!
...................................................
PM General Prayut Chan-o-cha shows the press a small durian that will be displayed at the upcoming roadshow, Thailand Fruit Festival 2019.
Prayut warns horse-trading could hurt govt's credibility
politics May 22, 2019 01:00
By KAS CHANWANPEN
THE NATION
Junta chief ready to lead large coalition and implement policies of political partners
JUNTA CHIEF General Prayut Chan-o-cha has warned that the current horse-trading among politicians could hurt the next government's credibility.
Prayut, however, denied that he or his close colleague, General Prawit Wongsuwan, had participated in any negotiation, stressing it was for the political parties to discuss and sort out.
Prayut also put a positive spin on a coalition of some 16 parties led by Phalang Pracharat Party forming the next government, brushing aside concerns over stability.
"It's okay. We have to look at it positively," Prayut said. "With multiple parties, it can be good in a way that we can try to implement all the policies they have promised the voters."
Phalang Pracharat only won 115 seats in the lower house and will have to rely on medium-sized and minor parties to form a government.
Experts believe such a multiparty government will be unstable. Each party could pursue its own agenda, making administration difficult for the government.
Prayut's offer to implement the election promises of all coalition partners could be viewed as a veiled message to Bhumjaithai Party.
The medium-sized party, with 51 MPs from the recent election, has the power to determine which bloc – pro-junta or anti-junta – forms the government. Its leader Anutin Charnvirakul was even tipped to be offered the PM's post, but he has rested his decision on how each bloc welcomes his party's policy to legalise marijuana.
Prayut said yesterday that one of the perks of a multi-party government could be the variety of policies and he personally viewed them positively. However, citing legislation, Prayut admitted not all policies could come through.
"Even though I have significant power, I cannot make everything possible," he said. "I hope that the next government would just continue the good things. Politics should work that way. It's not competition and all these positions are not for trading.
"Today, the parties are discussing among themselves. Please do not involve me in it. I won't interfere with that," Prayut said. "I think everything depends on mutual understanding about what the country needs right now. If it prolongs for too long, it would hurt the economy and international confidence."
He said he could not make any call now, as he was not the head of the new government. He, however, made it clear that once he takes charge, the Cabinet members would have to be decided by him.
Prayut also dismissed news reports published overseas that the next PM could be founder of the CP Group, Dhanin Chearavanont.
"How could that be? I have no idea about that," he told the press.
Meanwhile, junta No 2 General Prawit denied all reports that he had held discussions with different parties over the next Parliament.
However, when asked about Prayut wanting him to return and continue as defence minister after the new government is set up, Prawit said: "If that's what he wants. But nobody knows about the future. Prayut does not know if he could be the PM or not."
In a related development, former Democrat leader Banyat Banthadthan yesterday said he did not want to become the speaker of the lower house.
Banyat thanked fellow MPs for considering him, saying it was an honour as the post was the head of one of the three pillars of parliamentary democracy. He, however, said he would rather be an ordinary MP.
He said he wanted independence and freedom to work more in rural areas to sort out public issues, adding there were other Democrat MPs who had the credentials to take this post.
Meanwhile, in the junta-appointed upper house, former president of the now-defunct National Legislative Assembly (NLA) reportedly would return as speaker of the Senate.
The first and the second deputy speaker posts would go to former NLA member Singhsuek Singhprai and former Election Commission president Supachai Somcharoen respectively.
The vote would take place this Friday when Parliament opens.
..............................................
Monks, patients and renowned advocates demand free access to marijuana-based medicines before starting the 268km "Cannabis Walk" from Vachira Bhodiyan Forest Temple in Phichit province yesterday.
Advocates for marijuana start 270km walk
national May 22, 2019 01:00
By THE NATION
DECHA SIRIPHAT, a well-known campaigner for medical marijuana, and his allies from over 10 organisations promoting sustainable health and agriculture practices began their 270-kilometre "Cannabis Walk" yesterday from a temple in Phichit, the Transborder News website reported.
The walk, aiming to free marijuana from the legal impasse that is blocking its use for medical purposes, will wrap up in Suphan Buri.
Decha, an advocate for sustainable agriculture, became a traditional medical practitioner and began producing marijuana-based medicines for free distribution among patients.
However, after his work was blocked in line with the recent amendment to the narcotics law, he and his allies decided that it was time to campaign for a new round of legal amendments.
The walk, 15km of which was completed yesterday, is being held to raise public awareness about cannabinoid medication as well as raise funds for the production of medicines, which are pending approval from concerned agencies.
In the end, Decha hopes the use of marijuana will help relieve the burden on public healthcare as people will have the option of treating themselves with marijuana at home.
Witoon Lianchamroon, a director of BioThai, one of the organisers, invited people to participate in the walk as well as put their signatures down in support of legal changes.
Arthit Urairat, the rector of Rangsit University, said the state was depriving people of the right to access marijuana-based medicines, which have proved to be beneficial. He too is participating in the walk.
One patient, a retired senior police officer, told Transborder News that he had been suffering from cancer for five or six years before opting for marijuana-based medication this year.
He said his health has improved and the cancer has gone into remission since.
....................................................
FINISHED
May 22, 2019