The time of year has come again when college students in the United States who have completed their study programs celebrate their success.
Every spring, U.S. colleges, and universities hold a special ceremony called commencement to honor students who graduate. During the ceremony, the students receive diplomas, the documents that recognize the completion of their studies.
Commencement ceremonies usually include guests who give speeches to express praise and offer advice to the new graduates.
The speakers are often successful or well-known and well-respected in fields such as business, politics or entertainment. Sometimes a commencement speaker is a former student of the college or university. The larger or more well-known a school is, the more likely their commencement speaker will be someone famous.
The 2019 commencement season, for example, has seen many popular writers, actors, and singers speak on issues the graduates may face in the years to come. But few have gained as much attention as this year's speaker at the Morehouse College graduation ceremony in Atlanta, Georgia.
Morehouse is among a group of historically black colleges and universities, or HBCUs. HBCUs were established before the U.S. Civil Rights Act of 1964. They were designed to offer higher education to African-Americans because many schools in the country would not admit black students.
Morehouse's 2019 commencement speaker was Robert F. Smith, founder of the investment company Vista Equity Partners. Earlier this year, Forbes magazine reported Smith to be the wealthiest African-American in the United States.
On May 19, Smith made a surprising announcement during his speech to the nearly 400 Morehouse graduates in attendance. He would be paying off all of their student loan debt.
"On behalf of the eight generations of my family that has been in this country, we're gonna put a little fuel in your bus," Smith said, followed by cheers from the crowd.
The estimated cost of Smith's promise is about $40 million. This is in addition to the $1.5 million he donated to Morehouse in January.
Twenty-two-year-old Aaron Mitchom graduated with a degree in finance. He told the Associated Press he had taken out $200,000 in student loans to pay for his education at Morehouse. He noted that in the weeks before graduation, he had calculated how long it would take him to settle that debt. His finding? Twenty-five years if he paid half of his expected earnings every month.
In one short moment, that responsibility disappeared. Mitchom said he began to cry as he sat among the graduates.
"I don't have to live off of peanut butter and jelly sandwiches," he said. "I was shocked. My heart dropped. We all cried. In the moment it was like a burden had been taken off."
Most American college students and their families share major concern about student debt and the rising cost of higher education. The U.S. central banking system, or Federal Reserve, reports that student loan debt reached a record high this year of $1.5 trillion.
But Smith did not give his gift without expectations of his own. He asked the graduates to help others the way he had helped them, and said he hoped that "every class has the same opportunity going forward."
"Because we are enough to take care of our own community," Smith added. "We are enough to ensure that we have all the opportunities of the American dream. And we will show it to each other through our actions and through our words."
Students in the School of International and Public Affairs wave flags at Columbia University's commencement, May 22, 2019 in New York. (AP Photo/Mark Lennihan)
Helping others was the subject of several commencement speeches that gained national attention this year.
Media leader and television producer Oprah Winfrey was the commencement speaker at Colorado College in Colorado Springs. She spoke about the importance of choosing to serve the greater good.
"The truth is, you cannot fix everything," Winfrey said. "But what you can do, here and now, is making a decision, because life is about decisions. And the decision is that you will use your life in service; you will be in service to life. You will speak up. You will show up. You will stand up. You will sit in. You will volunteer. You will vote. You will shout out. You will help. You will lend a hand."
Actor Kristen Bell spoke at the University of Southern California School of Dramatic Arts commencement on May 3.
"When you respect the idea that you are sharing the earth with other humans, and when you lead with your nice foot forward, you'll win, every time," said Bell. "It might not be today, it might not be tomorrow … But I promise you, it will appear exactly when you need it."
I'm Pete Musto.
And I'm Dorothy Gundy.
Pete Musto wrote this story for VOA Learning English using materials from the Associated Press and other sources. Caty Weaver was the editor. We want to hear from you. What message would you give to recent college graduates? Write to us in the Comments Section or on our Facebook page.
_______________________________________________________________
Quiz: 2019 College Graduation Speeches Ask Students to Help Others
Start the Quiz to find out
_______________________________________________________________
Words in This Story
graduate – v. to earn a degree or diploma from a school, college, or university
founder – n. a person who creates or establishes something that is meant to last for a long time, such as a business or school
on behalf of – n. as a representative of someone
degree – n. an official document and title that is given to someone who has successfully completed a series of classes at a college or university
calculate(d) – v. to find a number or answer by using mathematical processes
peanut butter and jelly sandwiche(s) – n. two pieces of bread with a creamy food made from peanuts and a sweet and soft food made by boiling sugar and fruit juice until it is thick between them
burden – n. someone or something that is very difficult to accept, do, or deal with
opportunity – n. an amount of time or a situation in which something can be done
.....................................................
Are You Stuck 'Between a Rock and a Hard Place?'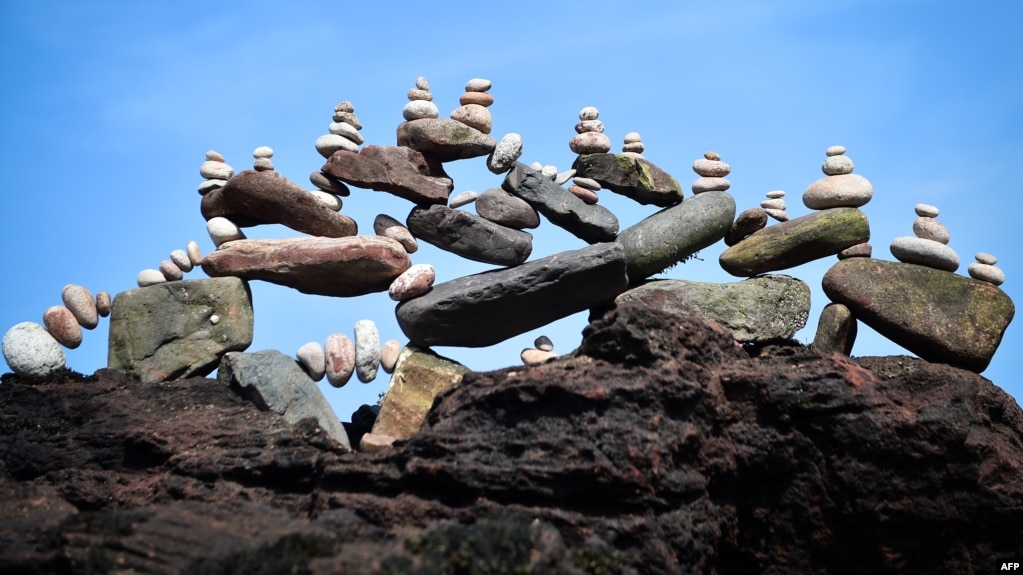 A picture shows a balanced sculpture built during the European Stone Stacking Championships 2019 in Dunbar, Scotland, on April 21, 2019. (Photo by Andy Buchanan / AFP)
Now, the VOA Learning English program, Words and Their Stories.
On this program, we explore the origins and usage of common expressions in American English.
And we are happy that you have decided to learn English. It is a good choice. There is really no downside in learning a new language, especially a useful one. But not all choices are as harmless. Some decisions have no good choice.
Today we will talk about those.
English has many words and expressions that describe those times when you must make a choice but all of your options are terrible!
For starters, you can say you are between a rock and a hard place. This is when you must decide between two things that are equally unpleasant.
Greek origin
Many cultures have their own version of this story. But one of the most famous is the Greek story of Scylla and Charybdis.
You consider me the young apprentice
Caught between the Scylla and Charybdis
Hypnotized by you if I should linger
Staring at the ring around your finger
(The Police sing the song "Wrapped Around Your Finger.")
The online resource Encyclopedia Britannica explains that in Greek mythology, Scylla and Charybdis were two immortal monsters. They terrorized ships that tried to travel the Strait of Messina, a narrow waterway between Sicily and the Italian mainland.
Scylla is the personification -- the human representation of a non-human thing -- of sharp rocks and other objects along the coast. Scylla destroyed ships that came too close.
Charybdis is the personification of a whirlpool, a dangerous water formation in seas and oceans. Charybdis also destroyed ships that came too close but in a very different way.
But both could kill you! And they were located so close to each other that they gave sailors an almost impossible choice. Avoiding Charybdis meant passing too close to Scylla and vice versa.
And that is what "being between a rock and hard place" means. You are in an impossibly difficult situation with no good choices.
So really, you must choose between the lesser of two evils.
Now, let's hear this used in a conversation between two friends. A woman is planning a birthday party for her son. And a friend who offers to help finds himself in a dilemma, a real pickle – you know a difficult situation! He has a hard decision to make.
Can I help with the birthday party?
Oh yes! Thank you so much!
Of course! It's your son's birthday. I'm happy to help.
Well, I need to take my dog to the vet later today. But I also promised my son that I would take him and his friends out for ice cream after the party. So, can you either take the dog or the kids?
Ah … how many kids?
Seven. No wait. Eight. And they will probably all be ready for a nap.
So they'll be tired and quiet?
No. They will be irritable and over-excited because they've had too much sugar.
Argh. That sounds terrible. But then again, I'm not really a dog person. Is she good in the car?
She hates it! But not as much as she hates the doctor. She will probably bark the whole time.
Okay. So, I can either take an unhappy, barking dog to the vet. Or I can take a car full of overly excited six-year-olds out for messy ice cream.
Right. But I'll pay for the ice cream and I'll pay to have your car cleaned afterward – no matter which one you choose.
(sighs)
Well?
I don't know! I have a dilemma. I'm still weighing my options. They are both so bad!
I didn't mean to put you between a rock and a hard place. But you did offer.
Now, you may have also heard the expression: Damned if you do, damned if you don't!
This may sound the same as "being between a rock and a hard place" but we use it a little differently.
If you are damned if you do, damned if you don't – it means that no matter what you do, someone is going to be angry or upset with you. Being between a rock and a hard place involves your choice between two terrible choices.
Now whenever you have to choose between these expressions, you will know which one to use. And luckily choosing between them will not put you between a rock and a hard place.
And that brings us to the end of this Words and Their Stories.
Is there a time when you found yourself between a rock and a hard place? Let us know in the comments section using the words and expressions you heard here.
Until next time … I'm Anna Matteo!
Between a rock and a hard place
Whether I like it or not I'm digging my grave
Friends ask me why I choose to stay
Between a rock and a hard place ...
Anna Matteo wrote this script. Ashley Thompson edited it. At the end of the program. The song at the end is Daniel Ramirez singing "Rock and a Hard Place."
________________________________________________________________
Words in This Story
option – n. the opportunity or ability to choose something or to choose between two or more things
terrible – adj. extremely bad
immortal – adj. not capable of dying: living forever
personification – n. representation of a thing or abstraction as a person or by the human form
whirlpool – n. a rapid swirl of water with a low place in the center into which floating objects are drawn
vice versa – adv. with the order changed
irritable – adj. becoming angry or annoyed easily
weighing my options – idiomatic expression: thinking carefully about options or choices
vet – n. short for a veterinarian, a doctor that treats animals
dilemma – n. a usually undesirable or unpleasant choice a problem involving a difficult choice
pickle – n. a difficult situation
.....................................................