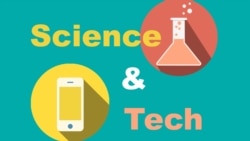 Researchers say they have discovered a plant in Canada that not only eats insects, but also feeds on at least one amphibious creature.
The discovery was recently reported in a study by a research team from Canada's University of Guelph in Ontario. The study was published in the journal Ecology.
The research involved pitcher plants in Ontario's Algonquin Provincial Park. The plants – which take many shapes and sizes and have colorful designs - grow in wetlands across Canada.
A pitcher plant's leaves usually form a tall, narrow pocket that can hold liquid. Insects and spiders that enter the pocket often become trapped and the pitcher plant then feeds on their bodies.
This image shows a pitcher plant with a trapped salamander inside. (M. Alex Smith/University of Guelph)
Pitcher plants are often found in bogs - soft, extremely wet areas. The plants are known for feeding on small organisms – such as insects and spiders – that get caught in the trap.
But the researchers made a surprising discovery - the pitcher plants were also feeding on young salamanders. A salamander is a lizard-like amphibian.
The research team said it believes this is the first time any North American pitcher plants have been observed feeding on anything besides insects or spiders.
In the summer of 2017, then University of Guelph student Teskey Baldwin found a salamander trapped inside a pitcher plant while doing field work in the provincial park. One of the biggest surprises was that the discovery did not happen earlier, the researchers said.
Alex Smith is a biology professor at the University of Guelph and co-writer of the study. He told Canada's CTV News the research station near the bog where the pitcher plants were observed has been there for 70 years.
"So the surprise was that we discovered such a new case of plants eating vertebratesinvolving such a well-known species in such a well-known space," Smith said.
Image of Alex Smith, a biology professor at the University of Guelph and co-writer of the study. (University of Guelph)
During visits to a single area of the park in fall of 2018, the research team found almost one in five pitcher plants contained young salamanders. The amphibians were each about as long as a human finger.
Several plants contained more than one captured salamander. Some of the trapped salamanders died within three days, while others lived for up to 19 days, the study found.
The researchers said they do not know what killed the salamanders. They could have died from proteins produced by the pitcher plants that are held in liquid inside the leaves. This liquid mixture is designed to break down organisms trapped in the plants to aid the feeding process.
This image shows pitcher plants found in bogs in Ontario's Algonquin Provincial Park (Patrick D Moldowan/University of Guelph)
The researchers suggested other possible causes for the salamander deaths could have included heat, starvation or infections. Organisms living in the pitcher may also help break down the salamanders' bodies.
The study found that there are also several possible reasons the young salamanders are drawn to the plants in the first place. One is that they fall into the plant pockets accidentally. They also could go in to find a place to hide or to feed on insects or spiders already trapped there.
The researchers say pitcher plants clearly get a lot more nutrients from salamanders than from insects and spiders. So there is no reason to think that the plants will not continue feeding on them.
Meat-eating pitcher plants have been known since the eighteenth century, the University of Guelph says. One species discovered 10 years ago in Asia feeds mostly on insects and spiders, but sometimes captures small birds and mice.
Alex Smith said the discovery opens some new questions that future research might help explain. Are salamanders an important feeding source for pitcher plants? Are the plants important "predators" of the amphibians? Might the salamanders compete with plants for insect food?
The university said the discovery area could even be called the "Little Bog of Horrors" after a Broadway musical and film that includes a giant plant that likes to eat people.
I'm Bryan Lynn.
Bryan Lynn wrote this story for VOA Learning English, based on reports from the University of Guelph, the journal Ecology and CTV News. Mario Ritter Jr. was the editor.
We want to hear from you. Write to us in the Comments section, and visit our Facebook page.
Quiz - Researchers Discover Meat-Eating Plant in Canada
Start the Quiz to find out
_____________________________________________________________
Words in This Story
amphibious – adj. able to live on both land and in water
leaf – n. the flat part of a plant that are joined at one end to the stem or branch
pocket – n. part of something that can hold other things
vertebrate – n. animal that has a spine
predator – n. animal that hunts and kills other animals for food
.......................................................
Italian George Clooney fraudsters arrested in Thailand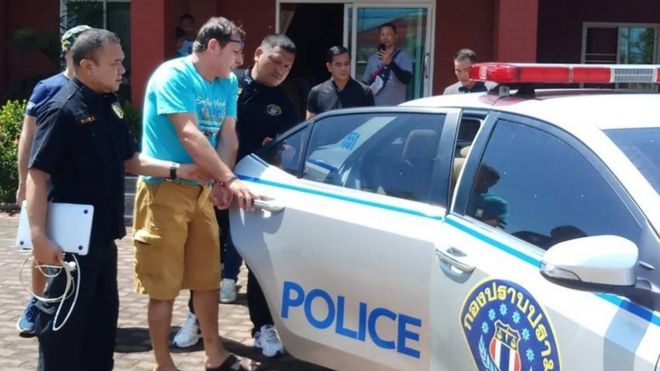 Image copyright
CRIME SUPPRESSION DIVISION/ ROYAL THAI POLICE
Image caption
The two were arrested on the outskirts of Pattaya in Thailand
Two Italians accused of posing as US actor George Clooney to promote a fashion business have been arrested in Thailand after years on the run.
Francesco Galdelli, 58, and Vanja Goffi, 45 have been wanted on an Interpol red notice since 2013.
The Hollywood star sued them and in a 2010 trial in Italy testified against them, saying they had fraudulently used his name.
They are also accused of a series of other scams and frauds in Italy.
They had fled their home country to avoid arrest and had been dubbed the Italian Bonnie and Clyde after the legendary US gangster couple.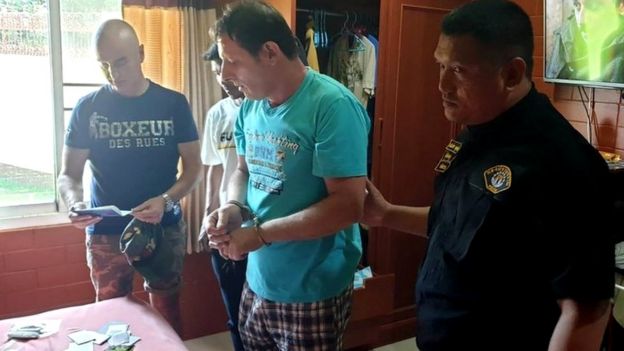 Image copyright
CRIME SUPPRESSION DIVISION/ ROYAL THAI POLICE
Image caption
According to police, the accused admitted to using Mr Clooney's name
The two were arrested on Saturday in a joint operation of Thai and Italian authorities on the outskirts of the Thai city of Pattaya, Thailand's Crime Suppression Division said on Sunday.
"During interrogation, Francesco confessed to claiming to be George Clooney and opening a clothes business to trick people into sending money," news agency AFP said citing Thai police.
The pair had been living in Thailand since 2014 according to authorities. That year Mr Galdelli had been arrested but escaped during his trial.
According to Italian media, the two sustained their life in Thailand by selling fake Rolex watches online.
They will be charged for overstaying their visas before extradition proceedings begin, police said.
.....................................................
File photo : Asean summit 2018
Weighty agenda for Asean meet
Breaking News June 17, 2019 07:08
By Supalak Ganjanakhundee
The Nation
Security plans include 10,000 police on alert around central Bangkok
Southeast Asian leaders assembling for the Asean Summit in Bangkok this coming weekend will discuss a range of issues including Indo-Pacific strategy and the Regional Cooperation Economic Partnership (RCEP), and possibly Myanmar's Rohingya crisis, Thai officials have said.
The summit on Saturday and Sunday has as its theme "Advancing Partnership for Sustainability". It is expected to generate a string of policy statements including direction on marine debris and an "Indo-Pacific Outlook".
Prayut Chan-o-cha, royally endorsed as prime minister last week, will chair the summit despite not yet having a Cabinet in place.
Foreign Minister Don Pramudwinai, who has served in the military-backed government since August 2015, will assist Prayut on both the substance and protocols of the gathering. He has hinted he might leave office after the summit.
Deputy Prime Minister Prawit Wongsuwan, who is in charge of national security affairs, is expected to complete security plans for the summit today.
They will include the deployment 10,000 police officers at key locales in the capital, said deputy police chief Srivara Ransibrahmanakul. Srivara declined to say whether intelligence officials had detected any cause for concern.
The leaders of Asean and its regional partners will not soon forget the summit held in Pattaya a decade ago, when anti-government red-shirt protesters stormed into the meeting venue, forcing a hasty evacuation.
Srivara said traffic intersections on Wireless, Phloen Chit and Sarasin roads would be closed over the weekend to facilitate the movements and security of summit participants.
Suriya Chindawongse, director general of Asean affairs at the Foreign Ministry, confirmed that the leaders of all 10 member-nations would attend.
He described the gathering as an "in-house summit", with no leaders of partner states in attendance. He could not say whether Myanmar's troubles regarding Rakhine state will be among the issues discussed.
"What we can say is that Asean, notably under Thai chairmanship, gives importance to the situation in Rakhine," Suriya told reporters.
"At the retreat meeting in Chiang Mai in January, it was agreed for the first time that the group's role in providing humanitarian assistance to Myanmar, facilitating the repatriation of [refugees] and fostering sustainable development in Rakhine should be enhanced."
The regional bloc, of which Myanmar is a member, has worked out tentative plans for the repatriation of the Rohingya who fled violence at home and took refuge in Bangladesh.
Asean Secretary General Lim Jock Hoi led an assessment team on a visit to Rakhine late last year, resulting in a report circulating among Asean ministers. Further instruction is awaited, an Asean source said.
As to Indo-Pacific strategy, Asean will issue its "Outlook" paper at the end of the summit, taking into account competing efforts by both China and the United States, the world's major powers, to expand their influence in the region.
Suriya said Asean was striving to secure shared benefit for all stakeholders amid the shifting geopolitics straddling both the Pacific and Indian oceans.
He cited the bloc's leading role in formulating the Treaty of Amity and Cooperation and its firm stance in advocating connectivity and sustainability in linking the oceans.
On the economic front, Asean is seeking to conclude negotiations over the RCEP, the world's biggest economic bloc, under Thailand's chairmanship by the end of this year. But an economics official said the prospects for doing so are not promising.
Established in 2013, the RCEP has representation from 16 economies – all 10 Asean countries plus Australia, New Zealand, China, India, Japan and South Korea. They have formalised 20 chapters of a pact aimed at liberalising trade and services but have found agreement on only seven, said Oramon Sapthaweetham, director-general of the Commerce Ministry's Department of Trade Negotiations.
"Since the member-countries are determined to reach a conclusion this year, we remain hopeful that we can at least complete a significant portion during the next summit in November," she said. In Bangkok this weekend, the Asean leaders will seek common ground on how to move the RCEP process forward, Oramon said.
PROGRESS ON POLICY
Documents to be noted
Asean Framework of Action on Marine Debris
Chiang Mai Statement of Asean Ministers Responsible for CITES and Wildlife Enforcement on Illegal Wildlife Trade
Concept Note and Terms of Reference for the Network of Asean Associations of Asean State Members
Asean Labour Ministers' Statement on Future Work: Embracing Technology for Inclusive and Sustainable Growth
Report of the Secretary General of Asean on Asean Work
Report of Executive Director of the Asean Foundation
Report of APSC Council
Report of AEC Council
Report of ASCC Council
Documents to be adopted
Asean Leaders' Vision Statement on Partnership for Sustainability
Bangkok Declaration on Combating Marine Debris in Asean
Region
Asean Leaders' Statement on the Asean Cultural Year 2019
An Asean Indo-Pacific Outlook
Documents to be issued
Chairman's Statement of the 34th Asean Summit
Press Statement on Asean Centre for Military Medicine
Press Statement on the Launch of Asean Satellite Warehouse in Chai Nat Province under the Disaster Emergency Logistics System for Asean (DELSA)
Source: Compiled by The Nation
..........................................................
FINISHED
June 17, 2019