Scientists are asking: What is the best way to fight climate change?
A new study says: Plant many trees; one trillion trees, maybe more.
Swiss scientists say there is enough room for that many trees. In their report in the journal Science, they say even with existing cities and farmland, there is enough space for new trees to cover nine million square kilometers. That is about the size of the United States.
Trees take carbon dioxide out of the air, and in return, put oxygen back into the air.
The study estimated that over a long period of time, the trees could take in almost 750 billion tons of carbon dioxide from the atmosphere. That is about as much carbon as humans have put into the atmosphere in the past 25 years.
In this June, 3, 2017, file photo, the sun sets behind Georgia Power's coal-fired Plant Scherer, one of the nation's top carbon dioxide emitters, in Juliette, Ga. (AP Photo/Branden Camp, File)
What is so bad about carbon dioxide? The gas traps heat, causing temperatures to rise.
Much of the gain from planting trees will come quickly because trees remove more carbon from the air when they are younger, the researchers said. The place that has the best possibility for removing the most carbon is the tropics— the area close to the equator.
This method would also have the lowest cost, says the study co-author Thomas Crowther.
"This is by far — by thousands of times — the cheapest climate change solution" and the most effective, he said. Crowther is a climate change ecologist at the Swiss Federal Institute of Technology in Zurich.
The six nations with the most room for new trees are Russia, the United States, Canada, Australia, Brazil and China.
Before his study, Crowther thought that there were other more effective ways to fight climate change besides cutting emissions. One example could be for people to change their diets by no longer eating meat. But, he said, tree planting is far more effective because trees remove so much carbon dioxide from the air.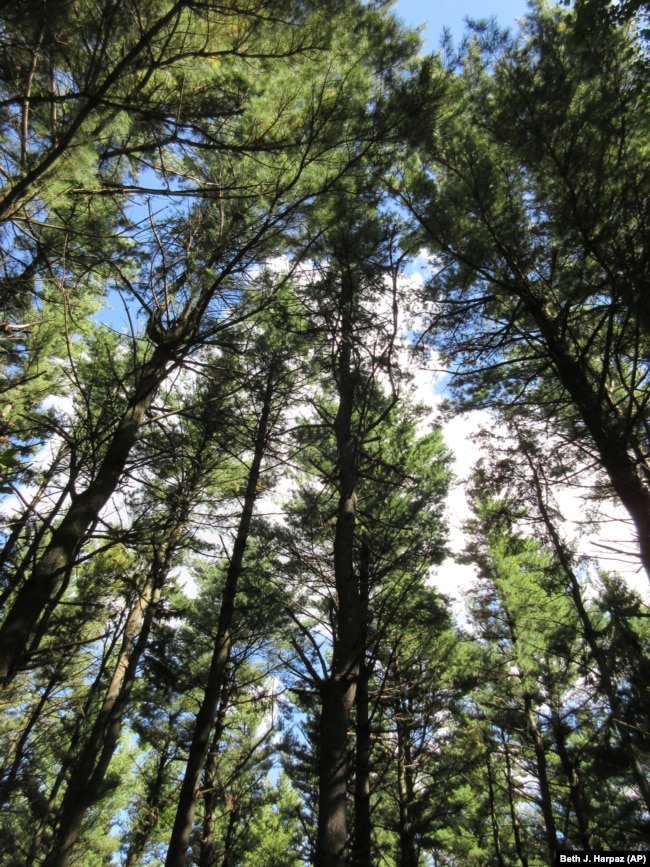 File: The sky seen through evergreen trees on a trail in Wisconsin.
Thomas Lovejoy works as a biologist at George Mason University. He was not part of the study. But, he called the report "a good news story" because planting trees would also help stop the loss of biodiversity.
Crowther said planting trees is not a substitute for reducing the world's dependence on oil, coal and natural gas. The carbon dioxide produced by burning these fuels is believed to cause the warming of the atmosphere.
"None of this works without emissions cuts," he said.
And it is not easy or realistic to think the world will suddenly start planting a lot of trees quickly, although many groups have started, Crowther said.
"It's certainly a monumental challenge, which is exactly the scaleof the problem of climate change," he said.
The researchers used Google Earth to see what areas could support more trees, while leaving room for people and crops. Lead writer for the study, Jean-Francois Bastin, estimated there is space for at least 1 trillion more trees, but it could be 1.5 trillion.
That is in addition to the 3 trillion trees that now live on Earth -- a number Crowther found in earlier research.
I'm Anne Ball.
Seth Borenstein wrote this Associated Press story. Anne Ball adapted it for VOA Learning English.
Do you think planting many trees is a good idea? Let us know what you think of this story. Write to us in the comments section below.
Quiz - How to Fight Climate Change? Plant a Trillion Trees
Start the Quiz to find out
Words in This Story
tropic - n. the part of the world that is near the equator where the weather is very warm
cheapest – adj. not costing a lot of money
biodiversity – n. the existence of many different kinds of plants and animals in an environment
realistic – adj. able to see things as they really are and to deal with them in a practical way
monumental – adj. very great or extreme
challenge – n. a difficult task or problem : something that is hard to do
emission – n. the act of producing or sending out something (such as energy or gas) from a source
diet – n. food and drink regularly provided or consumed
scale – n. the size or level of something especially in comparison to something else
A look at the best news photos from around the world.
1
Demonstrators spray water on a man who tried to set himself on fire during a protest demanding the removal of Algeria's ruling elite, in Algiers.
2
People run next to fighting bulls during the running of the bulls at the San Fermin Festival, in Pamplona, northern Spain.
3
Basketball player Dwyane Wade holds up his Legend Award while getting the gold slime during the Nickelodeon's Kids' Choice Sports Awards 2019 in Santa Monica, California, U.S. July 11, 2019.
4
A visitor takes pictures of a piece of art named '100 colors' by French architect Emmanuelle Moureaux at the Eslite bookstore in Taipei. The artwork is made of 8,000 paper-cut numbers.
..................................................
6 Minute English
INTERMEDIATE LEVEL
Why do we feel awkward?
EPISODE 190404 / 04 APR 2019
Introduction
We all know the feeling. That horrible uncomfortable silence where we freeze up, or look away or just want to turn invisible. Awkwardness can strike anyone in the wrong circumstances. But why does it happen? How is it connected to rules and what does it have to do with society? Neil and Dan find out and teach you related vocabulary.
This week's question
Which city has the oldest underground railway? Is it:
a) London

b) New York or

c) Tokyo
Listen to the programme to find out the answer.
Vocabulary
awkward (adjective), awkwardness (noun)
feeling uncomfortable, self-conscious or embarrassed in a social situation
implicit
not spoken or written down, but still understood
social rules
the way we behave in society in particular situations so that we can live together peacefully
to govern
to rule, to control
to illuminate
to make something easier to understand, to clarify
to breach (a rule)
to break (a rule)
Transcript
Note: This is not a word for word transcript
Neil
Hello and welcome to 6 Minute English. I'm Neil.
Dan
And I'm Dan.
Neil
Now then, Dan, do you ever feel awkward?
Dan
Awkward?
Neil
Yes, feeling uncomfortable, embarrassed or self-conscious in a social situation where something isn't quite right.
Dan
Sometimes. I remember always feeling very awkward watching TV with my parents if there was an explicit love scene. You know, people canoodling.
Neil
Oh yes, me too! And that feeling of awkwardness is what we are looking at in today's 6 Minute English, and how it is all connected to social rules.
Dan
Social rules are the unspoken rules which we follow in everyday life - the way we interact with other people and particularly with strangers.
Neil
Yes. For example, if you're waiting at a bus stop, it's OK to talk about the weather to a stranger.
Dan
But it would be very awkward if you broke that social rule by asking them about, oh I don't know, how much money they earned.
Neil
Oh yes, that would be wrong, wouldn't it? And we'll find out about another awkward situation on the underground railway later in the programme. Before that though, a quiz. Which city has the oldest underground railway? Is it:
a) London
b) New York or
c) Tokyo
Dan
Aha! Well, I'm pretty confident about this! I think it's London.
Neil
Well, I'll have the answer later in the programme. Dr Raj Persuad is a psychologist. He was a guest on the BBC radio programme Seriously. He was talking about social rules. How does he say they affect our lives?
Dr Raj Persaud
How do we understand what the implicit social rules are that govern our behaviour? They're so implicit. They're so almost invisible - yet we all obey them - i.e. they're massively powerful that the only way to get at them, because you couldn't use an MRI brain scanner or a microscope… What's the tool you would use to illuminate the social rules that actually govern our lives?
Neil

How do they affect our lives?
Dan
He says that they govern our behaviour, they govern our lives – this means that they 'control' our lives. They 'rule' our lives.
Neil
What's interesting is that he says these social rules are implicit. They are not written down anywhere. They are unspoken but understood.
Dan
If they are unspoken and not written down, how can scientists and sociologists study them? How can they find out about them? They need a way to illuminate the rules. This means a way of shining a metaphorical light on them to see what they are.
Neil
Here's Dr Persaud again.
Dr Raj Persaud
How do we understand what the implicit social rules are that govern our behaviour? They're so implicit. They're so almost invisible - yet we all obey them i.e. they're massively powerful that the only way to get at them, because you couldn't use an MRI brain scanner or a microscope… What's the tool you would use to illuminate the social rules that actually govern our lives?
Neil
One way to find out about a rule is to break it. Another word for 'break' when we're talking about rules is breach and breaching experiments were used to learn about social rules. Here's Dr Persaud describing one of those experiments.
Dr Raj Persaud
You breached the social rule on purpose. So a classic one – people would go into the Metro, the underground railway – Tube – and there'd be only one person sitting in a carriage. You would go and sit next to that person. And if that led to awkwardness or discomfort, where the person got off the tube stop immediately, you had discovered a social rule.
Neil
So, what was the experiment?
Dan
Well, quite simply, find a nearly empty train carriage and then go and sit right next to someone rather than a distance away. If that person then feels uncomfortable or awkward, and that's something you can tell by watching their behaviour – for example, do they change seat, move carriage or get off the train completely? If they do, then you know you've discovered a rule.
Neil
So you find a rule by breaking it or breaching it. OK, time to review our vocabulary, but first, let's have the answer to the quiz question. I asked which city has the oldest underground railway. Is it:
a) London
b) New York and
c) Tokyo
Dan, you were pretty confident.
Dan
I was! I said London, but now I'm having second thoughts. I think it might be New York.
Neil
Oh… That's a little bit awkward, isn't it? Well, it is London, so I don't know if you're right or wrong! I feel a bit uncomfortable now. The facts are that London opened in 1863. New York was 1904 and Tokyo, 1927. Well done, and extra bonus points if you knew any of those dates. Now it's time for our vocabulary. I hope it doesn't make you feel awkward, but you can you start, Dan?
Dan
Of course! And the adjective awkward, and its noun awkwardness, are on our list for today. They mean 'an uncomfortable feeling in a social situation'.
Neil
This is all connected with the idea of social rules – unspoken, but well known rules which we follow in daily life to avoid awkward situations.
Dan
The rules, as Neil said, are not spoken and they are not written down but we know them and understand them. They are implicit.
Neil
And these implicit rules govern our lives. The verb govern means to 'control and rule'.
Dan
To see something clearly, either in reality or metaphorically, you need to put some light on it. You need illuminate it. And that was the next of our words, the verb illuminate.
Neil
And finally we had a word which means, when we're talking about rules, the same as break, to breach.
Dan
In experiments they breached the rules to learn more about them.
Neil
Well, we don't want to breach any rules so it's time for us to leave you for today. But don't worry we will be back. In the meantime, you can find us in all the usual places online and on social media, just look for BBC Learning English. Bye for now.
Dan
Bye-bye!
...............................................
Thaksin planning new party "Pheu Dharma", says source
Jul 14. 2019
By The Nation
Fugitive former prime minister Thaksin Shinawatra will establish a new political party in the near future and then relinquish control of the Pheu Thai Party (PTP) to trusted lieutenant Khunying Sudara Keyuraphan, according to a PTP source.
The highly placed source said the new party, possibly to be called Pheu Dharma, would have both veterans and new faces from Thaksin's inner circle among its members.
The Pheu Dharma leader could be Sompong Amornwiwat, only recently elected to lead PTP, and would likely have Anudit Nakhonthap as secretary-general, the source said.
Other members would be drawn from the disbanded Thai Raksachart Party, from among MPs not barred from politics by the Election Commission.
Among other possible members are Thaksin's former Cabinet ministers in various party incarnations, such as Plodprasop Surassawadi, who once headed natural resources, former finance minister Kittirat Na Ranong, and former PM's Office minister Chusak Sirinil.
The source said Thaksin's decision to form Pheu Dharma apparently stemmed from his fear of PTP yielding ground to the rising Future Forward Party (FFP).
He is seen as sharing similar political ideas with FFP but does not have control over it.
Thaksin-affiliated parties have seen FFP gain popularity in their strongholds in the North and Northeast, where FFP is intensively campaigning with a view to future municipal and local administrative elections, the source said.
The source was speaking on condition of anonymity on Sunday, the 14th anniversary of the founding of Thai Rak Thai, Thaksin's original party.
The source Thaksin would give Sudarat the title of PTP party president, having made Sompong its leader just last Friday.
.........................................................
July 15, 2019