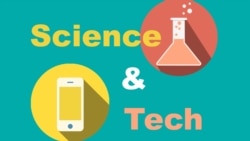 Facial recognition technology is already widely used by governments, law enforcement and some advertising companies.
The technology uses machine learning tools to search for faces in an attempt to identify people. Now, these systems are also being used to identify animals.
In a recent study, scientists announced they had developed machine learning tools to track the faces of individual wild chimpanzees.
The study was led by researchers from Britain's University of Oxford. The results were published in Science Advances.
Dan Schofield is a researcher and doctoral student working in Oxford's Primate Models Lab. He said in a statement that the system was developed to improve the quality of information collected about chimpanzees in the wild over a long period of time.
"For species like chimpanzees, which have complex social lives and live for many years, getting snapshots of their behavior from short-term field research can only tell us so much," Schofield said.
The researchers wanted to get a more complete understanding of the lives of the chimpanzees by studying them over several generations. But doing this would have required searching through hundreds of hours of video recordings of chimpanzees in the wild.
The study by Oxford University researchers used facial recognition technology to collect data on chimpanzees in the wild. (Photo credit: Kyoto University, Primate Research Institute)
The video recordings that the researchers studied captured the activities of a group of chimpanzees that lived in the West African nation of Guinea. The video collection began in 1988. It was created as an "outdoor laboratory" by researchers at Japan's Kyoto University.
A facial recognition computer model was trained using more than 10 million images of the animals. The model was then used to search, recognize and track individual chimpanzees. The researchers said that the machine learning tools were effective even when processing poor quality images in different lighting conditions.
The team said the system was able to identify individual chimpanzees correctly about 92 percent of the time. It successfully identified the animal's sex 96 percent of the time.
The study included an experiment with humans to see how they could perform against the machine learning system in making identifications. The human subjects were able to correctly identify individual chimpanzees about 42 percent of the time.
Irish-based company Cainthus is developing a system to collect video data on milk-producing cows. (Photo: Cainthus/Twitter)
The study also noted that the machine learning tool was much faster at completing the experiment. Human experts took about 55 minutes, while the computer took only seconds.
The researchers say they are permitting other scientists to use the system for similar projects. They hope the method will be used with other species to record animal behavior and monitor different animal populations in the environment.
Facial recognition technology is also being used with other animals. The New York Times reported earlier this year that several Chinese companies were developing facial recognition systems to track pigs. Most of the systems aim to improve feeding methods and search for sick animals.
A company based in Ireland has developed a system to collect video data on milk-producing cows. The company, called Cainthus, says the technology collects information on eating, health, and reproduction. The information is immediately available to farmers to help manage the animals' activities.
In this photo from Aug. 1, 2012, cattle belonging to Todd Eggerling of Martell, Neb., graze in the thin pasture. (AP Photo/Nati Harnik)
In the United States, researchers at the University of Kentucky are working to create a facial recognition system to help identify cows spread over large areas of land. The system would use drones, or small, unpiloted aircraft, to search for the cows. The researchers are asking local farmers to send in pictures of cows to be used in the project. They will be used to help build a machine learning tool that will be taught to recognize different breeds, age and the sex of cows.
I'm Bryan Lynn.
Bryan Lynn wrote this story for VOA Learning English, based on reports from Oxford University, ScienceAdvances, the University of Kentucky and online sources. Mario Ritter Jr. was the editor.
We want to hear from you. Write to us in the Comments section, and visit our Facebook page.
Quiz - Facial Recognition Now Used to Identify and Follow Animals
Start the Quiz to find out
Words in This Story
track –v. to follow and try to find, to hunt down
snapshot – n. a small amount of information that tells you a little about something
monitor – v. to watch something carefully
manage – v. to handle something successfully
breed – n. a type of animal
............................................................
Everyday Grammar: Introduction to Phrasal Verbs
...............................................
6 Minute English
INTERMEDIATE LEVEL
Loneliness
EPISODE 181108 / 08 NOV 2018
Introduction
We all live in an over-crowded world which is fast approaching eight billion people. Despite that many individuals feel alone and isolated. The BBC did a survey about loneliness involving 55,000 people from all over the world. Neil and Sam discuss the findings and teach you new vocabulary.
This week's question
Where is the most isolated inhabited place on the planet? That's the place furthest away from anywhere else with the fewest people living there. Is it:
a) McMurdo Station in Antarctica
b) Siwa Oasis in Egypt's Western Desert
c) The island of Tristan da Cunha in the South Atlantic
Listen to the programme to find out the answer.
Vocabulary
isolated
far away from other places and people
stereotype
a simplistic view of person or group based on certain characteristics such as nationality, age, profession
intensely
strongly
to be plagued by something
to be tormented by something; to have it causing you problems and difficulties
figure something out
try to understand something
to regulate
to control
Transcript
Note: This is not a word for word transcript
Neil
Hello. Welcome to 6 Minute English, I'm Neil.
Sam
And I'm Sam.
Neil
And we are sitting here in New Broadcasting House, in the middle of London. Would you say, Sam, that this is an isolated place?
Sam
Oh no, not at all. Isolated means far away from other places and people.
Neil
Does that mean then, do you think, that you can't be lonely here, with all these people around and all these things to do?
Sam
Ah, good question. Can you be lonely in a crowd? Yes, of course, I think you can be because being lonely isn't about physical isolation. I think you can be lonely anywhere if you feel that you are disconnected from the world around you, if you feel that no one understands you. If you are living happily in isolation in The Scottish Highlands, for example, I'm sure you could feel lonely if you came here to London.
Neil
Well, loneliness is today's topic. The BBC has just completed a big survey about it which we will learn more about shortly. But first, of course, a question: Where is the most isolated inhabited place on the planet - by which I mean the place furthest away from anywhere else with the fewest people living there. Is it:
a) McMurdo Station in Antarctica
b) Siwa Oasis in Egypt's Western Desert, or is it
c) the island of Tristan da Cunha in the South Atlantic
What do you think, Sam?
Sam
I've got absolutely no idea, so this is just a guess - I think it's the one in Antarctica. I'm going to go with that.
Neil
Well, we'll have the answer later on in the programme. Loneliness is seen as a big problem for the mental health of the population, so much so that the British government has a minister for loneliness. But which age group suffers most from loneliness. Here is a BBC report about the research.
James Gallagher, BBC Health and science correspondent
There is a common stereotype that loneliness affects only the old and the isolated. It does, but what this experiment also shows is that loneliness is felt throughout life. People aged between 16 and 24 experience loneliness more often and more intensely than any other age group.
Neil
So according to the research, Sam, which section of society is most affected by loneliness?
Sam
This might be a surprise, but it's 16 to 24 year olds.
Neil
I was surprised by that because like many, I would've guessed that it was older people.
Sam
The reporter did say that that was a stereotype. A stereotype is nothing to do with stereo music, but it's the noun we use to describe a very simple and basic judgement of someone and their character and personality based on their age, nationality, profession and so on. So a stereotype of British people is that we can't cook, we have bad teeth, we are very reserved and never say what we mean.
Neil
I don't know what you mean, my cooking is wonderful, Sam. And the stereotype is that old people get lonely.
Sam
Much like the stereotypes of British people, this may be true in some cases - I've eaten some of your home-cooked meals remember, Neil - but it's not true for the majority. It is young people who feel lonely more often and more intensely. Intensely here means strongly. The feeling of loneliness is stronger in young people than older people.
Neil
The reporter goes on to give some explanation for why young people might be more lonely.
James Gallagher, BBC Health and science correspondent
Researchers from the University of Manchester who analysed the data, suggested feeling lonely may plague the young because it's a time of identity change. Figuring out your place in the world and of learning to regulate emotions.
Neil
He says that feeling lonely may plague young people, what does he mean there?
Sam
If you are plagued by something, it means that it troubles you, it bothers you and not just once, it's something that happens continually or repeatedly.
Neil
And he says this may be because at that age we are still figuring out our place in the world. We are trying to understand the world and what we are supposed to do with our lives.
Sam
He also suggests that younger people have not yet learned how to regulate their emotions, which is another way of saying to control their emotions.
Neil
Right. Time to review this week's vocabulary, but before that let's have the answer to the quiz. I asked: Where is the most isolated inhabited place on the planet? Is it:
a) McMurdo Station in Antarctica
b) Siwa Oasis in Egypt's Western Desert or
c) the island of Tristan da Cunha in the South Atlantic
What did you say, Sam?
Sam
I said a).
Neil
Well, I'm afraid to say the answer is actually c) the island of Tristan da Cunha in the South Atlantic. It has a population of fewer than 300 and it's only accessible by a 6-day voyage by ship from South Africa.
Sam
So not a popular place for a weekend break!
Neil
Indeed not. Now it's time for a recap of our vocabulary. The first word was isolated which Tristan da Cunha certainly is. It means far away from other place and people.
Sam
Then there was stereotype the noun for a simplistic view of person or group based on their nationality, age, profession and the like.
Neil
Intensely means strongly.
Sam
Being plagued by something means it causes you problems and difficulties.
Neil
If you are trying to figure something out, you are trying to understand it.
Sam
And to regulate something means to control it.
Neil
Well, sadly, that's the end of the programme. Hopefully you won't feel too lonely without us, remember we are always here on Instagram, Facebook, Twitter, YouTube, our App and of course the website bbclearningenglish.com. See you soon. Goodbye.
Sam
Bye!
.......................................................
It's fun, it's mad, it's Stasha
Sep 18. 2019
Stasha Dansithiteshodom is an artist-turned-businesswoman who has found her true passion in life.
By
Kitchana Lersakvanitchakul
Special to THE NATION
Thidasiri "App" Danvadhanakul, a former Grammy artist who shot to fame with her first single "Kham Saraphap Khong Nak Suksa Fuek Ngarn" released as part of the label's modern lukkrung" (MLK) project back in 2004, is today enjoying even more success, this time as the organiser of creative pool parties.
In business for 7 years, her company, Mad Stash Co Ltd, has its roots in her new name, Stasha Dansithiteshodom.
The word Stasha means resurrection and according to those who know about such things, people with this name tend to be very active and love to try new things and take chances. Professionally, they can be successful as a public figure, in the media, or at developing new ideas for small businesses.
Scoota won an award for the Global Expansion Track of the Dtac Accelerate Batch.
"It's rather like being reborn," Stasha says with a smile. "I found my lucky numbers through my name and it was approved by a well-known monk. Lucky numbers have reinforced my power. I also changed my family name and was pleasantly surprised when my parents said they liked it. That gave me confidence in myself and the new name has made me a lot stronger. I'm even invited to sing at several events every week."
After leaving GMM Grammy, Stasha worked for a while as a coordinator for Sensation Thailand by Heineken, which was organised for the first time at Impact Arena in 2012, and later for a company that brought American media personality and fashion icon Paris Hilton to Thailand.
The pool party has proved a very successful daytime entertainment event for Mad Stasha.
"The jobs were fun but I kept asking myself if I wouldn't be better going it alone. And so I set my own company and team, and called it Mad Stash," says the 38-year-old singer-turned-businesswoman.
Mad Stash Co Ltd was set up in 2013 as an organiser of new stylish fashion & music events for Bangkok's entertainment business and to produce and manage professional international fashion models and DJs, both well-known and not so well-known, to perform Mad Stash-style.
Today, Mad Stash is recognised as a successful company that organises daytime entertainment – mainly pool parties – at 5-star hotels across Thailand.
"The first proposal I wrote was submitted to Sofitel So Bangkok and offered a stylish pool party that perfectly matched the hotel's concept. In the beginning, the entrance fee to the party was Bt250 but now it has gone up to Bt600 because there are many more people interested in the parties but the hotel can't support all of them.
"It's an event that everyone can enjoy during the day – listening to music, dancing and chatting with friends from 1pm to 9pm. During the Songkran Festival, the pool party was packed with more than 1,500 people. We have created new themes for the pool parties and sometimes we invite an international DJ from Ultra Records. In addition to So Pool Party, we also organise the Westin Pool Party and Splash Pool Party," says Stasha. "Mad Stash puts together rooftop events for the Marriott and Avani and also provides digital marketing – promoting the events through our social medial channels and our influencers and celebrities."
Her electric scooter rental is also going well.
More recently, Stasha formed another company, Innotra Co Ltd, which serves as the parent company of two brands – MadBike for motorbike rental and Scoota for electric scooter for rent. Scoota gets you wherever you need to go – whether you're commuting to work, going to class, running errands or exploring the city. The electric scooter is fun, easy to ride and completely emission-free.
"The German ambassador to Thailand rides our electric scooter as part of his personal commitment to reducing greenhouse gases. We expect to have more than 500 stations for electric scooter rental at several hotels, restaurants and cafes around the country. Users can drop the electric scooter at another station. We just launched the application and Scoota won an award for the Global Expansion Track of the Dtac Accelerate Batch," says Stasha proudly. "For MadBike, most of renters for motorcycle are expats and foreign tourists as well as some foreign CEOs."
And Stasha says music is no longer her sole love. She's passionate about her business too.
"If we are not passionate about what we do, we'll never achieve success. The greatest goal is the pursuit of happiness – we are happy with what we manage and committed to making people happy," she says.
.....................................................
Suriya off to Japan to lure investment
Sep 19. 2019
Suriya
By THE NATION
Industry Minister Suriya Juangroongruangkit will lead a delegation to Japan from September 24-27 to try and woo investment.
Passakorn Chairat, deputy director-general of the Industrial Promotion Department, said they would meet the head of Mitsubishi Motors on September 25 and invite him to expand investment in Thailand, especially in the next-generation automotive business.
The ministry is ready to facilitate such a move, Passakorn said.
Suriya will also address about 20 corporate representatives who are members of the Keidanren Japan Business Federation about possible collaborations in Thailand.
The Thai delegation will visit the city of Toyama on September 26, meet the governor and outline Thailand's industrial policy at a seminar expected to draw more than 100 businesspeople.
Passakorn said Toyama is renowned as a hub for smart electronics, next-generation automotive components and medical innovations.
That evening, the delegation will meet with the New Energy and Industrial Technology Development Organisation regarding collaboration in forging a circular economy, including the recycling of electronic and automotive waste.
They will also meet with representatives of the Japanese Minister of Economy, Trade and Industry to discuss expanding trade and economic ties further between the countries.
....................................................
FINISHED
September 19, 2019