Imagine you are about to complete high school and are thinking about attending a college or university.
After doing some research, you find a school you would like to attend, but have questions about the admissions process. So you go to the school's website in hopes of finding a few answers.
Time goes by and you still do not have the answers. You almost feel like giving up. But then a message appears on your computer or personal electronic device. It says something like: "How can I help?"
Writing back to the website, you try to explain your problem. You possibly get a few questions in response to clarify what your concerns are. Then, almost immediately, the person with whom you are in contact provides the information you are seeking.
Except, you are not actually communicating with a school official. You are not even dealing with a human being. You are in contact with a computer program, or chatbot. It is using artificial intelligence, AI for short, to understand and communicate with you.
This might sound strange. But chances are this would not be the first time you have communicated with a computer program without knowing it. In recent years, chatbots have become a common tool for banks and large companies around the world.
Having human beings available to answer people's questions and complaints can be costly, requiring many workers. And in most cases, employees can only work a set number of hours in a day, increasing the amount of time customers wait for a response.
So not just companies, but a growing number of colleges and universities have also begun using chatbot technology, says Keith Rajecki. He is with Oracle Higher Education, a computer software company that serves these institutions.
Oracle offers several software tools now in use at hundreds of schools in the United States, the United Arab Emirates and other countries. These tools help with almost everything, from academic record keeping to employee services, and most include a chatbot in their programming.
Rajecki notes that reducing costs and response times is one of the main reasons schools and companies are turning to this technology. However, the goal of many colleges and universities is to find ways to better serve students.
Part of that relates to the fact that the current generation of college students are used to communicating online, said Rajecki. They already talk with their friends and family members through social media messaging service like Facebook and WeChat.
But most importantly, he said, students want support outside of the hours when it is normally available.
"Yes, traditional students are in the class at set hours. But the reality is, a lot of the work that they do and continued interaction with the institution … takes place outside of the classroom, online … day and night," Rajecki told VOA.
Australia's University of Adelaide noted major improvements in its service to students after deploying an Oracle chatbot to deal with admissions questions in 2018. It said that students received responses 13 times faster, and students' approval of the quality of service increased by 60 percent
Now Oracle is offering one program for all areas of support services that colleges or universities provide to their students and employees. This includes a chatbot that can do everything from helping students register for classes to helping professors request time off.
Oracle is not the only company working on this kind of technology. Businesses like AdmitHub and Ivy.ai are involved in similar efforts. Several schools have also created their own systems.
Western Governors University, or WGU, operates completely online, meaning it has no actual grounds or physical campus. In 2018, the school's non-profit research agency, WGU Labs, received a $750,000 award from the National Science Foundation to experiment with a new kind of chatbot.
"We're not trying to create a bot that answers simple questions … or anything like that," said Jason Leven, the executive director of WGU Labs. "We're really trying to create an agent that can help … decision making for students."
Like Oracle, WGU's chatbot software will use machine learning to study past interactions between students and other chatbots, Leven said. This will enable the program's artificial intelligence to continuously learn and improve its communication skills.
But additionally, he noted, the goal is to collect information about the school's students. This includes expectations on how much time they can commit to their studies, how long they think a study program should take to complete and what kind of career they want.
Then when a student who is unsure of the program or field of study they are interested in visits the WGU website they can interact with the chatbot. This chatbot can then help the student find the program that best meets their needs. It may even suggest they are too busy to seek higher education at that time, to ensure they do not try and fail, said Levin.
However, not everyone is ready to consider the possibilities this kind of technology presents.
Ian Jacobs is with the market research company Forrester. He suggests that technology like chatbots can work well if it is able to do what users ask of it. Jacobs says the problem is when cost cutting becomes an important reason for deploying the technology. This means schools and companies are more likely to try using chatbots for things they are not yet able to do.
AI programs are not yet able to fully interact in the way humans do, he notes. For one thing, there are hundreds of ways to word even simple requests. When chatbots make mistakes in especially difficult situations, this can result in really problematic user experiences.
"What happens when…a parent dies and the student has to renegotiate financial aid. That is an incredibly emotional experience…You wouldn't want to automate that...And I think, right now, higher education is not really good at figuring out where human beings need to be involved," said Jacobs.
I'm Dorothy Gundy.
And I'm Pete Musto.
Pete Musto reported this story for VOA Learning English. George Grow was the editor.
We want to hear from you. How are colleges and universities in your country making use of technology like chatbots? Write to us in the Comments Section or on our Facebook page.
________________________________________________
Quiz - More Colleges Use Chatbot to Communicate Online
Start the Quiz to find out
..........................................
A look at the best news photos from around the world.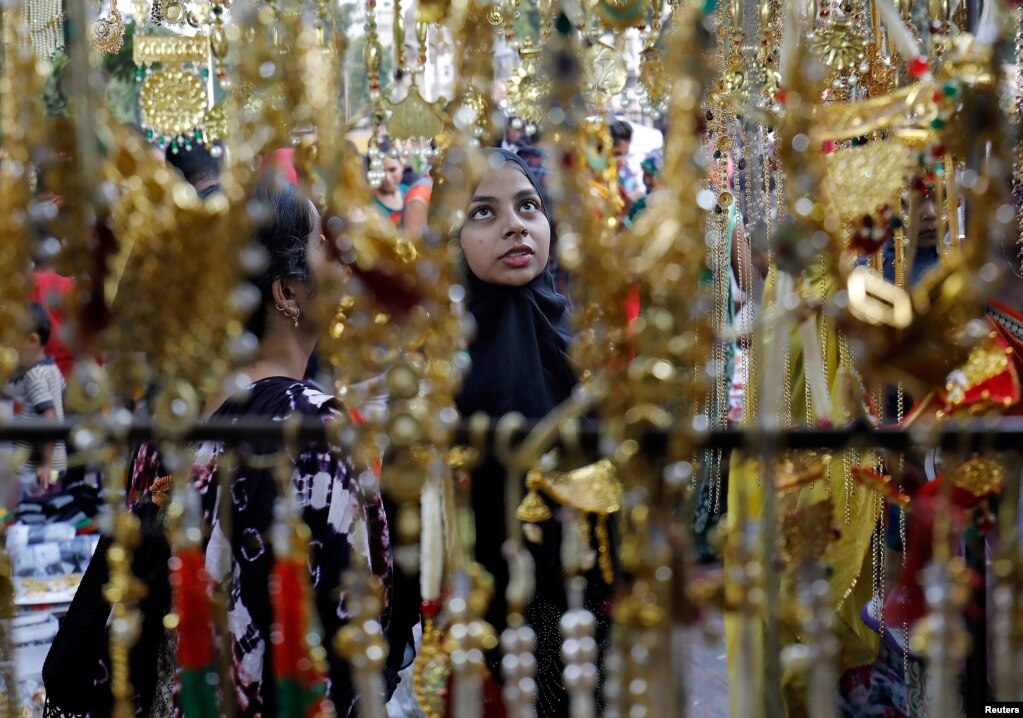 1
Women buy artificial jewelry and decorative goods at a market ahead of Diwali, the Hindu festival of lights, in Ahmedabad, India.
2
Demonstrators walk under an Estelada (Catalan separatist flag) as they march on Diagonal Avenue during Catalonia's general strike in Barcelona, Spain.
3
People light oil lamps during the three-day annual festival of saint Al-Sheikh Ali Bin Usman Al-Hajveri known as Data Ganjbaksh, at his shrine, in Lahore, Pakistan.
4
An Israeli soldier walks with a detained Spanish activist during clashes between Palestinian protesters and Israeli forces in the village of Kfar Qaddum, in the Israeli-occupied West Bank.
....................................................
6 Minute English
INTERMEDIATE LEVEL
How creative should we be?
EPISODE 181025 / 25 OCT 2018
Introduction
The World Economic Forum forecasts that by 2020, creativity will be in the top three most important skills for future jobs. This is particularly relevant for younger people who will be entering the world of work soon. BBC Learning English's very creative scriptwriter Rob and Neil discuss what it takes to be creative - and they also teach you related vocabulary.
This week's question
Banksy created a well-known piece of artwork that has been in the news recently. Do you know what it is called? Is it…
a) Girl with Balloon
b) Girl with Red Balloon
c) Balloon Girl
Listen to the programme to find out the answer.
Vocabulary
a creative (noun)
a person whose job is to use a lot of imagination and come up with new ideas, such as someone who works in the media or advertising
legitimately
describes doing something fairly and reasonably
think outside the box
find new ways of doing things
redress the balance
to make things fairer and more equal
lifeblood
the most important thing to make something a success
disparate
very different and unrelated
headspace
when your mind is in a good state and you can think clearly
Transcript
Note: This is not a word for word transcript
Neil
Hello. Welcome to 6 Minute English, I'm Neil.
Rob
And hello, I'm Rob.
Neil
Now Rob, how creative are you?
Rob
Very creative, I think. Creativity is in my bones! Look at this wonderful script that I wrote and we're presenting right now.
Neil
You are what we could call 'a creative' – a noun which means someone with a lot of imagination and ideas. In our job we have to create – or make – content that teaches English creatively.
Rob
Creativity is becoming more important for everyone. The World Economic Forum forecasts that by 2020, creativity will be in the top three most important skills for future jobs. This is particularly relevant for younger people who will be entering the world of work soon – and that's what we'll be discussing today. But before we do, Neil, have you created a question for us to answer?
Neil
Yes, and it's about the very creative artist Banksy. He created a well-known piece of artwork that has been in the news recently, but do you know what it is called? Is it…
a) Girl with Balloon
b) Girl with Red Balloon
c) Balloon Girl
Rob
I can see the picture in my head – so I think it's c) Balloon girl.
Neil
OK, and we'll find out the answer later. But now back to our discussion about creativity. Experts say that students need to focus more on creativity to help them get a job. That's perhaps surprising in the UK, when some of our creative industries – that's businesses that make music, art and TV for example – are world famous. We are creative people, Rob!
Rob
Of course, but there's not such a focus on being creative in education now and that might have an effect in the future. It's something Bernadette Duffy, an early years consultant, has been discussing on BBC Radio 4's Bringing up Britain programme. What does she say we have been focusing too much on in schools?
Bernadette Duffy, early years consultant
We focus on the things that are legitimately important but we teach them in a way that makes them easier to measure. I think we need to redress the balance that puts the focus purely on gaining the skills and far far more on actually using them in a creative way because that's what's going to make a difference for the future.
Neil
So Bernadette feels we teach skills in a way that can be easily measured and tested. She says we teach these skills legitimately – which here means fairly and reasonably. But she feels we don't teach a creative approach to learning skills.
Rob
So we mean things like problem solving. I guess, even tasks like data inputting and preparing spreadsheets can be approached creatively. In any job, it's sometimes good to 'think outside the box' or find new ways of doing things.
Neil
Bernadette thinks we should move away from just learning skills and start using these skills creatively – she used the expression 'redress the balance' which means 'change things to make them fairer and more equal'.
Rob
Well, here at the BBC we have to creative. In fact one of our values states that 'creativity is the lifeblood of our organisation'. Lifeblood here means 'the most important thing to make something a success'.
Neil
Rob, I can see creativity is in your blood – but on an everyday level how can we all improve our creativity – be more like you?!
Rob
Well, Neil, I'm no expert but Innovation Manager, Nick Skillicorn is. He's also been speaking to the BBC and explaining what we can do to help ourselves. What does he suggest?
Nick Skillicorn, Innovation Manager
On a daily basis, everyone should take fifteen minutes of what I call unfocused time – time that they're not looking at any screen, time that they can essentially get back into their own head, slow down a bit, and start forming these new connections between disparate ideas that result in divergent new original ideas.
Neil
So we need free time to collect all our different thoughts in our head – what Nick calls disparate ideas to create new and amazing ideas.
Rob
Disparate ideas are very different ideas, all unrelated. And we need what we might call headspace – that's when your mind is in a good state and you can think clearly. For me, I have headspace when I'm lying in the bath or out riding my bike – there are no interruptions.
Neil
Well, you certainly don't get your ideas sitting at a desk, focusing on one task – we all need some downtime to get creative. But children going into school now will grow up to do a job that doesn't yet exist. And faced with the challenges of AI, automation, green issues and an ageing population, creativity and imagination will be vital.
Rob
Right, well, let's get back to talking about the creativity of Banksy now.
Neil
Ah yes, because earlier I asked you which one of his well-known pieces of artwork has been in the news recently? Is it…
a) Girl with Balloon
b) Girl with Red Balloon
c) Balloon Girl
Rob
And I said c) Balloon Girl. I know it was a girl and a balloon.
Neil
Not quite right, Rob. The artwork is titled 'Girl with Balloon.' This was recently auctioned in London but amazingly shredded in its frame as someone's winning bid was accepted!
Rob
Wow, that's a very creative way to destroy a picture! I will do the same with this script soon but not before we have recapped some of today's vocabulary. Starting with 'a creative' - that's a person whose job is to use a lot of imagination and come up with new ideas, such as someone who works in the media or advertising.
Neil
Then we mentioned legitimately – which describes doing something fairly and reasonably.
Rob
Next we heard the expression 'redress the balance'. This means to make things fairer and more equal.
Neil
We also talked aboutcreativity being the lifeblood of the BBC. Lifeblood here means the most important thing to make something a success. And I know creativity is running through your veins, Rob!
Rob
Thanks, Neil. We also heard the word disparate, meaning very different and unrelated. And we talked about headspace, which is when your mind is in a good state and you can think clearly.
Neil
Before we head off to find some headspace, don't forget to visit our website at bbclearningenglish.com for more great learning English content. That's all we have time for now. Do join us again though. Goodbye.
Rob
Bye bye!
......................................................

Bt80 bn munition budget 'necessary': Prayut
Oct 19. 2019
By THE NATION
1,851 Viewed
Speaking before attending the House of Representatives' budget debate for fiscal year 2020 today, Prime Minister and Minister of Defence Gen Prayut Chan-o-cha stressed that the Defence Ministry must reserve a budget of Bt70-80 billion for buying munitions and vehicles for defensive purposes.
"This money is part of the Ministry of Defense's allotted budget and has nothing to do with the central expenditure budget," he said.
"Our military personnel are patrolling 5,000 kilometers of border both by land and sea," he said. "It's a dangerous and important duty and they need modern ships for efficient operations." The PM further explained that the Ministry's existing fleet is more than 60 years old and most of the ships require urgent repair or replacement. "All our neighbouring countries have modern ships, and Thailand needs to keep up with the changing world to maintain our negotiating powers, as well as show our potential and capability to protect our resources, especially around naval borders."
"The Ministry of Defence is trying its best to reduce costs, such as by using smaller ships or even trying to build the ships domestically," said Prayut. "However, we cannot let up on naval patrol. As you can see from skirmishes with illegal, unreported and unregulated (IUU) foreign fishing boats, we need to protect our people and resources as well as prevent matters that might escalate into bigger conflicts."
Paraquat ban could cost Bt570 billion, warn academics
Oct 19. 2019
By The Nation
3,111 Viewed
Millions of sugarcane farmers and some academics have voiced opposition to the ban on farm chemicals paraquat and glyphosate, saying the discontinuation of these substances can cost the sugar industry as much as Bt570 billion.
Thongkam Cheongklad, chairman of the Sugarcane Farmers Association, said if paraquat – a chemical used to control weeds – is prohibited, it will have a significant impact on the cost of production for farmers. It has also been reported that the substitution for paraquat is quite expensive and may not be as effective.
He said some 1.2 million people involved in the sugar industry in the Central, North, East and Northeast regions are opposed to the ban on the two chemicals.
Kitti Choonhawong, president of the Thailand Society of Sugarcane Technologists said sugarcane plantations cover about 11 million rai nationwide and generate as much as Bt300 billion annually. He added that the ban of the two chemicals may lower the production of sugar, which will have an impact on sugar factories and export, accounting for losses of as much as Bt570 billion.
He also said that the export market may lose as much as Bt94.6 billion, as Thailand is second only to Brazil as the world's leading sugar exporter.
Viroj Na Ranong, research director at Thailand Development Research Institute, warned that if Thai sugar farmers are no longer allowed to use chemical pesticides and chemical fertilisers, the country will not be able to produce enough food for consumption.
However, he said, if chemical pesticides are banned but chemical fertilisers still allowed, then there may be enough food for domestic consumption, though the cost of production will rise as more labour will be required and the cost of labour is very high.
................................................
October 20, 2019