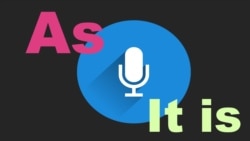 Scientists say they have discovered an earthquake-like event that can happen during a hurricane or other powerful ocean storms. They are calling it a "stormquake."
Researchers came up with this name after studying seismic events on the sea floor during such storms. They found that the shaking can last for several days and feel as strong as a magnitude 3.5 earthquake.
The discovery was made by a research team led by Wenyuan Fan, a seismologist and professor at Florida State University. His team examined seismic and ocean records from September 2006 to early 2019 in an effort to identify possible stormquakes.
A report on the study was published in Geophysical Research Letters.
Waves crash on stilt houses along the shore as Hurricane Michael's power is unleashed in Alligator Point, Franklin County, Fla., Oct. 10, 2018.
Intense energy from hurricanes and other severe storms can create very large waves in the ocean. These waves then "interact" in some places with solid earth under the sea to cause "intense seismic source activity," Fan said.
"We can have seismic sources in the ocean just like earthquakes within the crust," he added. "The exciting part is seismic sources caused by hurricanes can last from hours to days."
The researchers found evidence of more than 10,000 stormquakes between 2006 and 2019 in coastal areas of the United States and Canada. Seismic activity was recorded off the coast of New England, as well as off of Florida and in the Gulf of Mexico. In Canada, evidence was found off the eastern provinces of Nova Scotia and Newfoundland, as well as British Columbia's Pacific coast.
Stormquakes were found to have happened around continental shelves or sea floors containing flat land and at lower depths, the research showed.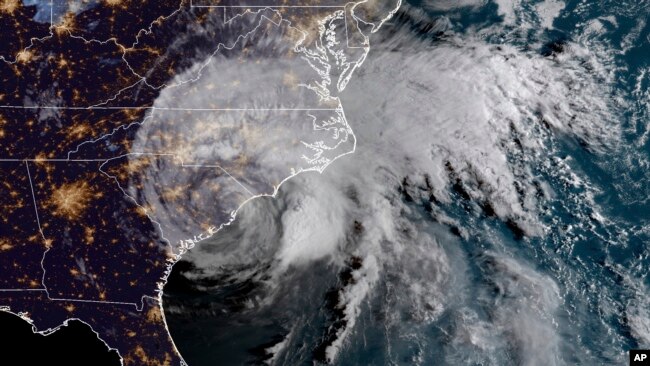 This satellite image provided by NOAA shows Hurricane Florence on the eastern coast of the United States early Saturday, Sept. 15, 2018. (NOAA via AP)
The researchers considered other weather conditions when they tried to identify whether a seismic event could have been a stormquake. The seismic activity had to happen on a stormy day or have some other connection to a storm. Other seismic events, such as earthquakes, had to be ruled out as causes.
Even with evidence of so many stromquakes happening, it was not known until recently that such events even existed. This is mainly because scientists studying earthquakes have generally considered ocean-caused seismic waves as "background noise."
The research found that major U.S. hurricanes had produced a lot of stormquakes. One example was Hurricane Bill, a storm that formed 10 years ago in the Atlantic Ocean. Bill strengthened into a Category 4 hurricane before weakening to a tropical storm and hitting Newfoundland. The researchers said the storm caused "numerous seismic events" off the northeast U.S. and Canadian coasts.
Other examples of stormquakes were 2008's Hurricane Ike and Hurricane Irene in 2011. Ike led to stormquake activity in the Gulf of Mexico, while Irene caused seismic events off the coast of southern Florida.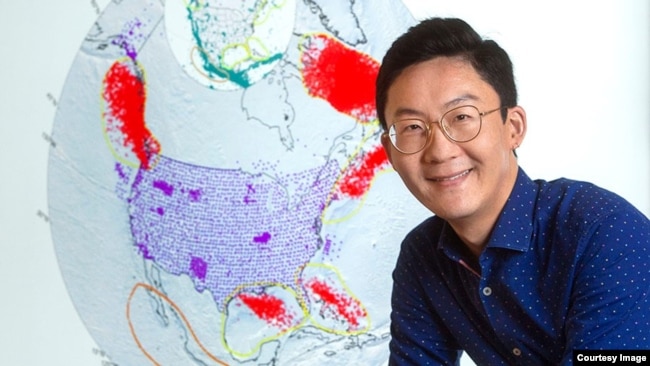 Wenyuan Fan, an assistant professor of Earth, Ocean and Atmospheric Science at Florida State University, uses the term "stormquakes" to describe a newly identified geological event during hurricanes or other strong storms that can cause seismic events.(Ph
The researchers noted that not all hurricanes produce stormquakes. For example, the study found no evidence of stormquakes off the coast of Mexico. Also, no such activity was recorded in areas along the U.S. East Coast, starting in New Jersey, and continuing all the way down to Georgia.
The team noted that even Hurricane Sandy, one of the most costly storms in U.S. history, did not cause a single stormquake. Wenyuan Fan says this suggests that stormquakes are strongly influenced by the physical shape of the seafloor's surface and seafloor conditions.
Fan added that there are still "lots of unknowns" about stormquakes. But he said discovering them "suggests we are reaching a new level of understanding of seismic waves."
Fan said that he hopes the discovery will also lead to improved study methods for hurricanes, which in the past have mainly been observed from satellites in the sky.
"Now we are able to understand the phenomenon – or at least track part of its passage – through the solid earth as well," he said.
I'm Bryan Lynn.
Bryan Lynn wrote this story for VOA Learning English, based on reports from The Associated Press, Florida State University and Geophysical Research Letters. George Grow was the editor.
We want to hear from you. Write to us in the Comments section, and visit our Facebook page.
Quiz - Scientists Have Discovered 'Stormquakes.' What Are They?
Start the Quiz to find out
Words in This Story
magnitude – n. the size of something; the strength of an earthquake's power
interact – v. act in such a way as to have an effect on something or someone else
source – n. a person, place or thing from which something comes
crust – n. hard, outer surface of something
exciting – adj. producing strong feelings
continental shelf – n. an area at the bottom of the sea near the coast of a continent, where the sea is not very deep
phenomenon – n. someone or something that is popular, especially because of an unusual ability or quality
track – v. to follow the progress of something
...................................................
......................................................
6 Minute English
INTERMEDIATE LEVEL
What is scumbro?
EPISODE 181018 / 18 OCT 2018
There's a new look in town, which some people are calling 'scumbro'. Scumbro combines the word 'scummy', which means 'dirty and messy', with the word 'bro', which is an informal way of referring to a boy or man. So scumbro is a fashion for men – but women can adopt it too. Find out more about it in this programme.
This week's question:
When did the first official charity shop opened its doors in the UK? Was it in…
a) 1928
b) 1948
c) 1968
Listen to the programme to find out the answer.
Vocabulary
donating
giving goods or money to an organisation or charity
founding fathers
people who start an idea or an organisation
fashion victim
person who has to follow the latest fashion trends
rummaging
searching for something that's mixed up with lots of other things
simultaneously
doing one thing at the same time as doing something else
Transcript
Note: This is not a word for word transcript
Catherine
Hello. Welcome to 6 Minute English, I'm Catherine.
Rob
And hello, I'm Rob.
Catherine
Now Rob, do you ever buy things at a charity shop?
Rob
Yes I do. They are a great place to pick up a bargain and I also donate items to charity shops too. And a charity shop, by the way, is a shop where people take their unwanted items and then the shop sells them and makes money and the money goes to charity.
Catherine
Exactly that's good to hear, Rob, because donating – that's giving money or goods to an organisation – helps charities raise money. And you might be interested to know that dressing up in second-hand clothes is back in fashion – well sort of. And that's what we're discussing today – is looking like you're dressing in charity shop clothes a new fashion statement?
Rob
It should be interesting. But first, Catherine, aren't you going to set me a question to answer? And not a second-hand one, please!
Catherine
It's a brand new question today, Rob, for you and the listeners at home – do you know when the first official charity shop opened its doors in the UK? Was it in…
a) 1928
b) 1948, or
c) 1968?
Rob
I'll go for 1948.
Catherine
OK, and we'll find out the answer later. But now back to our discussion about charity shops and fashion. And there's a new look in town, which some people are calling 'scumbro'. Scumbro combines the word 'scummy' which means 'dirty and messy' with the word 'bro', which is an informal way of referring to a boy or man. So scumbro is a fashion for men – but women can adopt it too.
Rob
It's a bit of an insulting name and here's the odd thing about this new fashion style: being scumbro is about buying expensive designer brands that look like they are from a charity shop. Very odd!
Catherine
Well, it's something Amber Graafland knows about. She is the Fashion & Beauty Director for the Daily Mirror newspaper and she's been telling BBC Radio 4's You and Yours programme all about it. So, how did this trend start?
Amber Graafland, Fashion & Beauty Director, Daily Mirror
Well I think the name came from a Vanity Fair article, and I think Justin Bieber, the likes of Jonah Hill to thank for this look, Pete Davidson, who's actually the fiancée of Ariana Grande – he's definitely one of the founding fathers of scumbro. And I think, like most of these trends, they're started by celebrities and then, I mean look, it's been picked up by everybody by the sounds of things.
Rob
OK, so the fashion magazine Vanity Fair invented the name but the trend has spread because celebrities have been dressing in this style.
Catherine
Yes and Amber mentioned a number of celebrities who are the founding fathers of the trend – that's a term used to describe people who start an idea or an organisation.
Rob
Yes, the trend has been picked up – or copied - by people who you might describe as fashion victims – people who have to follow the latest fashion trends.
Catherine
Well Rob, I'm no fashion victim – but I say, maybe, one day, I might want to look scumbro – or maybe scumsis! So how exactly should I dress?
Rob
OK, well let's hear from Amber Graafland again. How does she describe the characteristics of this fashion trend?
Amber Graafland, Fashion & Beauty Director, Daily Mirror
It's all about wearing these oversized clothes that are overpriced and I think it's not just about looking like you've rummaged in a teenager's dressing up box. These are very, very expensive items – you mentioned the labels Prada, Versace, Gucci, Supreme – while it's basically about looking simultaneously like you've made no effort, but the underlying thing is you do need to see the effort has gone in there.
Rob
Wow, this fashion trend does involve a lot of effort! It's not just about looking messy – like you've rummaged in a teenager's dressing up box. Rummaging is when you search for something that's mixed up with lots of other things.
Catherine
No don't be rummaging! The trick seems to be to look like you've not made any effort but at the same time, you're show you have made an effort! And that's the meaning of the word simultaneously – doing one thing at the same time as another thing.
Rob
And I guess by showing you've made an effort, you wear designer labels – showing you've paid lots of money.
Catherine
The issue here is clothes from charity shops are supposed to be cheap. Some people even buy these clothes because it is all they can afford – but the irony here is some people are choosing to pay lots and lots of money to look like they're wearing second-hand clothes – and the charity shops aren't making any money from it.
Rob
Well if you're a fashion victim it's something you have to do.
Catherine
And there's one thing I have to do now and that's give you the answer to today's quiz question. So I asked you earlier when the first official charity shop opened its doors in the UK?
Rob
And I said 1948.
Catherine
And you are correct this week, Rob. Well done! The very first shop, run by the charity Oxfam, opened its doors in Oxford in 1948, as a direct result of an appeal launched to help post-war Greece.
Rob
Very interesting. Right, let's remind ourselves of some of today's vocabulary, starting with the word donating which means 'giving goods or money to an organisation or charity'.
Catherine
Then we mentioned founding fathers - a term used to describe people who start an idea or an organisation.
Rob
We also mentioned that Catherine was no fashion victim – a person who has to follow the latest fashion trends.
Catherine
Rummaging was a word that described searching for something that's mixed up with lots of other things. And then we had simultaneously which means 'doing one thing at the same time as doing something else'.
Rob
Well you can simultaneously listen to this programme and look at our website if you like. The web address is bbclearningenglish.com.
Catherine
But that's all we have time for now. Join us again next time. Goodbye.
Rob
Bye!
.......................................................
More manufacturers relocating to Thailand from China, HK
Oct 21. 2019
By THE NATION
1,421 Viewed
An increasing number of manufacturers are moving their production bases from China and Hong Kong to Thailand due to the US-China trade war, the Board of Investment (BOI) has said.
BOI deputy secretary-general Narit Therdsteerasukdi said recently that investment applications last year from Chinese and Hong Kong investors for BOI tax privileges had reached a 10-year high of 164 projects worth almost Bt60 billion.
He added that the number of such applications continued to increase during the first half of this year, totalling 111 projects worth more than Bt31 billion.
Most of them are in the auto parts, plastics, machinery and furniture businesses.
He added that the production bases of Taiwanese and South Korean companies in China, which export to the US, are also relocating their plants to Asean countries, including Thailand.
Last month, the BOI approved Thailand Plus incentives, aimed at attracting foreign businesses to relocate and expedite large-scale investment as well as strengthen workforce development.
These new measures include an enhanced incentive package for projects worth at least Bt1 billion of investment, additional incentives for companies engaged in human resource development, and revised incentives to encourage corporates to set up STEM (Science, Technology, Engineering and Mathematics), or educational or vocational training institutions.
BOI will also launch a roadshow to woo investments from China and Hong Kong next year.
Deputy Prime Minister Somkid Jatusripitak is visiting Guangdong province in China and the Hong Kong Special Administrative Region from Sunday (October 20) to October 25.
The visit aims to promote relations and strengthen collaboration between Thailand and China.
He is accompanied by executives from the Eastern Economic Corridor Office and BOI.
According to BOI data, the total value of applications received by the BOI from foreign investors more than doubled to Bt147.2 billion in the first half of 2019, as compared to the corresponding period last year.
In terms of the source of the foreign direct investment applications, out of a total of 468 projects, Japanese companies ranked first with applications for 114 projects worth Bt42.45 billion, followed by China, with 81 projects worth 24.28 billion baht, and Switzerland, with 10 projects worth Bt11.44 billion.
...................................................
Stroke care and prevention
Oct 21. 2019
1,493 Viewed
Welcome to the Health Talk programme of Thonburi Healthcare Group (THG). The Here is THG's Jin Well Being County (a senior citizen's condominium complex in Rangsit area of Bangkok).
Dr Tanatip, Medically, we call it a cerebrovascular disease, while people generally call it paralysis or hemiparesis and it can affect the face or legs. Sometimes, patients are bed-ridden. This disease is among the top killers in Thailand.
Statistics shows that there are an annual 400,000 fatalities in Thailand with cancer being the No 1 killer accounting for about 70,000 deaths, followed by cardiovascular and then cerebrovascular diseases, each accounting for about 35,000 deaths. Together, the number of deaths is about 70,000.
Then, road accidents lead to another 20,000-plus deaths.
All these factors account for nearly half of the total fatalities annually. In fact, both heart attack and then brain attack are caused by blood vessel problems. Both diseases have a high fatality rate. If you survived these two diseases, then there could still be challenges since your capacity could have been reduced from say 100 per cent to 70, 60 or 50 per cent. That means the quality of life will be affected, causing concerns among medical professionals as well as family members and relatives.
Who are among the high risk groups? Generally speaking, senior citizens with diabetes, high blood pressure and cholesterol etc are among the risky groups. Risk factors are similar to those of heart or renal diseases. However, we've started to see younger stroke patients as young as 45. Lack of exercise is another factor.
Please talk about F.A.S.T. This is a method to observe those who may have suffered from the cerebrovascular disease. The first F represents face or facial drooping. Some people will have facial drooping or facial numbness. A represents arm as they may have arm weakness or leg weakness or both. Then, S stands for speech as people suffering from stroke may have difficulty to talk as the disease affects a part of the brain that controls speech.
T stands for time. Worldwide, we have been campaigning for a fast track to treat stroke patients. The golden period for patients to get medication to address the blood clotting problem is within 4-5 hours. The sooner is the better. It will enhance the effectiveness of treating stroke patients. If the patient is treated within the first 4-5 hours of suffering from the disease, the outcome can be as high as a 70 or 80 or even 100 per cent recovery.
Can you talk about caring for stroke patients? Yes, that depends whether it's ischemic stroke which is due to the lack of blood flow or it's hemorrhagic which is due to bleeding , both of which resulting in parts of the brain not working properly.
In the former case, patients can be treated with injection of medicine to address the blood clotting problem. Regarding the hemorrhagic case, it's more challenging, as patients may need a brain surgery. The acute care period is the first 4-5 days after treatment.
Afterwards, it is the rehabilitation process for a better recovery. Patients need physical therapy to regain their muscle strength after suffering from stroke since our muscles will lose strength if they are not used for two weeks or longer. Once the brain recovers, the patient can then return to use their arms and legs.
What is Jin Well Being's service for patients needing rehabilitation? In fact, we're planning to open a new hospital especially for this patient group as well as those with chronic illnesses (inside Jin Well Being County) to provide long-term care. The planned Thonburi Burana Hospital will have no surgery room as it is designed to mainly provide rehabilitation care and related services so patients may return to a normal lifestyle as soon as possible.
In addition, Jin Well Being has residential units with a friendly environment allowing the patients' loved ones and relatives to visit with ease and comfort. Altogether, here is a place like your home and a hospital, especially for patients who need long-term care. They don't need to go to a big hospital with all state-of-the-art facilities since their medical condition is no longer critical. The big hospital is also very expensive, costing more than 10,000 per day. However, these patients cannot stay at home either, due to the need for professional healthcare.
We provide all medical and nursing services while family members and relatives can come here as often as they like and there is no restriction on visiting hours. We also have a lot of walking space with gardens and trees as well as fitness and other facilities.
More importantly, the patients will live in a community of those who have similar challenges so they will make friends and give one another moral support. Those who have seen improvements from the rehab process can also help cheer up newcomers. This is a very important and useful feature of staying here to recover and return to a normal lifestyle.
What's your advice on stroke prevention in the first place, especially for younger age groups from 40-45 years onwards?
Generally speaking, you have to manage your diet and avoid being overweight, exercise regularly at least 3-4 days a week. If you have high cholesterol or high blood pressure, it is necessary to put it under control either by changing your lifestyle or medication. You may try to lose weight and do more exercises to manage these risk factors.
In the event that you have had a stroke and survived with a reduced physical capacity of, say, 60 or 70 per cent, you can still live another 20 or 30 years. Just don't lose your will power.
Last but not least, what is the cerebral aneurysm? Is it related to stroke? Regarding cerebral aneurysm, there are many causes and in some cases the causes are unknown. An analogy is like a water hose for gardening (blood vessels in the brain) is somehow swollen, doctors may do a surgical clipping to isolate an aneurysm.
There are cases that such an operation is performed before bleeding, that's an effective treatment. In other cases, it may be too late, patients may not survive or may suffer paralysis. After all, prevention is always better.
We thank Thonburi Healthcare Group and Jin Well Being for the venue. Please contact them for further information on the long-term care service.
.........................................................
FINISHED
October 21, 2019