About one year ago, the U.S. space agency NASA's Voyager 2 spacecraft left our solar system. Several reports recently released in Nature Astronomy describe the spacecraft's main scientific findings.
NASA says Voyager 2's mission led to new discoveries about the border that divides our solar system from interstellar space. "Interstellar" means "between stars." But scientists define interstellar space as the place where the sun's continual flow of material and magnetic field stop affecting its surroundings.
Interstellar space is estimated to be about 18 billion kilometers from Earth.
What did the spacecraft find?
Project researchers say Voyager 2's scientific instruments discovered unexpected differences in the density of plasma, a collection of charged particles existing in the solar system.
This artist's concept shows NASA's Voyager spacecraft against a backdrop of stars. (Image credit: NASA/JPL-Caltech)
NASA also says the new research reports confirmed that both Voyager 1 and Voyager 2 appear to be in a transitional area just beyond the heliosphere. The heliosphere is a protective bubble that protects our solar system. It is created by solar wind formed from charged particles. The border of the solar system - the place where solar wind ends and interstellar space begins - is called the heliopause.
The team reported that data from Voyager 2 suggests that the heliopause appears to be much thinner than expected.
Edward Stone is a physicist with the California Institute of Technology and a project leader for the Voyager program. Stone told reporters the findings represent "a very exciting time for us."
He said in a statement the Voyager 2 mission was providing details about how the sun interacts with the materials that fill most of the space between stars in the Milky Way galaxy.
This artist's concept puts huge solar system distances in perspective. The scale bar is measured in astronomical units (AU), with each set distance beyond 1 AU representing 10 times the previous distance. (NASA)
Researchers said Voyager 2 also confirmed the existence of a "magnetic barrier" at the outer edge of the heliosphere that had been predicted by theory and observed by Voyager 1.
"Without this new data from Voyager 2, we wouldn't know if what we were seeing with Voyager 1 was characteristic of the entire heliosphere, or specific just to the location and time when it crossed," Stone said.
Leonard Burlaga is a scientist at NASA's Goddard Space Flight Center and a lead researcher on one of the reports. He told the French news agency AFP there were some surprises. "Contrary to all expectations and predictions, the magnetic field direction did not change when Voyager 2 crossed the heliopause," he said.
The spacecraft also collected information on incoming cosmic rays - particles that hit Earth from anywhere beyond its atmosphere. The data showed that the rays grew stronger as the Voyager explorers neared the heliopause.​
This undated artist's concept depicts NASA's Voyager 1 spacecraft entering interstellar space, or the space between stars. Voyager 1 spacecraft was officially the first human-made object to venture into interstellar space, according to a NASA statement.
Origins of the Voyager spacecraft
Voyager 2 was one of two explorers launched by NASA back in the summer of 1977. The other was Voyager 1. Both spacecraft were first designed to carry out fly-by studies of Jupiter and Saturn.
Later, Voyager 2 completed the first-ever close observations of Uranus and Neptune. The fly-by trips involving the four planets became known as the Voyager "Grand Tour."
The two spacecraft then began a new mission to explore areas at the edge of the sun's influence.
The two Voyagers – first built to last only five years – have long outlasted their operational lifetimes. But after 42 years in action, both are expected to run out of power and go silent within five years.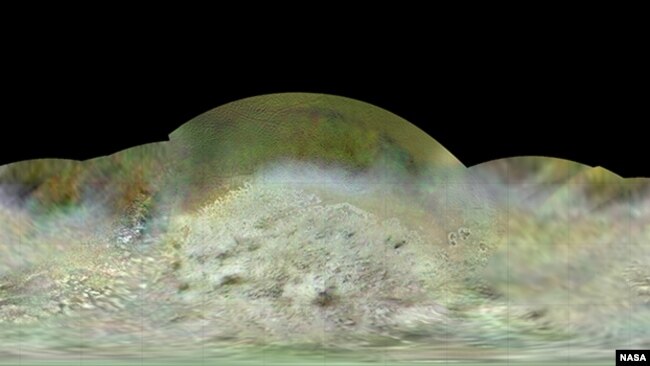 The Voyager 2 spacecraft flew by Triton, a moon of Neptune, in the summer of 1989. (Image credit: NASA/JPL-Caltech/Lunar & Planetary Institute)
However, that does not mean that they will disappear. Bill Kurth, a researcher at the University of Iowa and co-writer of one of the research reports, said he expects the space explorers to outlast Earth. "They are in their own orbits around the galaxy for five billion years or longer," he said. "And the probability of them running into anything is almost zero."
I'm Bryan Lynn.
Bryan Lynn wrote this story for VOA Learning English, based on reports from NASA, Reuters and Agence France-Presse. Kelly Jean Kelly was the editor.
Are you interested in research related to interstellar space and beyond? Write to us in the Comments section, and visit our Facebook page.
Quiz - NASA's Voyager 2 Discovers New Details About Interstellar Space
Start the Quiz to find out
Words in This Story
mission – n. an important task, usually involving travel
bubble – n. an enclosed or isolated space
transitional – adj. changing from one system or method to another
characteristic – adj. typical of someone or something
specific – adj. a particular thing and not something general
contrary – adj. opposite or very different
..............................................
November 09, 2019
English in a Minute: Keep Some at Arm's Length
..............................................................
6 Minute English
INTERMEDIATE LEVEL
Street food: Why is it becoming so popular?
EPISODE 180830 / 30 AUG 2018
Buying food on the street is nothing new but in the UK this idea is really taking off. It's a great way of sampling freshly cooked dishes from around the world. Rob and Neil discuss the subject and hear from an expert who explains the popularity in this type of food - plus you can learn some new vocabulary along the way.
This week's question:
Recently archaeologists in Jordan discovered what they believe is the oldest remains of bread. How old is this bread? Is it…
a) 18,000 years old
b) 14,000 years old
c) 5,500 years old
Listen to the programme to find out the answer.
Vocabulary
phenomenal
something that is amazing, remarkable and extraordinary
to take off
to become popular
provinces
areas of a country that aren't the major cities

captures the imagination
makes you interested in something
authentic
real, genuine, not a fake or a copy

microwave food
food prepared in a microwave oven
Transcript
Note: This is not a word for word transcript
Neil
Hello. Welcome to 6 Minute English, I'm Neil.
Rob
And I'm Rob.
Neil
Now Rob, you like your food, don't you?
Rob
Oh yes, yum yum, food! One of my favourite things.
Neil
And what do you think of street food?
Rob
I love street food. There are some great places in London where you can find delicious foods from all over the world, cooked in front of you in market stalls on the street.
Neil
It's quite new though, isn't it - not really a British tradition?
Rob
I guess not, but it seems to be much more popular these days.
Neil
Well our topic today is street food, but before we tuck into that, here is today's question. Recently archaeologists in Jordan discovered what they believe is the oldest remains of bread. How old is this bread? Is it…
a) 18,000 years old
b) 14,000 years old, or
c) 5,500 years old?
What do you think?
Rob
I don't know - but what I do know is, I wouldn't really want to try a sandwich made from that bread!
Neil
Mmm, it might be a bit mouldy.
Rob
Yes! Anyway, I'm going to have a guess and say c) 5,500 years old.
Neil
Right, we will find out the answer later in the programme. Mark Laurie is from the Nationwide Caterers Association. He is an expert in the business of street food in the UK. He appeared on BBC radio's The Food Programme and was asked how the business of street food has changed in recent years. In his answer he talks about the areas where there is most growth in street food. What are those areas?
Mark Laurie
It's been phenomenal the growth in street food - it's really taken off, it's really become quite mainstream. Part of the cultural fabric of the country really, or it's beginning to be, certainly in the bigger cities and increasingly in the sort of provinces, if you like.
Neil
So where does he say the popularity of street food is growing?
Rob
He says that it's in the bigger cities and also in the provinces. The provinces is a word which means 'the parts of a country outside of the cities'.
Neil
So essentially, he's saying it's getting more popular everywhere.
Rob
Exactly. In fact he says the growth is phenomenal. This means he thinks the growth is spectacular, really big.
Neil
Yes he says that it's really taken off. Taken off is one of those phrasal verbs that can be used in many different ways. In this sense, when something takes off it means it becomes successful and popular.
Rob
You know, street food isn't really something you associate with Britain. Perhaps it's the climate or British food so street food is something that we are now getting used to and enjoying more. In fact Mark says that it's now becoming mainstream. This means that is no longer something that is seen as being unusual or different. It's becoming an accepted part of the everyday eating experience.
Neil
Well, let's listen again to Mark Laurie talking about the growth of street food in the UK.
Mark Laurie
It's been phenomenal the growth in street food, it's really taken off, it's really become quite mainstream. Part of the cultural fabric of the country really, or it's beginning to be, certainly in the bigger cities and increasingly in the sort of provinces, if you like.
Neil
Mark Laurie goes on to talk about why street food has become popular. What kind of food does he say it's not like?
Mark Laurie
Yeah, it's just really captured the imagination of the public. It's honest food, it's authentic food and it's people that you can trust making it. It's not some microwave food or whatever that you might get in your local pub.
Neil
So street food is many things, but what isn't it?
Rob
Well he says that it's not like food you might get in some pubs. That food he says may be some microwave food. Which is food prepared in a microwave oven.
Neil
You know I quite like a microwave meal now and then - and I reheat my leftovers in the microwave.
Rob
But I guess if you were paying for a nice meal you wouldn't expect reheated leftovers! I think the point he is making is that in many places the food you are served is not freshly made. It may be pre-prepared and finished off in a microwave. Street food, he says, is authentic.
Neil
Yes, authentic. It's real, fresh and cooked right in front of you and if it's food from a particular country it's probably being prepared by people from that culture.
Rob
He also says that this has captured the imagination of the public. It's something that the public have experienced and thought - 'yep, you know, I like this, this is a great idea.'
Neil
Well, all this talk of food is making me hungry, so let's get the answer to the quiz and review today's vocabulary before we head off and grab a bite to eat. We asked about the age of bread discovered by archaeologists in Jordan. Was it a) 18,000 years old, b) 14,000 years or c) 5,500 years.
Rob
Mmm, and I said it was c) 5,500 years.
Neil
And I'm afraid it's a lot mouldier than that. The answer was 14,000 years.
Rob
Very tasty I'm sure.
Neil
Yes! Right then, the vocabulary. We started off with adjective phenomenal to describe something that is amazing, remarkable and extraordinary.
Rob
Then we had to take off, a phrasal verb which means to become popular. Street food has really taken off in the UK: it's become really popular.
Neil
And not just in the cities but also in the provinces, which is a noun to describe areas of a country that aren't the major cities.
Rob
Something which captures the imagination is something which makes you interested - and not just for a short time.
Neil
And one thing which has captured the imagination of the British public is authentic street food. Something authentic is real, it's genuine, it's not a fake or a copy.
Rob
And finally we had microwave food, food prepared in a microwave oven. And that kind of food is not seen by some as authentic.
Neil
Well, it's time to eat, so that's all we have time for today. Join us again next time and remember you can find us on Instagram, Facebook, Twitter, YouTube and of course on our website bbclearningenglish.com. See you soon, bye.
Rob
Bye!
.........................................................
Chiang Mai subdistrict to release 8,600 lanterns during Yi Peng festival
Nov 10. 2019
By The Nation
3,302 Viewed
The Choeng Doi subdistrict municipality in Chiang Mai province will continue to hold the Loy Krathong and Yi Peng lantern festival from November 10-12, as the area does not come under prohibited zones due to flight services, the top official for the area said.
Chitipon Sanrapang, the municipality chief executive, said the Choeng Doi area has been holding the Yi Peng festival every year. The municipality has been allowed to release 8,600 lanterns -- 5,000 lanterns under Choeng Doi administrative officials, 600 under Chiangmai Senkobfah Company, and 3,000 under other private companies. However, the private companies will release the lanterns outside the subdistricts.
A fire engine and ambulance will be on stand-by to deal with any emergencies.
The lanterns used in the festival will be able to float for about 10 minutes before the lights go out and they fall to the ground. They will be cleared by the cleaning team before morning. He also said locals had been urged to bring lanterns that could land in their own property or in front of their houses.
Some 15,000 people are expected to take part in the festival.
Raids in Yala net eight suspects over attacks that killed 15
Nov 10. 2019
By THE NATION
2,354 Viewed
Raids by security forces on hideouts of suspected militants in Yala province netted eight suspects allegedly involved in the killing of police earlier this week.
More than 200 security officers were involved in the raids on Saturday on 19 suspected hideouts of militants allegedly involved in the attack on police in Yala's Muang district and Pattani's Khok Pho district, which led to 15 deaths on Monday.
.................................................................
FINISHED
November 11, 2019