The report, from the Institute of International Education, found that the number of newly admitted foreign students dropped by 1 percent in the autumn of 2018, compared to the year before. This follows decreases of 7 percent and 3 percent in the two years before that. Those were the first drops in attendance in more than 10 years.
The decreasing numbers of foreign students is an issue for many schools in the United States that have come to depend on tuition payments from them. Foreigners are usually charged higher amounts than U.S. citizens are.
Some schools blame President Donald Trump's comments about immigrants for keeping students away. However, the State Department, which paid for the new report, dismissed the idea.
Caroline Casagrande works in the department's Bureau of Educational and Cultural Affairs. She said the high cost to attend U.S. schools frightens students. She also said the decrease is linked to students who were seeking admission to college during the presidency of Barack Obama. She added that the numbers appear to be going back up under Trump.
"What we've seen today is a dramatically better picture compared to last year's declines," Casagrande said during a telephone call with reporters. She added that the Trump administration has provided "more resources than ever to international student mobility."
While fewer new international students are coming, the study found that more are staying for specialized training after they finish college. More than 220,000 were given permission to stay for temporary work through a federal program, an increase of about 10% over fall 2017.
FILE - Ailu Xu, a graduate student from China, posts a sign directing Chinese students to new student orientation at the University of Texas at Dallas in Richardson, Texas, Aug. 22, 2015.
China continued to send more students than any other country, followed by India, South Korea and Saudi Arabia. However, years of growth from China have leveled off. The number of Chinese students in U.S. schools rose by less than 2%. Some colleges and universities have noted major decreases in Chinese students signing up for classes.
At the University of Alabama, the number of Chinese students has dropped by 43% over the past two years. At the University of Iowa and at Kansas State University, Chinese enrollment fell by about a third in the same period.
Education experts have blamed the drop in Chinese students on several things.
Chinese students have reported difficulty getting U.S. visas in the middle of a trade war between the two nations. Universities in Australia and Canada have worked harder to interest Chinese students in their colleges and universities. Also, some educators say concerns over academic espionage, or spying, have fueled anti-China feelings at U.S. schools.
State Department officials said they are working to ease tensions and persuade Chinese students to study in the United States.
Casagrande said the department is working hard to make sure that Chinese students know they are welcome here. "We want these Chinese students here," she added.
The State Department recently sent a group to China to speak in support of academic exchanges. U.S. Ambassador Terry Branstad recently wrote an opinion piece in a Chinese youth publication inviting students to study in the U.S.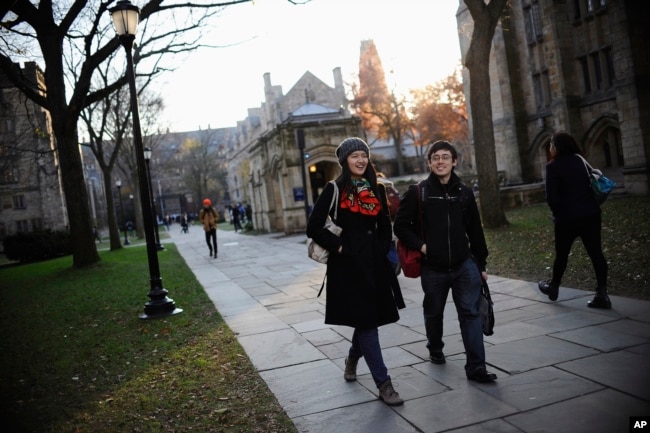 FILE - Yale University sophomore Yupei Guo, left, walks with friend Joseph Lachman on the school's campus in New Haven, Conn., In Nov. 20, 2014
The report also found that far fewer students are coming from Saudi Arabia. This began in 2017 when Saudi officials cut back on a program that provided money to study around the world. There were also drops in students coming from South Korea, Japan and Mexico.
The report also noted that growing numbers of students from Asia, Latin America and Africa want to study in the United States. Numbers from Brazil and Bangladesh jumped 10% last year, while Nigeria increased 6%. In recent years, many universities have increased advertising and recruiting efforts in those areas as they look for ways to make up for losses from China.
"More institutions are expanding their outreach in more regions," said Mirka Martel, with the Institute of International Education. "This growth demonstrates how attractive a U.S. education is for students around the world."
I'm Anne Ball.
And I'm Bryan Lynn.
Collin Binkley wrote this story for the Associated Press. Anne Ball adapted it for VOA Learning English. George Grow was the editor.
What do you think of this story? Write to us in the comments section below.
Quiz - Number of International Students Coming to US Drops Again
Start the Quiz to find out
Words in This Story
tuition – n. money that is paid to a school for the right to study there
dramatic – adj. sudden and extreme
enrollment – n. the act of becoming a member
decline – v. to become lower in amount or less in number
region – n. part of a country or world that is different or separate from other parts in some way
attractive – adj. appealing; having a quality that people like
resource – n. something that provides support or
Prague Locals Tire of Foreign Tourists
Tourists walk across the medieval Charles Bridge in Prague, Czech Republic, November 7, 2019. (REUTERS/David W Cerny)
Nearly 8 million people visited the Czech capital of Prague last year, making it one of the most visited cities in Europe.
Many visitors walk through the old city and take pictures in the Old Town Square. Prague has become wealthy from the money tourists spend.
But now, 30 years since the Velvet Revolution ended Communist rule, not everyone is happy with all the change.
Filmmaker Pavel Kacirek has an apartment home in the heart of Prague. Kacirek says he loves the city but thinks it is no longer an enjoyable place to live.
"People have moved away, so services, shops…restaurants have gone with them," he said.
"The monuments are here… But it is really a Disneyland decoration," he added.
One of the biggest problems for Prague's 1.3 million people in housing. Prices are high.
Some apartment buildings no longer serve as homes for the city's residents. Many apartments are now used as offices or housing for short-term visitors.
Airbnb listed nearly 12,000 apartments in Prague last year, reports Prague's development institute IPR. The city center area has lost nearly 50 percent of its residents. In 2017, the number of registered voters totaled 21,556, down from 36,862 in 1990.
Tourists now fill Prague's historic streets. Many stay up late into the night, buying cheap beer from bars and restaurants.
"The tourist numbers are certainly greater than Prague can bear," said the city's mayor, Zdenek Hrib. He added that Prague was trying to bring in higher-spending visitors, including those coming for business meetings.
"We are trying to resolve the Disneyland that is evolving here," he told the Reuters news agency.
Tourists watch the Astronomical Clock at the Old Town Square in Prague, Czech Republic, November 7, 2019. (REUTERS/David W Cerny )

Profits and problems
When Communism ended in 1989, Prague was an untouched, historic city of great beauty, but it had problems with air pollution and few services. Many old buildings were in need of repair.
Billions of dollars of investment and tourism spending have changed Prague into the wealthiest area in Central and Eastern Europe. It has a gross domestic product per person of 187 percent of the European Union average, the European Statistical System reported in 2018.
But Prague has changed over the past 30 years. The main tourist areas are now filled with souvenir shops, money exchanges, and drinking establishments.
"It is about how Prague positions itself. If we remain a cheap bar, there will be slops," said architect Kristof Hanzlik. He lives at his family's 17th century home, near the walls of the Prague Castle gardens.
The city has made efforts to solve the problem. It now has a "night mayor" who has the power to take action against people making loud noises late at night.
Officials have also removed several money exchanges that charged high rates. They plan to stop renting office space to souvenir shops and bring back services for city residents. It is barring sales of cheap beer to younger tourists from bicycles.
But for now, many Czechs just avoid the center of Prague and recall its formerly uncrowded beauty.
I'm Susan Shand.
A vintage car with tourists drives through central Prague, Czech Republic, November 7, 2019. (REUTERS/David W Cerny)
The Reuters News Agency reported this story. Susan Shand adapted it for VOA Learning English. George Grow was the editor.
Write to us in the Comments Section or on our Facebook page.
_________________________________________________________________
Words in This Story
evolve – v. to change or develop slowly often into a better or more complex state
data – n. facts or information used usually to estimate or plan something
souvenir – n. something that is kept to help one remember a place you have visited
gross domestic product – n. the total value of goods produced and services provided in a country during one year
cheap – adj. something that does not cost a lot of money
slops – n. food that is fed to pigs and other animals
monument – n. a building or other structure set up in honor of a famous person or event
decoration – n. the activity of making something look more appealing
.......................................................
6 Minute English
INTERMEDIATE LEVEL
Being slim: Is it in our genes?
EPISODE 190516 / 16 MAY 2019
Introduction
Scientists have found some evidence that our weight is not just controlled by what we eat. Research published in the journal PLOS Genetics, explains how twin studies have shown that about 40% of the variation in a person's weight is influenced by their genes. Neil and Dan talk about diets and serve you a tasty helping of vocabulary.
This week's question
What's the name of the popular diet that involves avoiding eating carbohydrates but involves eating as much fat and protein as they want? Is it…
a) The Mediterranean diet
b) The Atkins diet
c) The Graham diet
Listen to the programme to find out the answer.
Vocabulary
paunch
fat stomach that mostly men have
skinny
very thin
willpower
controlling your own behaviour to achieve something
come to terms (with something)
start to accept the difficult or unpleasant situation you are in
judgemental
quick to criticise people based on your own beliefs
burst
sudden and short increase in something
Transcript
Note: This is not a word for word transcript
Neil
Hello and welcome to 6 Minute English. I'm Neil and joining me for this is Dan.
Dan
Hello.
Neil
And can I say Dan, you're looking very slim – it looks like your diet is working!
Dan
This is my normal figure – and I have not been on a diet. But it looks like you've actually put on a bit of weight.
Neil
Well I may have a little paunch – or a fat stomach – but didn't you know that it's out of my control? Some of this has to do with my genes – not the ones I wear – but the cells in my body that control my development. That's what we'll be discussing in this programme.
Dan
However our audience might describe themselves – tubby and overweight or thin and skinny, which means very thin – they're more than welcome to join us on this voyage of discovery. So let's start with answering a question.
Neil
What's the name of the popular diet that involves avoiding eating carbohydrates and in which you can eat as much fat and protein as you like? Is it…
a) the Mediterranean diet,
b) the Atkins diet, or
c) the Graham diet?
Dan
I've heard of the Atkins diet, so I'll say b).
Neil
Well, you'll have to wait a bit to find out. But Dan, you may have also heard of a crash diet – that's where someone makes a rapid change to the types of food they eat with the aim of losing weight quickly.
Dan
Yes, I know that eating this way can be risky for your health and they don't always work.
Neil
That's true and now scientists have some evidence that shows that our weight is not just controlled by what we eat. So it might be quite natural for someone to be thin or fat - it's all to do with their genes. Research published in the journal PLOS Genetics, explains how twin studies have shown that about 40% of the variation in a person's weight is affected by their genes. And also, why thin, but healthy people have genetic advantages in terms of maintaining a healthy weight.
Dan
So that means that losing weight isn't just about having willpower – that's controlling your own behaviour to achieve something – it's actually about something that's out of our control?
Neil
Yes, possibly. Let's hear from the study's author, Sadaf Farooqi, who is Professor of Metabolism and Medicine at the University of Cambridge, and has been a pioneer in the genetics of obesity for more than twenty years. Obesity, of course, is where someone is very overweight, in a way that is dangerous for their health. Here she is speaking on the BBC World Service programme, Health Check. What does she say might be one of the benefits of this research for people who are overweight?
Sadaf Farooqi, Professor of Metabolism and Medicine at the University of Cambridge
It actually can be very helpful in trying to get them to come to terms with some of the difficulties they may be having but also help them engage with help and support to try and encourage weight loss… I hope one of the main outcomes of this work might be, to a little bit, to start to get people thinking about that. Because people are very judgemental and tend to think, look if I can stay thin and control my weight why can't you? And what I would say to that is, well the data now shows that you're probably quite lucky in terms of the genes that you have rather than just being either morally superior or having better willpower.
Neil
Some interesting thoughts there. For people who are overweight, this research can help them come to terms with the struggle they may be having to lose weight. When you come to terms with something, you start to accept the difficult or unpleasant situation you are in.
Dan
So I suppose she means accepting that if you're trying to shed a few pounds unsuccessfully, it's not all your fault. And it may stop people being so judgemental – that's so quick to criticise people based on their own beliefs.
Neil
A slim person might say, "Well, I ate less and lost weight, so why can't you?" – and now we know things aren't quite that simple. You are just lucky to have the right genes but it doesn't make you 'morally superior'.
Dan
So it's not just about having willpower.
Neil
This research is much more detailed of course than we have time to explain here but for someone who is overweight, will they feel defeated?
Dan
Absolutely not, according to Professor Farooqi. For people who are obese, this research is helpful. Not only should it give them hope, it could lead to the develop medicines to help them.
Neil
But as genes only play a part in our size and weight, we should all eat a healthy diet and do some exercise. And there is always new research about the best things to do and the right things to eat.
Dan
Recently, research published in the British Journal of Sports Medicine, said that bursts of high intensity interval training may be more effective for weight loss than longer less intense workouts. A burst is a sudden and short increase in something.
Neil
Even if diets don't help you lose weight – eating the balanced diet can certainly keep you healthy and make you feel good. And as I'm talking about diets, why don't I answer the question I asked you earlier? What's the name of the popular diet in which you should avoid eating carbohydrates but you can have as much fat and protein as you want? Is it…
a) the Mediterranean diet,
b) the Atkins diet, or
c) the Graham diet?
Dan
I said the Atkins diet.
Neil
And that is correct, well done. This well-known low-carb diet was developed by the American physician and cardiologist Robert Atkins in the 1960s. Others low-card diets are available!
Dan
Neil, I think it's time we reminded ourselves of some of the vocabulary we've discussed today.
Neil
Good idea. Let's talk about paunch – another name for a fat stomach that men like me – and you – have.
Dan
Speak for yourself! I'm closer to skinny – a word to describe someone looking very thin and sometimes ill. Our next word was willpower. If you have willpower, you can control your own behaviour to achieve something.
Neil

The next phrase, come to terms with something means you start to accept the difficult or unpleasant situation you are in.
Dan
If you are judgemental,you are quick to criticise people based on your own beliefs.
Neil
And finally, we mentioned a burst of high intensity interval training. A burst is a sudden and short increase in something.
Dan
Well we've had a burst of vocabulary there and it's time to say goodbye. Please join us next time.
Neil
And of course don't forget our website, bbclearningenglish.com. Goodbye.

Dan
Bye!
......................................................
Movie on sensational cave rescue all set to hit screens nationwide
Nov 20. 2019
The director during the film's shooting
By Kittipong Thavevong
Special to The Nation
544 Viewed
The first movie about last year's dramatic rescue operation at the Tham Luang cave complex in Chiang Rai province will be screened nationwide from Thursday (November 21).
"The Cave, Nang Non" is based on "the untold true story of the rescue mission that captivated the world", according to the movie's promotional poster.
"It was a real miracle that needed to be made into a movie," Thai-Irish filmmaker Tom Waller, the movie's director, told a press conference during the "gala premiere" event for the film held at SF World Cinema, Central World, on Monday night (November 18).
Waller said it tells the story of many unsung heroes involved in the "remarkable mission" in addition to the divers and experts from all over the world who actually took part in the operation to safely bring out the 12 young Wild Boars footballers and their coach from the flooded cave. Those heroes included local farmers who allowed their rice fields to be flooded by a massive amount of water pumped out of the cave, without asking for compensation.
Director Tom Waller, second left, and rescue diver Jim Warny
For the director, the people involved helped "create a miracle" despite all odds at that time.
For 18 days between late June to early July 2018, the dramatic developments at Tham Luang cave complex – which is part of the legend-inspiring Nang Non Mountain – managed to divert global attention away from the FIFA World Cup football tournament going on at the time.
The drama began with the 13 entering the neighbourhood cave after a routine practice and rising rainwater forcing them to head deeper into the cave – a few kilometres from the entrance. In the end, the rescue mission was successful and became, for many people, the best feel-good story last year.
"I am very proud that the first movie about the Tham Luang rescue is a Thai film," the director said, adding that the production team was made up of Thais and many foreigners.
Waller gained much praise for directing "The Last Executioner", a 2014 movie that is based on a true story of Thailand's last gun executioner Chavoret Jaruboon.
A main character in his latest film is Belgian rescue diver Jim Warny, who took part in the rescue mission last year. He plays himself in the movie, which is his first.
The film's portrayal of the cave rescue is "100 per cent real" and not dramatised, the diver pointed out.
The director said Warny, who took part in the operation to get the coach out of the flooded cave after the 12 boys were rescued, provided him with details of the mission.
In addition to Warny, many people actually involved in the Tham Luang drama also play themselves in the movie, including Finnish diver Mikko Paasi, Chinese cave diving instructor Tan Xiaolong, and former village head Noppadon Niyomka, who sent his turbo-jet "King Naga" pumps to help with the efforts to draw water from the cave.
Veteran actor Nirut Sirijanya, right, plays a Thai government minister who sought help from UK-based cave diving experts.
"The Cave, Nang Non" is one of half a dozen films and documentaries dedicated to the 2018 rescue mission.
The movie recounts actual events that many people who closely followed the developments were familiar with. All major developments are in the movie, including the death of former Navy SEAL diver Saman Kunan while installing oxygen cylinders along the rescue route inside the cave.
A large part of "The Cave, Nang Non" tells what happened inside the cave during the tense operation to bring all the trapped 13 out – something many people wanted to know. It was deemed too risky to have the 13 dive in the inundated sections of the cave, so they were brought out while in a sedated state or falling unconscious. This part of the rescue mission seems to be a main highlight in the movie.
A scene from the movie.
.........................................................
Council told to ease plight of grassroot people
Nov 20. 2019
Prime Minister Prayut Chan-o-cha
By THE NATION

4,734 Viewed
Prime Minister Prayut Chan-o-cha urged the Council of Economic Ministers to prioritise solving the problems of grassroot people, government spokeswoman Narumon Pinyosinwat said yesterday (November 19).
He said the ministers would have to solve economic problems for people at all levels of society, especially low-income earners.
The premier expressed his concern after a briefing yesterday by the National Economic and Social Development Council on the economic situation in the third quarter.
Deputy Prime Minister Somkid Jatusripitak said Thailand should focus more on developing the domestic economy.
................................................
Thailand Post to release stamps commemorating Pope Francis' visit
Nov 20. 2019
By THE NATION
1,353 Viewed
Thailand Post announced on Tuesday (November 19) that it is collaborating with the Catholic Bishops' Conference of Thailand (CBCT) to release special commemorative stamps marking Pope Francis's apostolic visit to Thailand.
The stamps, which are aimed at collectors, will portray the leader of the Roman Catholic Church and Vatican City's official visit to Thailand on November 20-23 on three portraits across 4 stamps, along with a QR code that can be scanned to view the music video "Let Love be the Bridge" performed by artists, actors and singers who are Roman Catholic.
Furthermore, during the papal visit Thailand Post will host an exhibition on Pope Francis' apostolic journeys as a pilgrim of peace in the past 7 years (2013-2019) to 50 countries through commemorative stamps released by each of them at the Samsen Nai Philatelic Museum in Phayathai District. The "Let Love be the Bridge" CD will also be sold at the exhibition for Bt99 a copy, with part of the profits going to the CBCT for charity.
The last papal visit in Thailand took place 35 years ago when Pope John Paul II visited the country in 1984. During the last visit Thailand Post also released commemorative stamps with portraits of the Pope and King Rama IX.
..................................................................
FINISHED
November 20, 2019