The pope plans to discuss human trafficking, peacemaking and other subjects.
Francis is expected to express love and respect for Thailand's Catholics. Their ancestors brought the religion to the widely Buddhist nation.
The pope was greeted when he arrived on Wednesday morning by Thai official Surayud Chulanont. Surayud heads King Maha Vajiralongkorn's Privy Council and is a former prime minister.
The pope also visited with a small group of children in traditional Thai clothing. And he received a military welcome.
While he is in the area, Francis plans to meet with Thai officials, all the Catholic bishops of Asia and the leader of Buddhism in Thailand.
Francis has made the fight against human trafficking a major aim of his leadership. He is expected to raise this issue in Thailand, which is a key place along the path of human trafficking, forced labor and the sex trade.
Francis is marking the 350th anniversary of the creation of official Catholic offices in Thailand, known then as Siam.
He is to lead a religious service at the National Stadium. Tens of thousands of Thai Catholics are expected to attend.
I'm Caty Weaver.
Caty Weaver adapted this report for Learning English from VOA News Reports. Kelly Jean Kelly was the editor.
____________________________________________________________
Words in This Story
greet – v. to meet (someone who has just arrived) with usually friendly and polite words and actions
...............................................
US Cranberry Farmers Add Solar Equipment to Earn Extra Money
In this Wednesday, Oct. 2, 2019, photo, cranberry grower Dick Ward, of Carver, Massachusetts, stands near a solar array in a cranberry bog on his farm. The revenue that solar power offers has been helpful to farmers as the price of cranberries has dropped.
Many of America's cranberry farmers are struggling because of major price drops and continuing international trade tension.
But some farmers of this popular fruit have found a new way to use their farms to make money. They are putting solar equipment on their land.
Some farmers have already done so in the northeastern state of Massachusetts, the nation's second-largest cranberry producer. Other farmers are also seeking to build solar panels on their farmland.
Researchers around the world have studied and tested combining traditional farming with renewable energy technology. But agriculture experts say such methods have not yet been widely developed in large farming operations.
Cranberries are grown in bogs -- soft, extremely wet areas. The idea is to build the solar-collecting equipment high off the ground. Farmers want to leave enough space between panels for the crops to be grown and harvested underneath.
Cranberry farmers hope to earn extra money by signing long-term land agreements with solar equipment developers. The farmers also hope they can continue to produce the same quality berries they have for generations.
One ongoing U.S. study suggests some crops in particular climates can grow well under solar panels. It remains unclear, however, how the cranberry plants will do over time.
One of the main issues the cranberry industry has been dealing with for years is the weakening demand for one of its main products, cranberry juice.
The price of cranberries has dropped 57 percent over the past 10 years. U.S. Department of Agriculture data shows that prices fell from about $58 for 45 kilograms of cranberries in 2008 to just $25 in 2018. The estimated cost to produce that amount of cranberries is nearly $35 a barrel.
Michael Wainio is a fourth-generation cranberry farmer. He spoke to Associated Press reporters about his financial struggles in recent years. He said he had to sell off parts of his land and start a separate business harvesting bogs for other growers, in order to try to make up for losses on his cranberry farm.
"We're doing everything we can to diversify, and it's not enough," he said. "If we don't get this (solar equipment), I'd be surprised if we made it five years."
Wainio is working with developer NextSun Energy on a project that would build at least 27,000 solar panels over about 24 hectares. The equipment would sit above active bogs across three farms in Carver, Massachusetts. The project would produce about 10 megawatts of energy. NextSun says this is about the amount of power needed to supply 1,600 homes.
At least one major U.S. cranberry producer has said it has no interest at this time in putting solar equipment above its cranberry bogs. A.D. Makepeace is the world's largest cranberry grower and one of the largest landowners in Massachusetts.
Spokeswoman Linda Burke told the AP that the company already has solar equipment on nearly 5,000 hectares of its land. But the systems were built years ago on land not used for cranberry growing.
"We think dual use might be a better fit for other types of agriculture," Burke said. "If you think about a cranberry bog, it's way out in the open, and that's for a reason. It needs sun."
I'm Bryan Lynn.
The Associated Press reported on this story. Bryan Lynn adapted the report for VOA Learning English. Ashley Thompson was the editor.
We want to hear from you. Write to us in the Comments section, and visit our Facebook page.
________________________________________________________________
Words in This Story
solar – adj.relating to or involving the sun
panel – n.piece of equipment that attaches to the surface of something
renewable – adj.any naturally occurring source of energy, such solar or wind
diversify – v.enlarge the range of products or the field of operation of a business
dual – adj.having two parts................................................
6 Minute English
INTERMEDIATE LEVEL
Street food: Why is it becoming so popular?
EPISODE 180830 / 30 AUG 2018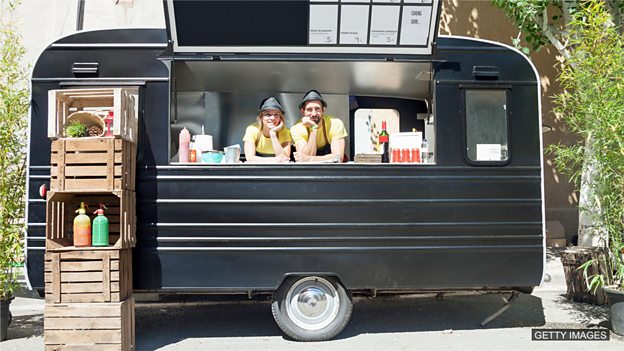 Buying food on the street is nothing new but in the UK this idea is really taking off. It's a great way of sampling freshly cooked dishes from around the world. Rob and Neil discuss the subject and hear from an expert who explains the popularity in this type of food - plus you can learn some new vocabulary along the way.
This week's question:
Recently archaeologists in Jordan discovered what they believe is the oldest remains of bread. How old is this bread? Is it…
a) 18,000 years old
b) 14,000 years old
c) 5,500 years old
Listen to the programme to find out the answer.
Vocabulary
phenomenal
something that is amazing, remarkable and extraordinary
to take off
to become popular
provinces
areas of a country that aren't the major cities

captures the imagination
makes you interested in something
authentic
real, genuine, not a fake or a copy

microwave food
food prepared in a microwave oven
Transcript
Note: This is not a word for word transcript
Neil
Hello. Welcome to 6 Minute English, I'm Neil.
Rob
And I'm Rob.
Neil
Now Rob, you like your food, don't you?
Rob
Oh yes, yum yum, food! One of my favourite things.
Neil
And what do you think of street food?
Rob
I love street food. There are some great places in London where you can find delicious foods from all over the world, cooked in front of you in market stalls on the street.
Neil
It's quite new though, isn't it - not really a British tradition?
Rob
I guess not, but it seems to be much more popular these days.
Neil
Well our topic today is street food, but before we tuck into that, here is today's question. Recently archaeologists in Jordan discovered what they believe is the oldest remains of bread. How old is this bread? Is it…
a) 18,000 years old
b) 14,000 years old, or
c) 5,500 years old?
What do you think?
Rob
I don't know - but what I do know is, I wouldn't really want to try a sandwich made from that bread!
Neil
Mmm, it might be a bit mouldy.
Rob
Yes! Anyway, I'm going to have a guess and say c) 5,500 years old.
Neil
Right, we will find out the answer later in the programme. Mark Laurie is from the Nationwide Caterers Association. He is an expert in the business of street food in the UK. He appeared on BBC radio's The Food Programme and was asked how the business of street food has changed in recent years. In his answer he talks about the areas where there is most growth in street food. What are those areas?
Mark Laurie
It's been phenomenal the growth in street food - it's really taken off, it's really become quite mainstream. Part of the cultural fabric of the country really, or it's beginning to be, certainly in the bigger cities and increasingly in the sort of provinces, if you like.
Neil
So where does he say the popularity of street food is growing?
Rob
He says that it's in the bigger cities and also in the provinces. The provinces is a word which means 'the parts of a country outside of the cities'.
Neil
So essentially, he's saying it's getting more popular everywhere.
Rob
Exactly. In fact he says the growth is phenomenal. This means he thinks the growth is spectacular, really big.
Neil
Yes he says that it's really taken off. Taken off is one of those phrasal verbs that can be used in many different ways. In this sense, when something takes off it means it becomes successful and popular.
Rob
You know, street food isn't really something you associate with Britain. Perhaps it's the climate or British food so street food is something that we are now getting used to and enjoying more. In fact Mark says that it's now becoming mainstream. This means that is no longer something that is seen as being unusual or different. It's becoming an accepted part of the everyday eating experience.
Neil
Well, let's listen again to Mark Laurie talking about the growth of street food in the UK.
Mark Laurie
It's been phenomenal the growth in street food, it's really taken off, it's really become quite mainstream. Part of the cultural fabric of the country really, or it's beginning to be, certainly in the bigger cities and increasingly in the sort of provinces, if you like.
Neil
Mark Laurie goes on to talk about why street food has become popular. What kind of food does he say it's not like?
Mark Laurie
Yeah, it's just really captured the imagination of the public. It's honest food, it's authentic food and it's people that you can trust making it. It's not some microwave food or whatever that you might get in your local pub.
Neil
So street food is many things, but what isn't it?
Rob
Well he says that it's not like food you might get in some pubs. That food he says may be some microwave food. Which is food prepared in a microwave oven.
Neil
You know I quite like a microwave meal now and then - and I reheat my leftovers in the microwave.
Rob
But I guess if you were paying for a nice meal you wouldn't expect reheated leftovers! I think the point he is making is that in many places the food you are served is not freshly made. It may be pre-prepared and finished off in a microwave. Street food, he says, is authentic.
Neil
Yes, authentic. It's real, fresh and cooked right in front of you and if it's food from a particular country it's probably being prepared by people from that culture.
Rob
He also says that this has captured the imagination of the public. It's something that the public have experienced and thought - 'yep, you know, I like this, this is a great idea.'
Neil
Well, all this talk of food is making me hungry, so let's get the answer to the quiz and review today's vocabulary before we head off and grab a bite to eat. We asked about the age of bread discovered by archaeologists in Jordan. Was it a) 18,000 years old, b) 14,000 years or c) 5,500 years.
Rob
Mmm, and I said it was c) 5,500 years.
Neil
And I'm afraid it's a lot mouldier than that. The answer was 14,000 years.
Rob
Very tasty I'm sure.
Neil
Yes! Right then, the vocabulary. We started off with adjective phenomenal to describe something that is amazing, remarkable and extraordinary.
Rob
Then we had to take off, a phrasal verb which means to become popular. Street food has really taken off in the UK: it's become really popular.
Neil
And not just in the cities but also in the provinces, which is a noun to describe areas of a country that aren't the major cities.
Rob
Something which captures the imagination is something which makes you interested - and not just for a short time.
Neil
And one thing which has captured the imagination of the British public is authentic street food. Something authentic is real, it's genuine, it's not a fake or a copy.
Rob
And finally we had microwave food, food prepared in a microwave oven. And that kind of food is not seen by some as authentic.
Neil
Well, it's time to eat, so that's all we have time for today. Join us again next time and remember you can find us on Instagram, Facebook, Twitter, YouTube and of course on our website bbclearningenglish.com. See you soon, bye.
Rob
Bye!
..................................................
Nov 21. 2019
By The Nation
283 Viewed
His Holiness Pope Francis arrived at the Government House at 9am this morning (November 21) where he was welcomed by Prime Minister Gen Prayut Chan-o-cha along with ministers and high-ranking officers. His Holiness signed the official guest book and exchanged souvenirs with the PM.
The Prime Minister said that the government was honoured by the papal visit, noting that this year marked the 350th anniversary of the first missionaries coming to Siam, as Thailand was known then, and the 50th anniversary of the Thai-Vatican relationship. Prayut also praised His Holiness for his mission to encourage harmony, human resource development and environment conservation, promote peace, and decrease poverty and reduce inequality.
The Prime Minister said Thai policy had long been based on the philosophy of the sufficiency economy according to the royal initiatives of His Majesty the late King Bhumibol Adulyadej the Great as used this as the guidelines for the country's economic and social development. In 2019, Thailand, as chair of Asean, had collaborated with partner countries to promote sustainable development society across all dimensions. During the 35th Asean Summit, the bloc's members agreed to strengthen cooperation in accordance with issues that are in line with the Pope's vision, including poverty alleviation, reducing development gaps, human capital development, environmental protection, marine waste reduction, alternative energy development, and appropriate migration support. The PM added that he believed Thailand and Vatican City would work closely together in both bilateral and international frameworks.
His Holiness thanked Prayut thanks for the warm welcome and praised Asean as a symbol of cooperation to solve problems in the region especially current global problems that affect all parts of the world. As Thailand has a diverse culture, it recognises the unity and peaceful coexistence among ethnic groups and shows respect and acceptance of differences that inspire everyone who wishes to create a different world to give as a gift for next generation
The Pope added that he appreciated the establishment of the Ethics and Social Committee which brings together representatives from various religions nationwide. In his context, the Pope will have an audience with the Supreme Patriarch of Thailand to underline the importance of friendship between religions.
He also spoke about the crisis of migration and repeated his call to the international community to support and solve problems that push people to escape from their countries and to promote safe migration. He said he hoped that every country will establish mechanisms to protect the rights and dignity of migrants and immigrants. Pope praised the Thai government for solving the problem of violence and labour in children and women. This year marks the 30th anniversary of the "Convention on the Rights of the Child", which is a great opportunity for Thailand to deliberate on the future of a new population.
......................................................
Amazon to open cashierless supermarkets next year
Nov 21. 2019
The new Amazon Go grocery store in Seattle is adjacent to Amazon's headquarters. CREDIT: Bloomberg photo by David Ryder Photo by: David Ryder — Bloomberg
By Syndication Washington Post,Bloomberg · Matt Day · BUSINESS ·
1,776 Viewed
Amazon.com is preparing to open Amazon Go supermarkets and pop-up stores, an expansion of the company's cashierless ambitions that includes the possibility of licensing the technology to other retailers.
................................................
FINISHED
November 21, 2019