Moving from one place to another is always an adventure. No amount of research can prepare you for the surprises you will find in the new place.
This is often the case with international students in the United States. Around major American holidays, international students often find themselves in uncharted waters, which they learn to navigate with time.
Come the fourth Thursday in November, many newly arrived students experience the U.S. holiday of Thanksgiving for the first time.
"My first Thanksgiving was in Montana. My experience of it was fascinating," said Richmond Danso of Ghana.
"The whole process of preparing the food, the merry making around it, and everything was just fascinating," he said.
Danso is a doctoral candidate in political science at Howard University in Washington, DC.
Richmond Danso (second from left) and members of his family (Courtesy photo)
Other international students look at Thanksgiving as a chance to rest up. Dan Shengquan of China, a master's degree candidate at New York University, told VOA his first memory of the holiday was having a few days off from school.
"It was like end of semester day off, having time to chill," said Dan Shengquan, who admitted knowing very few people on arriving at school. "But these days," he added, "I get a chance to visit my friends' family and join their family party."
Celebrating Christmas
Around Christmas, many international students do not have money to travel back to their home country, so they spend the holiday in the States. Those with extended family in the country go to stay with them for the celebrations.
"When it's Christmas, I go back to my family in New York," said Daniel Mensah of Ghana. Mensah is in his final year at The George Washington University in Washington. He is specializing in economics.
International students with no extended family in the States often celebrate Christmas with their American friends and their families. Lourds Fernando from Sri Lanka is a doctoral candidate in biology at Howard University. She told VOA she celebrates Christmas with her best friend whose family lives in Maryland.
"So I'll go there," she said. "Her family is there so I'll go for dinner or something."
Some international students who are Christian attend church services in the States. During the holiday season, they join with their church family in celebrating Christmas.
"Personally, I think it's more the family element. I have a church family here, so the excitement of spending Christmas: we go to church and we stay together," said Sally Amankwah of Ghana.
She is a masters' candidate in sociology at American University in Washington.
The act of giving gifts to adults at Christmas and even the holiday itself is foreign to some students.
Selina Anosike of Nigeria is a doctoral candidate in biology at Howard University. She been living in the United States for about two years.
Anosike says she was shocked when family members living in the States gave her gifts for Christmas.
"I remember my first Christmas here, I really did not know anything about the gift sharing. I just realized my uncle got me a gift, my aunt got me a gift, and my cousin got me a gift, but I did not get anyone a gift," she said.
"It was a new experience for me because back home, as kids, while you're still young, your parents will get you a new outfit, new shoes, new dresses for Christmas, up until high school. But by the time you get to college, no one cares anymore," she added.
A foreign observance
For some international students, Christmas is not a holiday they celebrate in their home country.
"We don't really do Christmas in China," said Bo Wang of China. He is a master's candidate in business analytics at American University.
Wuntha Kyaw-san of Myanmar is studying computer science at Howard University. He told VOA that the idea of celebrating Christmas is new to him.
"Since we don't actually celebrate Christmas back home, it's like a new experience, you know," he said.
During the three to four weeks break between school terms, some international students take time to explore the United States.
"Usually, I go to other places in the States, travelling with my friends," Wang said. "For this year, I plan to go to Denver to snowboard for my Christmas holiday."
Other students do a mix of things over winter break. They spend the holiday working, meeting up with friends and having fun.
"Now (as graduate student), it's always work because, you know, research is time consuming," Lourds Fernando said, "so I rarely take break, even though it's a break for the school."
I'm Dorothy Gundy.
And I'm Pete Musto.
Ibrahim Onafeko reported this story for VOA Learning English. George Grow was the editor.
We want to hear from you. What do college and university students do during school breaks in your country? Write to us in the Comments Section.
Quiz - International Students Share Their Winter Holiday Plans
Words in This Story
uncharted waters – expression new or unknown areas
navigate – v. to plan or direct the path of a ship, airplane or other form of transportation
fascinating – adj. interesting
doctoral – adj. related to completing a doctorate, the top award of a university or educational organization
uncle – n. the brother of one's father or mother or the husband of a sister of your mother or father
cousin – n. a person belonging to the same extended family
master's degree – n. a recognition given by universities or colleges for completing a high level study program
chill – v. to calm down
dress – n. a single piece of clothing that covers the body
consume – v. to use up
............................................................
A look at the best news photos from around the world.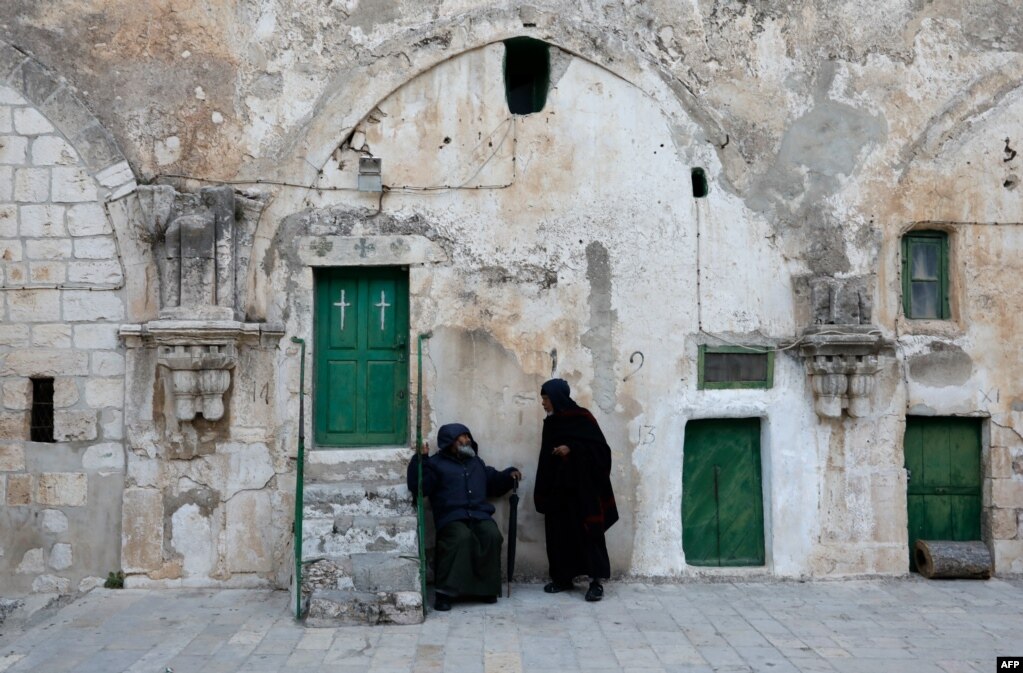 5
Caretakers of the Ethiopian Orthodox Monastery talk to each other at the Church of the Holy Sepulchre in Jerusalem.
6
A swan swims in Lake Constance before sunrise in Constance, Germany.
7
People stand on their balconies next to a collapsed six-story building in the Kenyan capital of Nairobi, as search and rescue operations continue.
8
A Sotheby's employee holds with a "Return of the Jedi" C-3PO Helmet 1983, created by George Lucas' visual effects company, during a photocall at Sotheby's in London, Britain.
.............................................................
6 Minute English
INTERMEDIATE LEVEL
Mental health in the workplace
EPISODE 191114 / 14 NOV 2019
Introduction
Huge numbers of people suffer from mental health issues in the workplace. Not only does it make life very difficult for sufferers, it also costs business a huge amount of money. Neil and Georgina talk about things people can do to make a difference.
This week's question
In what year was World Mental Health Day first held?
A: 1992
B: 2002
C: 2012
Listen to the programme to find out the answer.
Vocabulary
failing to address
not dealing with, not helping with
colossal
huge, very big
contributor
someone who has something positive to give
to normalise
to make normal
to suffer in silence
to have a problem but not discuss it or share it
to cling onto (something)
to hold on tight to something
Transcript
Note: This is not a word-for-word transcript
Neil
Hello. This is 6 Minute English. I'm Neil.
Georgina
And I'm Georgina.
Neil
Today we're focussing on the topic of mental health at work.
Georgina
Yes, it's an issue that can be difficult to see. If someone has an injury, like a broken leg or a serious medical issue, it's obvious, and we can understand what's happening. With mental health issues, though, there's no physical sign and people who are experiencing difficulties maybe don't get the same understanding as people who have medical problems.
Neil
It's a topic that has been getting more publicity recently, particularly as members of the British royal family have been talking about it. Also, awareness is raised through events such as World Mental Health Day. And that is the topic of today's quiz. World Mental Health Day is held every year on October 10th. It aims to raise awareness of mental health issues and their effects on people's lives. In what year was it first held? Was it...
A: 1992
B: 2002
C: 2012
What do you think, Georgina?
Georgina
I don't know – I think it will be older than 2012, but as old as 1992? I don't know. I'm going to go with 2002
Neil
OK. I'll have the answer later in the programme and we'll see if you're right. Mental health problems are very difficult personally for those who suffer from them, and they also have an impact on businesses. Paul Farmer is head of the mental health awareness charity Mind. He spoke on the BBC World Service Business Daily programme about this. How much does he says it costs businesses in the UK?
Paul Farmer, CEO Mind
We know that the cost of failing to address mental health in business is colossal. In the UK, it costs between 33 and 42 billion pounds a year, about $50 billion dollars, and round about 300,000 people fall out of work every year as a result of poor mental health. So that's a huge cost to workplaces and to individuals. Behind those numbers, though, are the lives of talented, able, contributors who often just slide away from the workplace because they don't get the right help and support for their mental health.
Neil
What figures did Paul Farmer give there?
Georgina
He gave the figure of about between 33 and £42 billion – which is about $50 billion dollars.
Neil
That's a lot of money!
Georgina
It is – in fact he called it colossal. This adjective means huge – really, really big. This is the cost to business he says of failing to address the mental health issue.
Neil
Failing to address means ignoring or not dealing with the problems. It leads to staff leaving work, and he says these people are contributors, they give something to the business in terms of their skill and experience.
Georgina
And because of mental health issues, which could be addressed but aren't, those contributors are being lost to the business. So it costs companies more money to recruit and train new staff, and you can't always replace the experience that is lost.
Neil
Let's listen again.
Paul Farmer, CEO Mind
We know that the cost of failing to address mental health in business is colossal. In the UK, it costs between 33 and 42 billion pounds a year, about $50 billion dollars, and round about 300,000 people fall out of work every year as a result of poor mental health. So that's a huge cost to workplaces and to individuals. Behind those numbers, though, are the lives of talented, able, contributors who often just slide away from the workplace because they don't get the right help and support for their mental health.
Neil
In recent years it seems as if there has been more understanding of mental health issues, not just in the workplace but in society as a whole. Geoff McDonald is a campaigner for the organisation Minds at Work. He also spoke on the Business Daily programme about one way that things were getting a little better.
Geoff McDonald, Minds at Work
I think what's really changed is people telling their stories, and the more stories that we tell it kind of begins to normalise this. Every single story that we tell is like sending a lifeboat out into the ocean and the millions and millions of people who are suffering in silence, do you know what they do? They cling on to that lifeboat and they realise they're not alone and they might just be normal.
Neil
So, because more people are talking about this issue, it begins to normalise it. This means it becomes 'normal'. It's not unusual, strange or hidden.
Georgina
There are people who suffer in silence – they keep to themselves and hide their problems from others, but because there is more publicity about this topic, they can begin to feel that they are not alone and they don't have to suffer in silence.
Neil
People sharing their stories are like lifeboats for those who do suffer in silence. In this metaphor they can cling onto the lifeboats.
Right, we're going to another look at today's vocabulary, but first let's have the answer to today's quiz. When was the first World Mental Health Day? Was it...
A: 1992
B: 2002
C: 2012
Georgina, what did you say?
Georgina
I thought 2002.
Neil
It was actually earlier - 1992. Now, a review of our vocabulary.
Georgina
Failing to address is a phrase that means ignoring a problem or not trying to help with a problem.
Neil
Something colossal is very, very big.
Georgina
A contributor is someone who has something to give, who is a positive benefit to, in this case, a business.
Neil
Then we have the verb to normalise, meaning to make something normal.
Georgina
Someone who suffers in silence, doesn't talk about their problems and may hide them from others.
Neil
And finally, if you cling on to something, you hold on to it tightly, you don't want to let it go. And that's all from us from this programme. We look forward to your company again soon. In the meantime find us online, on social media and on the BBC Learning English app.
Georgina
Bye!
............................................................
Sunday, December 08, 2019
Thailand moves to fourth place in SEA Games after winning 18 golds in one day
Dec 08. 2019
Thailand's sailing team with their gold medals.
By Lerpong Amsa-ngiam
THE NATION
616 Viewed
After a slow and quiet week, Thailand finally lived up to the expectations of sports fans by sweeping 18 gold medals for a total of 41 golds in the SEA Games on Saturday in the Philippines.
It was an impressive rebound for the 13-time champions, who proceeded through the opening week with a mere 18 gold medals, nowhere the target of 120 golds.
But the tide did eventually turn as the Kingdom moved past Malaysia and Singapore in the medal tally with a haul of 41 golds to land in fourth place. With three more days to go, host the Philippines, who have won 89 golds overall, remain in the lead and are the heavy favourites to win the 30th edition while Indonesia, with 50 golds, and Vietnam with 46, come in second and third.
The sailing team proved the most productive on Saturday, earning five medals from men's and women's optimist, men's and women's international and laser radial.
Four golds were captured in athletics: women's triple jump, men's hammer throw, men's 1,000m and men's 200m.
Thai breaststroke king Nuttapong Ketin won his fifth Games gold medal after touching the pool first in the men's 200m category. He also won this event in 2009, 2001, 2013 and 2017.
Thai women's table tennis medallists.
In table tennis, Suthasini Sawettabut and Orawan Paranang won the first women's doubles gold medal for Thailand in 34 years in an all-Thai affair opposite Nanthana Kamwong and Jinnipa Sawettabut.
In rhythmic gymnastics, Benjaporn Limpanich put an end to the long eight-year drought of gold medals for Thailand after reigning supreme in the clubs competition.
The other six gold medals came from traditional boat race - 22-seaters 200m, men's judo team, women's taekwondo poomsae team, men's cycling time trial team, men's shooting air pistol and men's Asean chess.
......................................................
Thai beauty takes Miss Supranational crown
Dec 07. 2019
Anntonia Porsild
By THE NATION
1,932 Viewed
Anntonia Porsild was crowned Miss Supranational 2019 today (December 7) beating contestants from 77 countries and becoming the first Thai to be awarded the honour,
Yana Haenisch from Namibia, Jesica Fitriana from Indonesia, Janick Maceta del Castillo from Peru, and Gabriela De La Cruz from Venezuela were named 1st 2nd 3rd and 4th runners-up respectively.
Anntonia, who is half Danish and half Thai, was a contestant on the first season of "The Face Thailand" television show in 2014/15. She is currently studying advertising and public relations at Stamford International University.
Miss Supranational is one of five international beauty contests at the grand slam level. The first competition was held in 2009 in the Polish city of Płock.
Other Thai contestants who have done well in the contest are Nanthawan Wannachutha and Parapadsorn Vorrasirinda, named 1st runners-up in 2012 and 2014.
The victory of Anntonia was the second one this year following Sireethorn Leearamwat taking home the Miss International 2019 crown late last month. Thais expect Paweensuda Drouin to win the Miss Universe 2019 contest, which is being held on December 9.
...............................................................
FINISHED
December 8. 2019