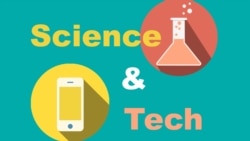 China says millions of legal cases are now being decided by "internet courts" that do not require citizens to appear in court.
The "smart court" includes non-human judges powered by artificial intelligence, or AI.
People seeking legal action can register their case on the internet. They can then take part in a digital court hearing.
The system gives users the chance to communicate and receive court decisions by text or through major messaging services.
China's first internet court was established in the eastern city of Hangzhou in 2017. Hangzhou is a center for major Chinese technology companies. Last week, the country's Supreme People's Court released a report on the court's activities.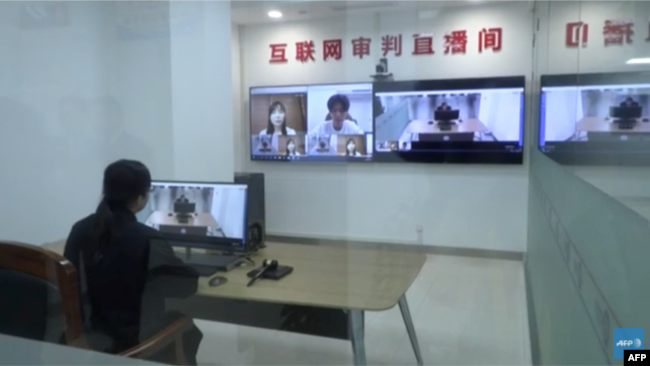 Video screens show citizens taking part in an "internet court" system, based in Hangzhou, China. (Courtesy: AFP/YouTube video)
Users completed more than 3.1 million legal activities through the court system from March to October of this year, China's official Xinhua news agency reported. More than 1 million citizens were registered with the system, along with about 73,000 lawyers, the report said.
Judicial officials recently invited reporters to the Hangzhou Internet Court to see how it operates. In one demonstration, citizens used video messaging to communicate with virtual, AI-powered judges, the French press agency AFP reported.
"Does the defendant have any objection to the nature of the judicial blockchain evidence submitted by the plaintiff?" a virtual judge asked during a pre-trial meeting. The non-human judge was represented in the system by an image of a man wearing a black robe. "No objection," the human plaintiff answered.
A visitor walks past a mural displaying robots from Chinese robot maker Canbot at the World Robot Conference in Beijing, China, Wednesday, Aug. 15, 2018.
A Hangzhou court official told China's state-run CGTN television the internet court system operates 24 hours a day, seven days a week.
It is designed to ease the workload of humans and improve the speed and effectiveness of the legal process. Court officials say that even though virtual judges are used, human judges observe the process and can make major rulings.
The internet court in Hangzhou only deals with cases involving legal disputes over digital matters. These include internet trade issues, copyright cases and disputes over online product sales.
Digital court cases in China have seen a sharp increase in recent years, as the number of mobile payments and internet-based businesses has grown. The growth is tied to China's huge number of internet users -- about 850 million.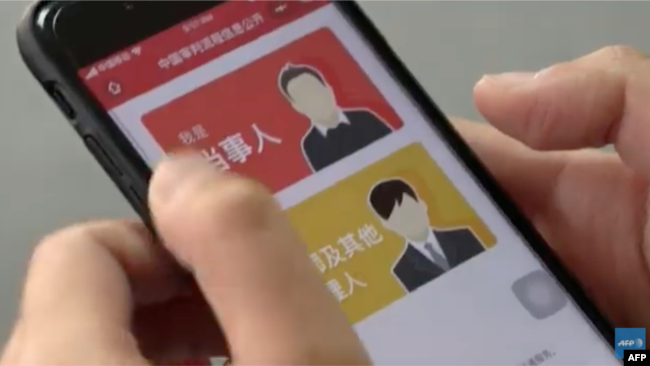 China's "internet court" system, based in Hangzhou, China, lets citizens communicate and receive court decisions by text or through major messaging services. (Courtesy: AFP/YouTube video)
Blockchain is one of the digital technologies used in the court system. Blockchain is the name for an official list of transactions carried out between users belonging to the same group of computers. The technology permits transaction records to be checked and stored safely.
Ni Defeng is vice president of the Hangzhou Internet Court. He told reporters the use of blockchain was particularly useful in helping to reduce paperwork and create clearer records of the legal process. Ni noted that he thinks the system's ability to provide quick results helps give citizens more quality justice. "Because justice delayed is justice denied," he said.
After establishing the court in Hangzhou, China launched similar operations in the cities of Beijing and Guangzhou. Courts nationwide are also experimenting with several digital tools, said Zhou Qiang, chief justice and president of the Supreme People's Court. He told reporters last week that as of October, more than 90 percent of Chinese courts were using some form of online tools to help deal with cases.
I'm Bryan Lynn.
Bryan Lynn wrote this story for VOA Learning English, based on reports from Agence France-Presse, Xinhua, CGTN and the Supreme People's Court. Ashley Thompson was the editor.
We want to hear from you. Write to us in the Comments section, and visit our Facebook page.
Quiz - Robot Justice: The Rise of China's 'Internet Courts'
Start the Quiz to find out
_____________________________________________________________
Words in This Story
artificial intelligence – n. the development of computer systems with the ability to perform work that normally requires human intelligence
digital – adj. information that exists in electronic form
virtual – adj. carried out, used or stored by means of a computer
plaintiff – n. someone who takes legal action against someone else in a court of law
copyright – n. the legal right to be the only one to reproduce, publish, and sell a book, musical recording, etc., for a certain period of time​
transaction – n. an occurrence in which goods, services, or money are passed from one person or account to another
........................................................
A look at the best news photos from around the world.
1
An Iraqi anti-government demonstrator shows a basket full of empty bullet cartridges found in Baghdad's Tahrir Square.
2
A policeman beats a lawyer during a clash between lawyers and doctors in Lahore, Pakistan. At least three heart patients died after a group of lawyers attacked doctors at a cardiac hospital in Lahore, officials and ministers said.
3
Demonstrators shout expressions during a protest against the Citizenship Amendment Bill (CAB), which seeks to give citizenship to religious minorities persecuted in neighboring Muslim countries, in Guwahati, India.
4
A boy stands inside a damaged mosque at the site of an attack in a U.S. military air base in Bagram, north of Kabul, Afghanistan.
5
Demonstrators hold signs during a protest against Chile's government, in Santiago, Dec. 10, 2019.
6
First responders work to clean up following Tuesday's shooting that left multiple people dead at a kosher market in Jersey City, New Jersey.
7
Former American film producer Harvey Weinstein leaves court following a hearing in New York.
8
Vehicles lay at the bottom of a construction site after a road collapsed from heavy rains in the center of Brasilia, Brazil, Dec. 10, 2019.
..........................................................
6 Minute English
INTERMEDIATE LEVEL
Not going out
EPISODE 180726 / 26 JUL 2018
Fewer and fewer people are going out for a walk in the countryside. Our obsession with social media platforms seems to have something to do with it. Neil and Catherine talk about the trend of staying indoors and teach you six items of vocabulary.
This week's question:
In the survey, what percentage of people gave the poor social media photo opportunity as their reason for not wanting to venture out into the countryside? Was it:
a) around 10%
b) around 30%
c) around 50%
Listen to the programme to find out the answer.
Vocabulary
to venture out somewhere
to go out somewhere, but usually when the conditions are bad

millennials
those who became adults in the early 21st century
Generation X
those who became adults in the 1980s and 1990s
phenomenal
amazing, surprising and unbelievable
distractions
activities that prevent us from doing more important things
instagramable
new informal word made with the sufix 'able' and it means 'suitable for posting on the social media platform Instagram'
Transcript
Note: This is not a word for word transcript
Neil
Hello and welcome to 6 Minute English. I'm Neil.
Catherine
Hi! And I'm Catherine.
Neil
Now, Catherine, when was the last time you went for a walk in the country for fun, for exercise or relaxation?
Catherine
People do that?
Neil
Well, believe it or not, they do.
Catherine
Interesting, people are strange.
Neil
Well, it sounds like you should pay close attention to today's programme because it's all about how fewer and fewer people are venturing out into the country.
Catherine
Well, I wonder if that word is part of the problem. To venture out somewhere suggests that it's a big challenge, or even a risky activity.
Neil
I don't think a walk in the country is a particularly dangerous activity, even in bad weather. It's not one of the reasons people gave in a recent survey for why they don't do it. In fact, one of the biggest reasons people gave was that it wouldn't look good on their social media.
Catherine
Well, of course, why would you go for a walk in the rain in the country if you couldn't get good snaps for your social media account?
Neil
Interesting you should say that because it's the topic of this week's quiz question. In the survey, what percentage of people gave the poor social media photo opportunity as their reason for not wanting to venture out into the countryside? Was it:
a) around 10%,
b) around 30% or
c) around 50%?
What do you think?
Catherine
To be honest, I don't think that would be a good excuse at all, so I'm going to say it's just 10%.
Neil
Listen out for the answer at the end of the programme. Annabel Shackleton is from an organisation called Leaf – Linking Environment and Farming. They want to encourage more people to visit the countryside. She recently appeared on the BBC's Farming Today radio programme. She gave her response to the survey we mentioned which revealed that many of us prefer to stay indoors. What does she say a quarter of people in the survey know and believe?
Annabel Shackleton
I can't believe that 4 in 10 millennials think they should spend more time in the countryside and a quarter of them know and believe that it's much better and easier to relax in the countryside but they're just not going out. It's phenomenal.
Catherine
She was talking about a group in the survey which she called millennials. This term refers to people who are young adults now, people who were born in the 1980s and 1990s. Are you a millennial, Neil?
Neil
No, I'm actually Generation X, the age group before millennials. We were born in the 1960s, 70s and early 80s. Shackleton said that a quarter of millennials know and believe that it's better and easier to relax in the country, but they just don't go.
Catherine
She thought it was phenomenal. Now this adjective means that something is incredible, unbelievable. It's often used for something that is positive, something that is very impressive or amazing.
Neil
In this case though she is using it to say how shocked and surprised she is that people know going out in the country is good and a great way to relax but they still don't do it. So what explanation does she have for this phenomenal behaviour. Here's Annabel Shackleton again.
Annabel Shackleton
There are just so many other distractions and it's just so easy for people to stay indoors. You know and they're using excuses like they haven't got the right clothing, it's not instagramable, would you believe it? And yes, it's a shame.
Catherine
She said that there are many other distractions. A distraction is something that takes your attention away from doing something. Usually we think of a distraction as something that delays us from doing something more important.
Neil
These days we have a lot of distractions or things that offer us easy entertainment. So it's very easy to come up with an excuse for not taking the time to go outside.
Catherine
Another very good excuse of course is the weather. It's not a lot of fun to go out if it's cold and pouring with rain.
Neil
Well, a very wise person once said that there is no such thing as the wrong weather, just the wrong clothing!
Catherine
True, Neil, but you have to have the right clothing in the first place and if the weather is terrible you might not be able to get good pictures for your Instagram account. They might not be instagramable. Now you're not going to find that word in the dictionary, but you probably know that the suffix able means 'possible'. So put able on the end of Instagram and you get instagramable.
Neil
And that brings us neatly back to our question. What percentage of people in the survey said that they wouldn't go out in the country because they wouldn't get good pictures for social media? Was it around 10%, 30% or 50%. What did you say, Catherine?
Catherine
I said 10.
Neil
And the answer was about 30%!
Catherine
What is the world coming to?
Neil
I don't know what the world is coming to, but we are coming to the end of the programme, so time to review today's vocabulary.
Catherine
We started off with to venture out somewhere, which simply means to go out somewhere, but usually when the conditions are bad, for example – it was pouring with rain but I still decided to venture out to the shops.
Neil
We heard about millennials and Generation X. Different age groups, millennials are those who became adults in the early 21st century, and Generation X are from the previous generation, who became adults in the 1980s and 1990s.
Catherine
Something phenomenal is amazing, surprising and unbelievable.
Neil
And then we had distractions for activities that prevent us from doing more important things.
Catherine
And one of the biggest distractions is social media. Put the suffix able onto the end of the name of a social media platform and you create a word that describes something that is suitable for posting, so instagramable.
Neil
bbclearningenglish is certainly instagramable, facebookable, tweetable and youtubeable. You can find us on all those platforms as well as on our website. So do check us out there before joining us again for more 6 Minute English. Goodbye.
Catherine
Goodbye!
...........................................................
ADB trims growth forecasts as Asia's biggest economies slow
Dec 11. 2019
By THE NATION
1,372 Viewed
The Asian Development Bank (ADB) has trimmed its forecasts for economic growth in developing Asia this year and next year as growth in the People's Republic of China (PRC) and India remains weighed down by both external and domestic factors.
In a supplement to its Asian Development Outlook 2019 Update released in September, ADB now expects gross domestic product (GDP) in the region to expand 5.2 per cent in both 2019 and 2020, down from the September forecast of 5.4 per cent growth this year and 5.5 per cent next year.
+++
"While growth rates are still solid in developing Asia, persistent trade tensions have taken a toll on the region and are still the biggest risk to the longer-term economic outlook. Domestic investment is also weakening in many countries, as business sentiment has declined," said ADB chief economist Yasuyuki Sawada. "Inflation, on the other hand, is ticking up on the back of higher food prices, as African swine fever has raised pork prices significantly."
The supplement forecasts inflation of 2.8 per cent in 2019 and 3.1per cent in 2020, up from the September prediction that prices would rise 2.7 per cent this year and next.
In East Asia, growth in the PRC is now expected at 6.1 per cent this year and 5.8 per cent next year due to trade tensions and a slowdown in global activity coupled with weaker domestic demand, with family wallets being hit by pork prices that have doubled relative to a year ago. Growth could accelerate, however, should the US and the PRC come to an agreement on trade, the report says. In September, ADB forecast GDP growth of 6.2 per cent in 2019 and 6.0 per cent in 2020.
Hong Kong, China, already in technical recession, will see severe downward pressures persist possibly into 2020. The economy is now expected to contract 1.2 per cent this year and grow 0.3 per cent next year.
In South Asia, India's growth is now seen at a slower 5.1 per cent in fiscal year 2019 as the foundering of a major non-banking financial company in 2018 led to a rise in risk aversion in the financial sector and a credit crunch. Also, consumption was affected by slow job growth and rural distress aggravated by a poor harvest. Growth should pick up to 6.5 per cent in fiscal year 2020 with supportive policies. In September, ADB forecast India's GDP to grow 6.5 per cent in 2019 and 7.2 per cent in 2020.
In Southeast Asia, many countries are seeing continued export declines and weaker investment, and growth forecasts have been downgraded for Singapore and Thailand. GDP growth is expected to slow in the Pacific with activity in Fiji, the sub-region's second largest economy after Papua New Guinea, expected to be more subdued than previously anticipated.
Central Asia is the only sub-region where prospects look a little brighter now than in September, largely thanks to increased public spending in Kazakhstan, the region's largest economy. Central Asia is now forecast to grow 4.6 per cent in 2019, up from the previous prediction for expansion of 4.4 per cent . The forecast for 2020 is for growth of 4.5 per cent . Kazakhstan's economy is seen expanding by 4.1 per cent this year and 3.8 per cent next year.
ADB is committed to achieving a prosperous, inclusive, resilient, and sustainable Asia and the Pacific, while sustaining its efforts to eradicate extreme poverty. In 2018, it made commitments of new loans and grants amounting to $21.6 billion.
................................................................
EC 'petitions charter court' to dissolve Future Forward over Thanathorn loan
Dec 11. 2019
Thanathorn Juangroongruangkit
By THE NATION
1,892 Viewed
The Election Commission (EC) has petitioned the Constitutional Court to dissolve Future Forward Party (FFP) over its leader Thanathorn Juangroongruangkit's Bt191-million loan.
On Wednesday (December 11), a source from the Office of the Election Commission of Thailand revealed that the EC has filed a petition with the Constitutional Court to consider dissolving FFP over its leader Thanathorn lending the party Bt191 million, which may be a violation of the election and political party law according to Article 72 of the Political Party Act BE 2560.
Article 72 prohibits political parties from receiving donation of money or assets from any sources which it knows are unlawful or have reasonable doubts of it being unlawful. Article 92(3) of the same act allows the Constitutional Court to consider dissolving any political party that violates Article 72.
Thanathorn had loaned Bt161.2 million to his own party in January at 7.5 per cent interest and another Bt30 million in April at 2 per cent interest. The borrower listed in both contracts is Nitipat Taempairot, acting FFP leader at that time.
Earlier on November 20, the Constitutional Court had ruled that Thanathorn lost his status as a member of Parliament on May 23, having registered to run in the March election while still holding shares in V Luck Media, in violation of the law.
......................................................................
FINISHED
December 12, 2019