The latest diet trend in America is also an ancient human activity. The activity is fasting, or not eating food for a set amount of time.
Social media apps and Facebook groups are appearing for people who do "intermittent fasting," or fasting on a part-time basis.
Different approaches
Like other diets, intermittent fasting helps you lose weight by setting limits on eating. But instead of limiting what you eat, it limits when you eat.
One of the more popular approaches to intermittent fasting is called "time-restricted feeding." It is not as difficult as some of the other approaches, since the fasting period can include the time you are sleeping.
The basic idea of time-restricted feeding is to limit eating to an eight-hour period. You then fast during the day's other 16 hours.
Many people make the eating period shorter or longer. Some eat just one meal a day.
In other approaches, people fast several days during a week. On fasting days, some people may permit themselves around 600 calories.
Whatever the approach, people are not supposed to overeat when they stop fasting.
Supporters and critics
Melissa Breaux Bankston is a Crossfit instructor in New Orleans, Louisiana. She tried intermittent fasting as a way to reduce her snacking. "I wanted to limit the amount of time that I was eating," she said.
Studies on the potential health benefits of intermittent fasting are still limited, including for its effectiveness with weight loss.
For now, limited research suggests it may not be any better for weight loss than reducing calorie intake over the long term.
"It's really another way of fooling your body into eating less calories," said Krista Varady, who studies intermittent fasting at the University of Illinois at Chicago.
Courtney Peterson, of the University of Alabama at Birmingham, also studies intermittent fasting. She suggested the benefits of intermittent fasting are not as great as some might suggest. "Unfortunately, intermittent fasting gets a little hyped," she said.
Is intermittent fasting right for you?
Some health experts say intermittent fasting might be too difficult for many people. They point to a study of 100 people where those placed in a fasting group lost about the same amount of weight as those on diets that restricted calories. The fasting group had a dropout rate of 38 percent, compared with 29 percent for the caloric-restriction diet group.
But intermittent fasting may be easier for people who already skip meals when they are too busy, said Varady.
People interested in intermittent fasting should talk to their doctor before trying it. Health experts do not recommend intermittent fasting for children, people on some medications and people with a history of eating disorders.
I'm John Russell.
Candice Choi reported on this story for the Associated Press. John Russell adapted it for Learning English. Mario Ritter, Jr. was the editor.
Quiz - New Diet Trend in America: Intermittent Fasting
Start the Quiz to find out
Words in This Story
trend – n. something that is currently popular or fashionable
approach – n. a way of doing or thinking about something
hormone – n. a natural substance that is produced in the body and that influences the way the body grows or develops
hype – v. informal to talk or write about (something or someone) in a way that is intended to make people excited or interested
skip – v. to not do (something that is usual or expected)
disorder – n. medical : a physical or mental condition that is not normal or healthy
We want to hear from you. Write to us in the Comments Section.
...................................................
A look at the best news photos from around the world.
1
A man walks on a road covered with ashes from the Taal Volcano in Talisay, Batangas, Philippines.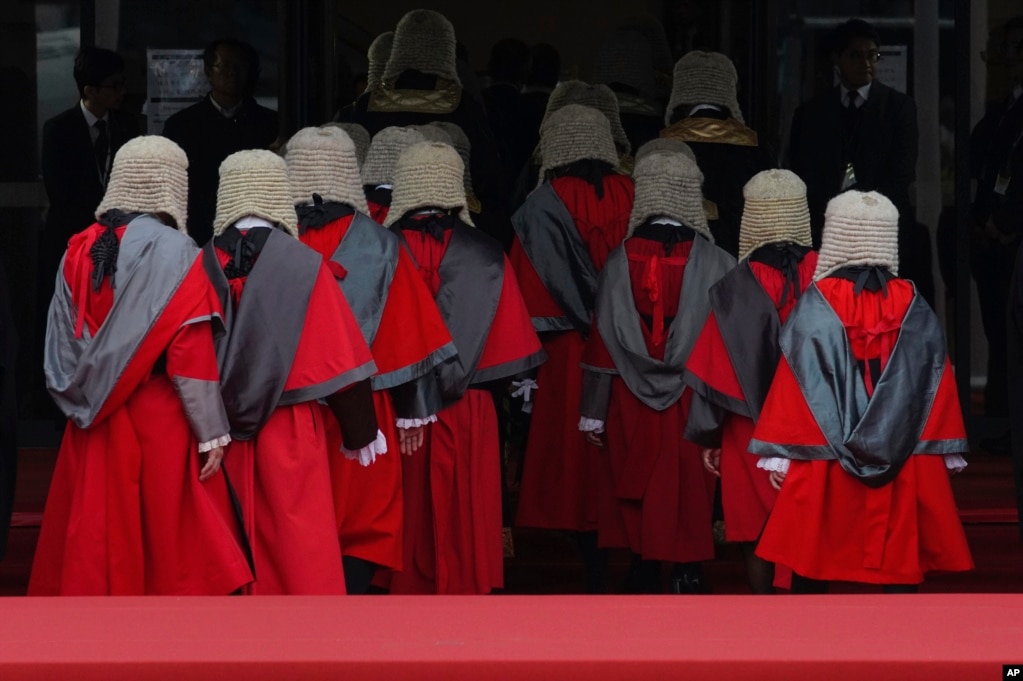 2
Judges are seen during opening ceremony of the legal year at City Hall in Hong Kong.
3
A girl tries to fight off desert locusts as they fly in a farm outside Jijiga in the Somali region of Ethiopia, Jan. 12, 2020.
4
Women wearing kimonos and celebrating their 20th birthday gather following a Coming of Age ceremony at Toshimaen amusement park in Tokyo, Japan, on Coming of Age Day.
5
Lightning flashes as Taal Volcano bursts outside Manila, Philippines. The small volcano near the capital draws many tourists for its beautiful setting in a lake. On January 12, 2020, steam, ash and rocks rose in a huge plume, leading thousands of residents to flee and officials to temporarily suspend flights.
6
Men dressed as "Chlaeuse", figures that scare away evil spirits, carry round bells and cowbells during the traditional "Sylvesterchlausen" in near the northeastern village of Urnaesch, Switzerland.
7
Two Palestinian women walk toward a checkpoint to cross into the Israeli-controlled Shuhada Street in the divided town of Hebron, in the Israeli occupied West Bank.
8
A leopard lies on the ground after it was tranquilized by forest officials as it got stuck in an iron animal catcher at Padampura village near Ajmer, Rajasthan, India.
.................................................................
6 Minute English
INTERMEDIATE LEVEL
The calming power of nature
EPISODE 191219 / 19 DEC 2019
Introduction
Being in the green open space can certainly help us relax and de-stress. So much so that the beneficial contact with the outdoors is inspiring a particular kind of therapy. Neil and Georgina discuss ecotherapy and teach you related vocabulary.
This week's question
How high is the world's tallest tree thought to be? Is it...
a) 65.8 metres
b) 115.8 metres
c) 185.8 metres
Listen to the programme to find out the answer.
Vocabulary
tonic
something that makes you feel happier and healthier
horticulture
the study or activity of growing garden plants
panacea
something that is believed to solve everything
therapeutic
makes you feel better or healthier
biophilia
a passion for or empathy with the natural world and living things
innate
a quality that you're born with
Transcript
Note: This is not a word-for-word transcript
Neil
Hello, this is 6 Minute English. I'm Neil.
Georgina
And I'm Georgina.
Neil
Georgina, what do you do to cheer yourself up?
Georgina
Having a walk usually helps – especially if it's in the countryside.
Neil
Yes, being in all the green open space can certainly help us relax and de-stress – getting back to nature can be a tonic when you're feeling down.
Georgina
A tonic is something that makes you feel happier and healthier. I'll drink to that!
Neil
Me too. But connecting with the natural world is particularly beneficial to people with mental health issues such as clinical depression. And it's something that's being called 'ecotherapy'. More on that in a moment but here's a question for you to answer, Georgina.
Georgina
OK, Neil. Fire away.
Neil
Well, seeing or even hugging trees is a form of therapy, but how high is the world's tallest tree thought to be? Is it...
a) 65.8 metres,
b) 115.8 metres, or
c) 185.8 metres
Georgina, any ideas?
Georgina

Not a clue – but let's go for the highest figure of 185.8 metres.
Neil
Are you sure? Well, we'll have to wait until the end of the programme to find out. Now, the mental health charity, Mind, describes ecotherapy as a formal type of treatment which involves doing outdoor activities in nature. However, there's not one simple definition, it just relates to doing activities outdoors.
Georgina
Yes, it can involve doing many things, such as outdoor yoga or horticulture – another name for gardening. It doesn't involve taking medication, but instead it just develops a person's relationship with nature.
Neil
It's something Patricia Hasbach knows a lot about. She's a clinical psychotherapist and told the BBC Radio programme Health Check how ecotherapy can help. Does she say it can help everyone?
Patricia Hasbach, clinical psychotherapist
I often think about ecotherapy as another tool in the therapist's toolbox. It's not a panacea. It's not going to erase somebody's pain or grief. But it is a powerful tool, you know. Traditionally therapy has stopped at the urban boundary.
Neil

So it's interesting that she describes ecotherapy as a tool – something that can be used to achieve something else. Here is can be used to help improve someone's mental health.
Georgina
Ah, but she says it's not a panacea – so not something that will solve everything – it won't erase or get rid of someone's pain. But going beyond what she calls the 'urban boundary', and into the natural world, means there is another method for helping people.
Neil
Now, as we've mentioned, ecotherapy can take on many forms – doing art in a forest or running on a beach are all therapeutic. They're things that makes you feel better or healthier.
Georgina
Well, I think that's clear, but what is it about the outdoors that affects us?
Neil
A good question, Georgina. It seems from research that our busy brains are always on guard, but when we get into nature it gets a break, there's not so much to be on the lookout for and we can relax.
Georgina
Well, it does seem the negative symptoms of urban life can benefit from a dose of nature – a dose is an amount of something. Let's get a good explanation from an expert. Environmental psychologist Birgitta Gatersleben also spoke to the BBC Health Check programme and gave two reasons – one of them, she explained, was something called 'biophilia'.
Birgitta Gatersleben, environmental psychologist
Biophilia, very briefly, is really an innate positive response that people have with life and life-like features. The idea that nature reminds us of life, and if we (are) exposed to the natural elements then our sort of negative feelings get almost immediately replaced with positive emotions.
Neil
Birgitta Gatersleben there explaining biophilia – which is a passion for or empathy with the natural world and living things.
Georgina
She said biophilia is innate, which means is a quality that you're born with. So basically, most of us were born to connect with nature – nature reminds us of life and gives us good, positive emotions.
Neil

Naturally. OK. Well, Georgina, maybe getting today's quiz question right will give you positive emotions. Earlier I asked you how high the world's tallest tree is thought to be. Is it...
a) 65.8 metres,
b) 115.8 metres, or
c) 185.8 metres
What did you say?
Georgina
I said c) 185.8 metres.
Neil
Oh dear, I'm afraid that's far too high! The correct answer is 115.8 metres. Never mind. The tree, named Hyperion, is a type of redwood and was found in California in 2006.
Georgina
Well, that's still very tall, and would be great to see.
Neil
Now we've just got time to recap some of the vocabularies we've discussed, starting with tonic which can be a fizzy drink you mix with an alcoholic drink, but in the context of therapy, it can mean something that makes you feel happier and healthier.
Georgina
Horticulture is the study or activity of growing garden plants – in other words, gardening.
Neil

A panacea is something believed to solve everything.
Georgina
If something is therapeutic, it makes you feel better or healthier.
Neil
We also discussed biophilia, which is a passion for or empathy with the natural world and living things.
Georgina
And innate means a quality that you naturally have – you're born with it.
Neil
Well, as you know I have an innate quality for presenting this programme – but now it's time to go. Please join us next time, and don't forget to check us out on your favourite social media platform, on our app and of course the website bbclearningenglish.com. Goodbye.

Georgina
Bye!
..........................................................
FINISHED
January 14, 2020