Few people understand the issue of sexual violence at colleges and universities in the United States better than Faith Ferber.
Ferber began her studies at American University, or AU, in Washington, D.C, in the autumn of 2013. By the following spring, the school was facing a major problem.
Messages between members of an unapproved all-male student group were published online, and gained widespread public attention. The messages showed the members openly discussing their involvement in illegal activities, including rape.
Ferber soon took action. She formed a group called Students Against Sexual Violence and organized protests. She got thousands of students to sign a statement demanding that school officials take action.
AU later dismissed 18 students for their involvement in the unapproved group. But before that took place, Ferber became a victim herself. In February 2015, she was sexually assaulted at a party.
She told VOA that, at first, AU officials seemed supportive of her and her case against her attacker. But after the investigation was over and the school began deciding what action to take, things changed.
Ferber said AU officials asked her to sign an agreement saying she would not discuss the details of her case with anyone. Ferber's attacker admitted responsibility, but the school did not dismiss that student as she requested.
She then learned that AU had violated Department of Education rules governing how colleges and universities should deal with sexual assault. So she contacted the agency, which eventually led to an investigation into the school. That investigation is ongoing.
Ferber continues to fight sexual violence through her work with Know Your IX. The organization teaches college students how to hold their schools accountable. Ferber argues that colleges and universities in the U.S. cannot let fear of critical media attention prevent them from supporting abuse victims. And, she adds, conversations about sex and sexual violence in America need to change.
"From a very young age we teach women that it's their responsibility to not get raped or to not be attacked," said Ferber. "That combined with a hesitancy to discuss sex and consent with young Americans, the result is that kids end up at college living … on their own for the first time, barely adults … with very, very little information, if not misinformation, on … healthy sexual relationships."
Some schools are trying to better understand the problem. In October, the Association of American Universities, or AAU, released the findings of its 2019 Campus Climate Survey on Sexual Assault and Misconduct.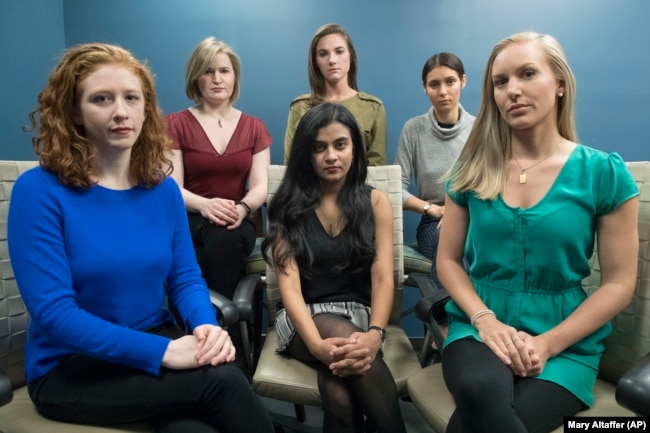 In this Wednesday, Nov. 14, 2018 photo from left back row, Annemarie Brown, Andrea Courtney, and Marissa Evans, and from left front row, Sasha Brietzke, Vassiki Chauhan, Kristina Rapuano, pose in New York. They filed a lawsuit against Dartmouth College.
This study questioned nearly 182,000 students at 33 public research universities across the country about their experiences with sexual wrongdoing. It also asked them what they knew about their schools' policies and support systems in place for victims.
The study showed that there have been no notable changes in rates of sexual assaults at U.S. colleges and universities since 2015. That was the first year of the AAU survey.
There were some notable improvements. There has been a rise in the number of students saying they understood the meaning of consent, as well as what can be considered assault. And more students reported knowing how to report an incident to school officials.
However, this year's AAU study found one major issue continues: many victims are still not reporting incidents. The number of victims who inform their schools or local police remains low, at around 15 percent.
"Although we've made progress, there is much work to do," AAU President Mary Sue Coleman wrote in a statement. "We now know that schools should continue to concentrate their educational efforts and resources on incoming first-year … students, since they are clearly more vulnerable ... than their older classmates."
People gather to protest proposed changes to Title IX before a speech by Education Secretary Betsy DeVos, Thursday, Sept. 7, 2017, at George Mason University Arlington, Va.
Colby Bruno is the senior legal counsel with the Victim Rights Law Center, which offers legal support to people affected by sexual assault. She said the increased knowledge of consent is a promising sign. And the fact that schools are willing to take part in this kind of research shows they seem willing to take action.
But, Bruno says, the situation on college campuses will not improve unless students fully understand consent – and schools have strong policies they are willing to enforce.
"If a school ignores or if there is a problem with rape and sexual assault on campus... then it's not just a problem for the individuals who have been assaulted," she said. "It's a larger problem for the whole student body, because there is a hostile environment that exists on that campus."
Bruno and Ferber agree that what schools also need is guidance from the government. In 2017, the U.S. Department of Education, under President Donald Trump, changed guidelines established by former President Barack Obama. Those guidelines advised institutions that receive federal financial aid on how to best deal with incidents of sexual assault.
Bruno and Ferber say the changes have weakened support for victims.
I'm ­Dorothy Gundy.
And I'm Pete Musto.
Pete Musto adapted it for VOA Learning English. Ashley Thompson was the editor. Write to us in the Comments Section or on our Facebook page.
Quiz - Sexual Assault Remains Major Issue in US Higher Education
Start the Quiz to find out
Words in This Story
assault(ed) – v. to violently attack someone or something
accountable – adj. required to explain actions or decisions to someone
hesitancy – n. the condition of being slow to act or speak especially because you are nervous or unsure about what to do
consent – n. permission for something to happen or be done
survey – n. an activity in which many people are asked a question or a series of questions in order to gather information about what most people do or think about something
concentrate – v. to cause attention, efforts, or strength to be used or directed for a single purpose
vulnerable – adj. open to attack, harm, or damage
campus(es) – n. the area and buildings around a university, college, or school
institution(s) – n. an established organization
....................................................
A look at the best news photos from around the world.
1
Buffalo owners try to control their buffalos during a traditional buffalo fight held as part of Bhogali Bihu festival in Boidyabori village, about 80 kilometers from Guwahati.
2
Lightning strikes during heavy rains over Rafah in the southern Gaza Strip.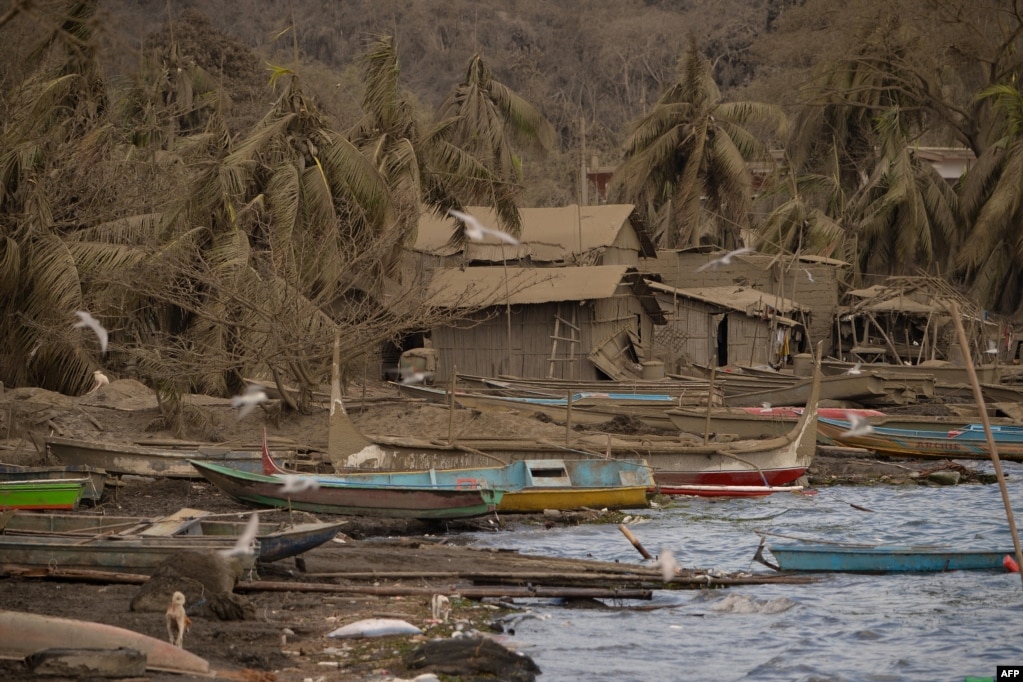 3
Abandoned houses and coconut trees are seen covered in mud and ash from the eruption of the nearby Taal volcano, in Batangas province, the Philippines.
4
A child jumps to touch lanterns hung on a tree ahead of the Chinese Lunar New Year celebrations in Beijing.
5
A Swiss Airbus A321 and Patrouille Suisse fly before a men's downhill training session at the FIS Alpine Ski World Cup in Wengen, Switzerland.
6
Protesters march during a demonstration in Lyon, France.
7
Jose Ignacio Cornejo Florino of Chile rides his Honda motorbike during stage 11 of the Dakar Rally between Shubaytah and Haradth, Saudi Arabia.
8
Excavators work at the Hambach coal mine, operated by German energy producer RWE in Niederzier and Elsdorf, Germany.
...................................................................
6 Minute English
INTERMEDIATE LEVEL
A tall story
EPISODE 180809 / 09 AUG 2018
Does being taller mean you earn more at work? Tanya S Osensky is an attorney who has made it her personal crusade to highlight the discrimination faced by short people in our society. Neil and Catherine discuss height and teach you six items of vocabulary.
This week's question:
The tallest person ever proven to live was Robert Wadlow from the USA. How tall was he? Was he:
a) 2.71m
b) 2.72m
c) 2.73m
Listen to the programme to find out the answer.
Vocabulary
to relish (something)
to really enjoy something
discrimination
unfair or unequal treatment of people because of, for example, their race, religion, colour, age or indeed height
embellish
exaggerate

premium
extra benefit, extra advantage

disparity
difference

Transcript
Note: This is not a word for word transcript
Neil
Hello and welcome to 6 Minute English. I'm Neil.
Catherine
And I'm Catherine.
Neil
Catherine, are you tall enough?
Catherine
Tall enough for what?
Neil
Tall enough to be happy with your height.
Catherine
Er, well, yes, I'm alright with my height, I can't do a thing about it anyway so, how about you?
Neil
Well, the same, really. I wouldn't mind being slightly taller, I suppose, which is appropriate as today's topic is about heightism.
Catherine
Heightism. Now, you may not have heard of heightism before, but it's like other 'isms' - like racism, sexism, ageism and other 'isms' that highlight a particular kind of discrimination or unequal treatment that people experience.
Neil
But before we find out more about this topic, our quiz question for today. The tallest person ever proven to live was Robert Wadlow from the USA. How tall was he? Was he:
a) 2.71m;
b) 2.72m or
c) 2.73m?
What do you think Catherine?
Catherine
Wow, that's really, really tall! I'm going to guess 2.71m.
Neil
Well, listen out for the answer at the end of the programme. Tanya S Osensky is an attorney and author of the book 'Shortchanged' about her own experiences of heightism.
Catherine
Clever title. To short-change someone is to not give them what they are entitled to, what they deserve. And originally this phrase comes from paying for something and not getting the right money back. So if I buy something for £6 and I pay with a £10 note and the shopkeeper only gives me £3 back, I've been short-changed – it means I've been cheated. And in the context of facing discrimination because you're not tall, 'Shortchanged' is a really good pun.
Neil
Tanya spoke about her book on the BBC radio programme Thinking Allowed. She talks first about our general feelings about height. What does she say people never wish for?
Tanya S Osensky
Everybody that I've spoken to who is tall relishes their height. I have not met anybody who said they would wish they were shorter and people generally tend toeven embellish what their height is when you ask them what it is.
Neil
So what is it she says no one wishes for?
Catherine
Well, she says no one wishes they were shorter!
Neil
And that's right. She said that tall people relish their height. This means they enjoy being tall, they get great satisfaction from it.
Catherine
And another point she makes is that many people embellish their height, if asked. This means they say they are taller than they actually are. Now, to embellish a fact means to exaggerate it to make it seem bigger, faster, better and so on.
Neil
Here's Tanya S Osensky again.
Tanya S Osensky
Everybody that I've spoken to who is tall relishes their height. I have not met anybody who said they would wish they were shorter and people generally tend to even embellish what their height is when you ask them what it is.
Neil
She goes on to explain how some research has shown that shorter people are less likely to get jobs, less likely to get promoted and less likely to earn as much as taller people. What is the financial difference she mentions? She talks about the premium per inch. An inch is about 2.5cm and the premium is a word which means the extra benefit, the extra advantage. Here's Tanya S Osensky again.
Tanya S Osensky
One set of data showed that the premium for height is over $2000 per inch for men and $1000 per inch for women and over time that disparity grows significantly so it ends up being a huge chunk of someone's paycheck over their career.
Catherine
She says that taller men earn $2000 an inch.
Neil
For women it's a bit less, but still significant at $1000 an inch.
Catherine
And this disparity – or difference - between the salaries of taller and shorter people is an example of heightism. Shorter people, she says, are getting fewer jobs and fewer benefits because they are short.
Neil
Well, one person who certainly wasn't short was the subject of today's quiz question. The tallest person who has lived, Robert Wadlow. We asked how tall he was, was it:
a) 2.71m;
b) 2.72m or
c) 2.73m?
What did you say, Catherine?
Catherine
I said 2.71m.
Neil
Well, you were almost there. The correct answer was b) 2.72m. Congratulations if you got that right. Now Catherine, much as I relish being in the studio with you, we must wrap up the programme now with a review of today's vocabulary.
Catherine
Well relish was one of those words. If you relish something you really enjoy it – so thanks you for that, Neil.
Neil
You're welcome! This programme was about a kind of discrimination. This means the unfair or unequal treatment of people because of, for example, their race, religion, colour, age or indeed height.
Catherine
And discrimination because of someone's height is called heightism.
Neil
Something which many of us do is embellish our height - wesay we are taller than we actually are.
Catherine
A premium is an extra benefit or advantage that can be gained, in this case, by being taller. And finally we had disparity, another word for difference. There is a disparity between salaries between tall people and their shorter colleagues.
Neil
And that is 6 Minute English for today. Do join us again and until then we look forward to seeing you in all the usual places: ­­Instagram, Facebook, Twitter, YouTube as well as our website, bbclearningenglish.com. Goodbye.
Catherine
Bye!
..................................................
HM presides over military, police parade
Jan 18. 2020
By THE NATION
His Majesty King Maha Vajiralongkorn and Her Majesty Queen Suthida, along with Princess Bajrakitiyabha Narendira Debyavati arrived on Saturday (January 18) at 4pm, at the Cavalry Centre of Adisorn Military Camp in Pak Phriew subdistrict, in the Muang district of Saraburi province, to preside over the oath-taking ceremony and marching of military and police personnel on the occasion of Royal Thai Armed Forces Day and to celebrate the Royal Coronation Ceremony of 2019.
6,812 military and police personnel from 39 divisions nationwide participated in the march parade, including a number of military vehicles and aircraft from the Royal Thai Army, Royal Thai Navy and Royal Thai Air Forc
Jurin sees huge opportunities for trade with India
Jan 18. 2020
By THE NATION
Deputy Prime Minister and Minister of Commerce Jurin Laksanawisit has taken more than 80 private companies with him to negotiate trade deals in India, as well as aim to create a business network of Thai and Indian private sectors.
Jurin's four-day trip began on Friday (January 17) and ends on Monday.
"India is interesting since the country has not been affected by the trade war between the US and China. Also, it will be the most populous country in the world in the future," he said.
In addition, India is implementing a no-plastic policy which offers Thai businesses the opportunity to export cassava for producing bioplastics, in the process creating huge export value, Jurin added.
Meanwhile, India's "Housing for All" policy also offered opportunities to Thai businesses, he said. This policy aimed to provide affordable houses for the urban poor, and could be a channel to export construction products or furniture from Thailand to India.
Jurin said Thai products can satisfy the demands of Indian consumers in various aspects.
Besides, he said, the potential of Thailand's agricultural and industrial products had enough potential to be a part of the production chain in numerous industries in India.
"I expect this trip to generate many business opportunities." Jurin said. "Last year, we visited India with representatives of some 30 to 40 companies and that created around Bt12 billion worth of business.
"This time, we have to wait for the results of business negotiations between companies dealing in Bengaluru and Hyderabad cities, before judging the total business value."
He said India was a market the Ministry of Commerce was looking at for direct sale of palm oil to. Presently, sales are being routed through Singapore.
Furthermore, the minister said they had selected 200 products from Thailand and started sales in India recently through Bigbasket.com, an online grocery website.
................................................................