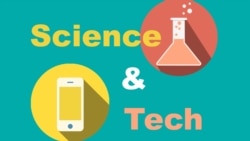 Call it luck, but not "dumb luck."
Just three days into Wolf Cukier's summer internship with the American space agency NASA, he found a new planet.
The 17-year-old high school student was tasked with looking through data from a telescope in search of evidence of planets outside our solar system.
"I was pretty much spending my summer looking at graphs on a computer screen."
And on his third day with NASA, Cukier found it -- a previously unknown planet orbiting two stars.
Cukier was looking at data produced by NASA's Transiting Exoplanet Survey Satellite, known as TESS. Although he did not see the physical planet, he saw clear evidence of it.
"I couldn't say that I was confident it was a planet because it was day three on the job. And I couldn't say anything with confidence quite yet. But out of the hundred different targets that I looked at, I remember I put about 10 asterisks next to this one, saying this one looks good, we should look at this one first."
The planet is 1,300 light years from Earth.
What Cukier had found was evidence of changes in the light of the two stars, called binary stars. The way scientists "see" such a distant planet is by changes in light. If a planet is moving between the telescope and the star it orbits, it produces an effect similar to an eclipse that we see here on Earth.
In other words, the planet blocks some of the sun's light from the telescope. In graphs and other data, this shows up as a dip -- a line that moves down and then up again.
Later that day, Cukier met with his boss, Veselin Kostov, to go over his find.
The high school student was working with a team of scientists at NASA's Goddard Space Flight Center in Maryland, not far from Washington, D.C.
NASA has about 2,000 interns across the country each year.
Kostov told VOA that Cukier came into his office and told him he had something that "looks interesting."
It was "a really exciting couple of hours" to make sure what they saw "was real," Kostov said.
"Once we were pretty confident that they were mostly real, we reached out to the rest of the team," Kostov said. Other team members found more transits of the planet, giving them more evidence.
Because the planet is so big, NASA scientists believe it is made of gas, like Saturn or Jupiter. Even if it had been rocky, like Earth, the planet seems to be too close to one of the stars to be able to support life.
A team of NASA scientists, including Cukier, submitted the finding to a scientific journal. The work will be published soon.
Reading scientific journals in his classes at Scarsdale High School in New York is what brought Cukier to his internship at NASA. Under the supervision of two high school teachers, he and other students in the program study a science field of their choice. Cukier settled on the field of astrobiology.
He contacted people at NASA to help him gain an internship. While at NASA in the summer of 2018, he studied "Goldilocks" zones—planets that have conditions that could support life.
NASA invited Cukier back the following summer. And that is when he found the planet.
NASA's Kostov holds a doctoral degree from Johns Hopkins University. Both he and Cukier have advice for students wanting to study the stars. First, study physics and math.
Wolf Cukier with his high school science project in June 2019. He discovered a new planet on his third day at a NASA internship.
Other than that, Cukier says it was both luck and "putting in the hard work" that led to his discovery.
"Yes what I did is impressive, but it also didn't take that many special skills. So, if someone is interested in science, like my age, and even if they don't have training, they should still just reach out to researchers and find something that they can do because almost anyone can look through data looking for dips.
"It just happened to be me, who saw this one."
Since the news broke earlier this month, Cukier has told his story to many media organizations. He says that even though it has been fun, the attention is a "bit overwhelming."
As for his future, Cukier plans to study either physics or astrophysics in college. He hopes to attend Stanford, Princeton or M.I.T., the Massachusetts Institute of Technology next autumn.
But first comes his high school graduation this spring.
I'm Anne Ball.
Anne Ball wrote this story for Learning English. Ashley Thompson was the editor.
What do you think of this story? Would you like to study the stars? Write to us in the comments section below.
Teen Discovers Planet on Day Three of Internship
Start the Quiz to find out
Words in This Story
dumb luck – n. informal saying meaning something good happens completely by chance without being planned or deserved
internship – n. a position as an intern to learn on the job
solar system – n. our sun and planets moving around it
graph – n. a drawing that uses a series of dots and lines to show how much or quickly something changes
confident – adj. having a feeling or belief that you can do something well or succeed at something : having confidence
asterisk – n. a symbol * that is used in printed text that can signal importance
eclipse – n. an occasion when the sun looks like it is completely or partially covered with a dark circle because the moon is between the sun and the Earth
impressive – adj. deserving attention, admiration, or respect : making a good impression
overwhelming – adj. very great in number, effect, emotions or force
............................................................
A look at the best news photos from around the world.
1
A woman holds vegetables transported by motorcycle along a street in Phnom Penh, Cambodia.
2
An athlete prepares ahead of the Freestyle Skiing Men's Freeski Big Air Qualification rounds as part of Lausanne 2020 Winter Youth Olympic Games in Leysin resort.
3
Performers wearing traditional clothes from Rajasthan state dance during a press preview of the Republic Day parade in New Delhi.
4
Britain's Prince Charles, Prince of Wales, delivers a speech during the World Economic Forum yearly meeting in Davos, Switzerland.
5
A woman plays with a child in Moscow's Tushino park after a snowfall.
6
American tennis star Serena Williams gets ready to serve during the Australian Open in Melbourne Park, Melbourne, Australia.
7
Muddy water from Hayarkon river flows in to the Mediterranean Sea in Tel Aviv, Israel.
8
A member of Swiss Guard looks on ahead of the weekly general audience held by Pope Francis at the Vatican.
9
U.S. President Donald Trump looks back as a member of the press shouts a question following a press conference at the World Economic Forum in Davos, Switzerland.
10
Two people take pictures on top of a collapsed bridge in Malgrat, near Barcelona, Spain.
...............................................................
6 Minute English
INTERMEDIATE LEVEL
Robot therapist
EPISODE 180308 / 08 MAR 2018
A new smartphone app providing therapy for depression and anxiety is just one of a growing number of similar digital services. But do they work? And what are the risks? Join Rob and Catherine as they discuss robot therapy.
This week's question:
Roughly how many people suffer from mental illness globally?
a) One in ten people
b) One in four
c) One in three
Listen to the programme to find out the answer.
Vocabulary

therapy
treatment (often for mental illness)
woe
sadness
check in with (someone)
(informal) meet or talk to someone to exchange information
ethical
morally right
stigma
negative perception held by people, especially an unfair perception
self-reflection
thinking about yourself in order to understand yourself
Transcript
Note: This is not a word for word transcript
Catherine
Welcome to 6 Minute English, the programme where we explore an interesting topic and bring you six items of useful vocabulary. I'm Catherine.
Rob
And I'm Rob.
Catherine
I have a question for you, Rob: how would you feel about having therapy from a robot?
Rob
I'm not too sure about that – you'll need to tell me more! But first things first, the word therapy refers to a kind of treatment that helps someone feel better – including treatment for mental health issues. Someone who delivers therapy is called a therapist.
Catherine
We'll find out more about this robot therapist in just a moment, but first, Rob, I've got a question for you about the scale of mental health issues globally. So roughly how many people do you think experience mental health issues at some point during their lifetime? Is it…
a) One in ten people
b) One in four, or
c) One in three
Rob
I'll go for one in four, but I know whichever answer is right – it's a big issue. How might a robot therapist help?
Catherine
We're not talking about a robot in the Star Wars sense – so there's no flashing lights and mechanical arms, Rob! It's actually an app in your smartphone that talks to you – and it's called Woebot.
Rob
So – it has a sense of humour. Woe means 'sadness'; so this is a 'woe' bot, not a robot.
Catherine
And it was developed by psychologist Dr Alison Darcy from Stanford University in the US. Here she is, talking to the BBC radio programme All in the Mind.
Dr Alison Darcy, Stanford University
Well, after you start an initial conversation with the Woebot, and he'll take you through sort of what he can do and what he can't do, he'll just essentially check in with you every day and just give you a sort of figurative tap on the shoulder and say: "Hey Claudia, how are you doing? What's going on in your day? How do you feel?" So if you say, like "I'm really, really stressed out", Woebot might offer to help talk you through something.
Catherine
Woebot checks in with you every day and asks you how you are.
Rob
So here, to check in with someone doesn't mean to register at a hotel with that person! It's an informal way of saying you talk to someone in order to report or find out information.
Catherine
And this usage is more common in the United States. So for example: "I can't meet you today, Rob, but I'll check in with you tomorrow to see how the project is getting on."
Rob
So, this robot checks in with you every day. It tracks your mood and talks to you about your emotions, using a technique called cognitive behavioural therapy.
Catherine
Cognitive behavioural therapy is a common therapeutic technique that helps people deal with problems by changing the way they think.
Rob
That all sounds great, but does Woebot actually work?
Catherine
They've done some trials which show it can be more effective than simply reading information about mental health. But they haven't compared Woebot to a real therapist due to ethical concerns.
Rob
Yes, it could be unethical to deny a real patient access to a human therapist for the sake of a trial. Ethical basically means 'morally right'.
Catherine
And another concern is privacy. People who use apps like this are not protected by strong privacy laws.
Rob
Despite these fears, digital therapy is booming – and Woebot is just one of an increasing number of electronic services. One reason for this could be using an app carries less stigma than maybe seeing a human therapist.
Catherine
And stigma refers to the negative associations that people have about something, especially when these associations are not fair. Even though mental health is now being talked about more openly than before, some people do still see mental health issues and therapy negatively.
Rob
Whatever you think of robot therapy, Dr Darcy believes that in the modern world people need to self-reflect more – which means thinking deeply about yourself, in order to understand the reasons behind your feelings.
Dr Alison Darcy, Stanford University
The world that we live in right now is very noisy. Particularly digitally. You know, since we've had these little computers in our pockets with us everywhere we go, there aren't that many opportunities for real silence or self-reflection. You know, even a commute on the tube might have been a moment to just take a second to yourself, but now that void can be filled always with super-engaging content by looking at your phone.
Catherine
Darcy believes that we don't have much time for self-reflection because there are so many distractions in life – especially smartphones!
Rob
After discussing all this – would you actually try a therapy app like this?
Catherine
Yes I would, actually – I think it might be quite helpful.
Rob
And how about the question you asked me at the beginning of the programme: how many people experience mental health issues?
Catherine
The answer was: one in four, according the World Health Organisation and the World Federation for Mental Health. But the WHO say that as many as two-thirds of people never seek help from a health professional – with stigma being one of the main reasons.
Rob
And just there we had stigma again; let's now run through the other words we learned today.
Catherine
So we had woe - meaning 'sadness'. I'm full of woe. Woe is me!
Rob
Maybe you need some therapy – that's the process of receiving treatment for a particular health issue, especially mental health illness.
Catherine
And we had – to check in with someone. After we finish this programme, I need to check in with the boss about my new project.
Rob
We also had self-reflection – that's the process of thinking deeply about yourself.
Catherine
And finally we had ethical. If you describe something as ethical, you mean it's morally right.
Rob
So woe, stigma, therapy, check in with, self-reflection and ethical. That's it for this edition of 6 Minute English. We'll leave you to self-reflect – and after you've done that, do visit our Facebook, Twitter, Instagram and YouTube pages, and of course our website!
Catherine
Bye for now.
Both
Bye bye!
....................................................................
Air quality in nine Bangkok districts unhealthy
Jan 23. 2020
By THE NATION
Nine districts in Bangkok have been reported with unhealthy air quality on Thursday morning (January 23).
The Pollution Control Department via its website Air4Thai.com reported that it had gathered the air quality situation in Bangkok and its perimeter from 53 probing stations. As of 7am on Thursday, the level of dust particulate matter not more than 2.5 microns in diameter or PM2.5 was at 27-66 micrograms per cubic metre (µg/m3). The safety standard used by the department is at 50 µg/m3 while the World Health Organisation prescribes PM2.5 levels at 25 µg/m3 in a 24-hour mean.
The nine districts with unhealthy air quality include Wangthonglang, Lak Si, Bang Khen, Lat Krabang, Bang Kho Laem, Khlong Toei, and Khlong Sam. Air quality in these areas was determined as unhealthy for sensitive groups such as people with respiratory or heart disease, the elderly and children, who should limit prolonged exertion. However, the areas affected with PM2.5 are fewer compared to yesterday with 15 areas reported to fail the safety standard.
People can check air quality reports via Air4Thai mobile application and the website bangkokairquality.com
...................................................................
Respiratory problems raise concerns in Phitsanulok
Jan 22. 2020
By The Nation
The Phitsanulok Provincial Health Office reported on Wednesday (January 22) that the level of pollutants in the air had risen to 57- 92 micrograms per cubic metre (µg/m3), exceeding the official standard of 50mcg per cubic metre and far beyond the WHO standard of 25mcg.
As of January 20, 3,516 persons had suffered respiratory problems caused by air pollution in nine districts of the province this year, including 742 in Mueng district and 692 in WangThong district. The record shows there were 15,432 persons with respiratory problems in 2019
The office has instructed related agencies to monitor the spread of respiratory sickness among people in the province, while health officials and volunteers will advise precautionary measures against the PM 2.5 dust particle, especially to the elderly.
Piya Siriluk, a doctor in Phitsanulok, warned people to reduce or stop activities that may lead to dust rising into the air.
Many in the province are using mist sprayers to alleviate the problem of dust coming from construction sites and traffics in nearby areas.
....................................................................
FINISHED
January 23, 2020