For generations, many colleges and universities in the United States have offered classes in a lot of different subjects.
Higher education officials believed that by learning about different subjects, students would be able to improve their understanding of the world around them.
But a new study suggests the current generation of college students may not value liberal arts study programs as much as earlier generations. It found many current students want programs that directly connect to specific career paths.
In November 2019, the social research company Gallup and the Strada Education Network reported on an opinion study of 340,000 Americans. Researchers asked the individuals about their educational experiences after high school. They wanted to know if these men and women felt whatever classes or study programs they attended were worth the cost.
Out of those who completed a vocational program, meaning training for a specific job or technical skill, 57 percent strongly agreed it was worth the cost. However, only 40 percent of people who completed four-year study programs at a traditional college or university said the same.
Patricia Mazza, left, meets job seekers, including recent college grads Ashley Deyo, 22, second from left, and Chyna Dama, 23, second from right, during a 2012 National Career Fairs' job search event in New York.

Dave Clayton is a senior vice president with Strada. He told VOA the study confirms earlier findings from his organization. He said it shows that Americans want higher education to relate to jobs.
In the past, many Americans thought of higher education as a means, or method, of self-improvement, Clayton says.
A college or university was traditionally a place for improving one's critical thinking and other skills by learning about different subjects. So while students would focus on one central subject, like economics, they might also take classes in literature or philosophy, for example.
But the cost of U.S. higher education has risen over the past 30 years, notes Clayton. And the labor market has changed a great deal. More than ever before, higher education has become a requirement for better paying jobs. Yet employees can no longer expect to work for the same company for many years, and may even need to change fields more than once.
So, Clayton argues, people want to gain demonstrable skills that have some kind of long-lasting value. This is especially important to many Americans with limited financial resources.
"We have expanded access to college over the generations, and so … the upward social mobility … that can provide … becomes even more important for those communities who are trying to break through or advance their lives," Clayton said.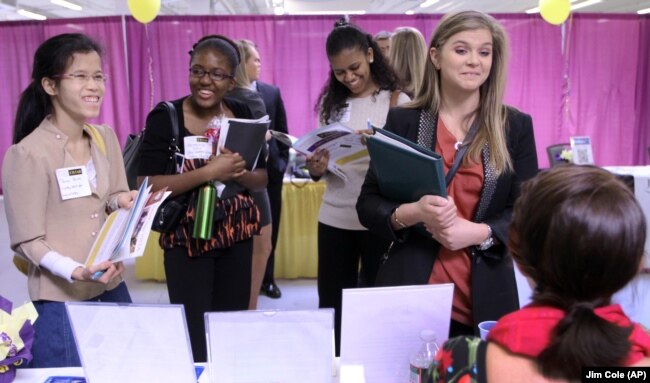 Martina Ryberg, right, of Plymouth State University talks with Tara Rossetti of On Call International during a 2012 job-finding event for college students in Manchester, New Hampshire.

But this questioning of the value of a liberal arts education is nothing new, even if it feels like a modern concern, notes Timothy Burke. He is a co-director of the Aydelotte Foundation at Swarthmore College in Pennsylvania. The foundation researches and provides support to liberal arts programs.
Burke notes that while America's first colleges were teaching students subjects like Latin and history, their students wanted to learn how to become doctors or engineers. However, even the biggest companies today are not just looking for students with one area of specialization.
In 2010, Steve Jobs, creator of Apple, stated that technology alone is not enough. "It's technology married with liberal arts … that yields the results that make our hearts sing," he said.
Similarly, another technology company, Google, led a study of its own leadership team in 2008. The aim was to identify the top 10 qualities possessed by its most successful and effective executives. It listed strong communication and leadership abilities well above technical skills.
Many people around the world still see the U.S. liberal arts approach to higher education as among the best in the world, Burke says. In fact, the number of colleges and universities following this model has grown in Asia and Europe in recent years.
Daniela Silvero, left, an admissions officer at ASA College, discusses job opportunities with Patrick Rosarie, who is seeking a job in IT, during JobEXPO's 2012 job fair in New York.

Still, Burke argues, the problem remains that liberal arts programs do not do a good job of explaining to the public where their value lies.
"Even if … there's actually a lot of evidence … it's not anything that relieves anybody's anxiety, especially in a time when a lot of Americans … fear, with some good reason, that overall the next generation … will not do better than their parents did financially, which is a new situation in American history," he said.
Burke suggests the way forward is not necessarily to get liberal arts educators to change what they are teaching. Instead, they need to change how they teach by making connections between the material they present in classes and issues in the real world. That will help students better understand how they can put what they are learning to use.
Burke adds that educators must help students explain the value their "softer skills" represent for a future employer.
For example, saying you are a strong writer might make sense, but that does not really clarify what you can do with that skill. Instead, he says, educators should urge students to list major projects they were involved in or work they published during their study program. This demonstrates the results of a person's combined skills and experience, says Burke.
I'm Dorothy Gundy.
And I'm Pete Musto.
Pete Musto reported this story for VOA Learning English. George Grow was the editor. Write to us in the Comments Section or on our Facebook page.
Quiz - Study: College Students Value Job Skills over Liberal Arts
Start the Quiz to find out
Words in This Story
specific – adj. special or particular
focus – v. to direct your attention or effort at something
resource(s) – n. a supply of money or materials
access – n. the right or ability to approach, enter, or use
upward (social) mobility – n. the ability to move into a higher social or economic position
advance – v. to move forward​
yield(s) – v. to produce or provide something
approach – n. a way of doing or thinking about something
relieve(s) – v. cause pain, worry, or difficulty to become less severe or serious.
anxiety – n. fear or nervousness about what might happen
.......................................................
Quit or Join the 'Rat Race'?
FILE - A rat eats pieces of bread thrown by tourists near the Pont-Neuf bridge over the river Seine in Paris, France, 2017.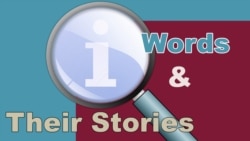 Now Words and Their Stories from VOA Learning English.
Rats. They are not among nature's most loved animals.
However, rats help humans in many ways. They have been tested and re-tested for so many diseases and other issues -- all for the purpose of human health and happiness.
Rats have other uses, as well. For example, they can be trained to find explosives buried underground.
American researcher Ellie Cutright with an African giant pounched rat. She trains them to find underground explosives.
Despite all this, lots of people fear or even hate rats.
So, some people like rats. Some don't. However, when talking about English expressions, "rat" phrases almost all have a negative meaning.
Calling someone a "rat" is a big insult. When we "rat on" someone, we tell others something they did in order to get them in trouble. If an object is ratty, it is in poor condition. And we can simply say "Rats!" if something bad happens.
Today, we will talk about another bad rat expression: rat race.
This may sound like a running contest between rats. It is not. A rat race is a purely human situation.
If you are in a rat race, you are in a daily work routine that is extremely competitive, tiring and never-ending. Day after day, you compete for more power and more wealth against others wanting the same thing.
We can also use the term "rat race" to describe a person's struggle to gain the basics of life. This struggle is also out of their control. They are seemingly helpless against a way of life that is slowly killing them and their soul.
Some word historians say this expression comes from real rat races. These were sporting events held in the 1800s. People would bet money on the rats.
Others say it comes from the custom of testing rats in laboratory experiments. Scientists often study rats to see how they will react in different conditions.
During some of these experiments, scientists put rats in cages. They give them a winding path, or maze, to run. As the rats look for the reward -- in many cases a piece of cheese -- researchers place many obstacles in their way. The rat's race is full of struggles and exhaustion. And in the end, the race leads to … nowhere.
The phrase "rat race" compares the competitive part of human work life and some of its struggles as being as pointless as the race of the rat. Leaving or quitting a rat race is the only way a person can win.
Now, let's hear some examples using the phrase "rat race."
After being in the rat race for years and years, Steve can't wait to retire!
This rat-race* lifestyle is going to kill me! I don't have time to do anything I love anymore!
Chloe has no interest in joining the rat race. I think she is going to be a farmer.
*One note on writing this expression: When this expression is used as an adjective, we usually put a dash between "rat" and "race."
And that is all the time we have for this Words and Their Stories.
In the Comments Section, let us know if you are stuck in a rat race, if you like being in the rat race or if you have avoided a rat-race kind of life.
Until next time … I'm Anna Matteo.
________________________________________________________________
Words in This Story
negative – adj. harmful or bad : not wanted
routine – n. a boring state or situation in which things are always done the same way
soul – n. the spiritual part of a person that is believed to give life to the body and in many religions is believed to live forever : a person's deeply felt moral and emotional nature
maze – n. a confusing arrangement of paths or passages
obstacle – n. something that makes it difficult to do something
exhaustion – n. the state of being extremely tired
...................................................
6 Minute English
INTERMEDIATE LEVEL
Dating apps: How our brains react
EPISODE 180913 / 13 SEP 2018
When we're looking for a potential partner on a dating app, what makes us decide who we like? Rob and Dan discuss how our brain reacts when we're looking for love. Listen to the discussion and learn new items of vocabulary in just 6 minutes!
This week's question:
In the UK, approximately how many marriages start with the couple meeting online? Is it:
a) One in three
b) One in four
c) One in five
Listen to the programme to find out the answer.
Vocabulary
to swipe
(here) moving the images on a smartphone or tablet up, down, left or right, using our finger
instantaneous
immediate, at once.
rejection
not giving someone the love and attention they would like
get over
feel better after a bad experience
dusting yourself off
being positive and optimistic after a rejection or a bad experience
to cope with
to manage / deal with (a difficult situation)

Transcript
Note: This is not a word for word transcript
Dan
Hello and welcome to 6 Minute English. I'm Dan.
Rob
And hello, I'm Rob.
Dan
In today's programme we're going to be looking at what our brains are doing when we are using dating apps. Now, Rob, have you ever used a dating app?
Rob
No way, I would never use one.
Dan
Hmm, so Rob, can you explain, when talking about dating apps, what we mean by swipe left and swipe right?
Rob
Ah, yes. These are not new words but technology has given them new meaning. To swipe is the movement of your finger on a smartphone to change the screen you're looking at. So imagine turning the page in a book, well, on a phone, you swipe. In some dating apps, they show you pictures of people you might find attractive. If you do like them, you swipe right. If you don't like them, you swipe left.
Dan
We will dig deeper into this topic shortly, but first, a question. In the UK, approximately how many marriages start with the couple meeting online? Is it:
a) One in three
b) One in four
c) One in five
What do you think?
Rob
Well, all of those seem quite high to me, so I'm going to guess in the middle, one in four.
Dan
Well, we'll find out if you're right later in the programme. Now, Alice Gray is a science communicator and blogger. Recently she was a guest on BBC Radio 4's Woman's Hour programme and she was asked about what goes on in our brains when we use dating apps compared to when we meet people in real life. What difference does she say there is?
Alice Gray
It's very easy to think that with these instantaneous swipe left, swipe right, that the process in our brain of how we pick out a suitable mate would be very different, when actually it's really similar to how we do it in person.
Rob
So she says that what goes on in our brains is actually very similar. Online we make decisions very quickly about who we like. These decisions are almost immediate - she used the adjective instantaneous for this. So we make these instantaneous decisions then choose to swipe left or swipe right. In real life, we do the same thing. We know almost immediately when we see someone if we find them attractive or not.
Dan
Although of course in digital dating, one you've swiped left you will never see that person again and you won't have the chance to meet. In the real world you could meet someone you don't find attractive instantaneously and then get to know them and find that you do quite like them.
Rob
Yes, that is true, but then possibly they won't like you. And then you have to deal with rejection. Rejection is when someone doesn't find you attractive and they don't want to spend time with you or get to know you.
Dan
So what's the difference in our brains between online rejection and real life rejection? Here's Alice Gray again.
Alice Gray
We see that a lot of the patterns associated with rejection in real life and rejection on dating apps are similar, just the exposure to the rate of the amount of rejection you get on dating apps is a lot higher than the ones in real life. So in real life you'll have time to, sort of, compute the rejection, get over it a little bit, and dust yourself off and get on with it. Whereas the rate of rejection on dating apps is so high it's often hard to cope with one coming in after another.
Rob
So, she says that our brain's response to real life and online rejection is quite similar, but in the digital world you can be rejected many more times.
Dan
In real life you have a bit more time to recover from the rejection, to get over it, as she says. You can dust yourself off which is a way of saying you think positively to make yourself feel better - imagine falling over on the ground, when you get up, you might be covered in dust and dirt, you need to dust yourself off to make yourself ready again, before you carry on.
Rob
In the online world though, you don't have that time. Online dating apps can lead to many rejections and psychologically that can be difficult to manage. Another way of saying 'difficult to manage' is difficult to cope with.
Dan
Well, we don't want you to reject us, so time now to give you the answer to that quiz question before a recap of today's vocabulary. I asked: in the UK, approximately how many marriages start with the couple meeting online? Is it:
a) One in three
b) One in four
c) One in five
Rob
Hmmm, so I said b) one in four – 25%. Was I right?
Dan
Sorry, Rob, the answer is a), one in three. Does that surprise you?
Rob
Yes, it does, I didn't think it would be that high.
Dan
It's the sign of the times, Rob. Digital world – digital dating! Let's have a look at that vocabulary.
Rob
OK, well, we started with the verb to swipe. The movement of our finger on smartphone or tablet screen to indicate whether we like someone or not. Swipe right for like, swipe left if you don't like.
Dan
Our decisions on whether we find someone attractive or not are often instantaneous. This adjective means immediate, at once.
Rob
Rejection is when you let someone know that you are not interested in them, you don't want to be romantically involved with them.
Dan
If you are rejected you might need some time to feel better, and for this you can use the phrasal verb get over. It can take some time to get over a rejection.
Rob
Yeah, I know! Being positive and optimistic after a rejection can be described as dusting yourself off. But, having many rejections can be difficult to cope with, which means it can be difficult to manage, difficult to keep positive.
Dan
Well, we hope you don't swipe left on this programme and you will join us again next time Remember you can find us on Instagram, Facebook, Twitter, YouTube and of course our website bbclearningenglish.com.
Rob
And don't forget our new BBC Learning English app.
Dan
Oh good idea. See you soon. Bye.
Rob
Bye bye!
.............................................................
..........................................................
Govt steps up measures to tackle coronavirus situation
Jan 25. 2020
By THE NATION
The Ministry of Tourism and Sports will hold a meeting with tour and hotel operators on January 27 on guidelines to prevent the spread of the new coronavirus in Thailand, Deputy Government Spokesperson Traisulee Traisaranakul said.
The meeting will also examine how many Thais travel to Wuhan andd other cities in China per week as part of Thailand's efforts to curb the spread of the virus.
She added that minister Pipat Ratchakitprakarn has prepared a number of measures to deal with the situation.
She said that Prime Minister Prayut Chan-o-cha has ordered all parties to step up measures to deal with the situation.
................................................
Location Navigation
Meta Main Navigation
Asia
China's quarantine efforts spread to 13 cities as virus toll climbs; 41 million people affected
A police officer stands guard outside of Huanan Seafood Wholesale market in Wuhan on Jan 24, 2020. (Photo: AFP / Hector RETAMAL)
24 Jan 2020 10:07AM

(Updated: 26 Jan 2020 09:34AM)
Bookmark
BEIJING: Chinese authorities rapidly expanded a mammoth quarantine effort aimed at containing a deadly contagion on Friday (Jan 24) to 13 cities and a staggering 41 million people, as nervous residents were checked for fevers and the death toll climbed to 26.
While the World Health Organization (WHO) held off on declaring a global emergency despite confirmed cases in half a dozen other countries, China expanded its lockdown to cover an area with a total population greater than Canada's.
Advertisement
A range of Lunar New Year festivities have been cancelled, while temporary closures of Beijing's Forbidden City, Shanghai's Disneyland and a section of the Great Wall were announced to prevent the disease from spreading further.
Authorities said the measures were to prevent and control the spread of the new coronavirus, which has since infected more than 800 people and killed 25.
The virus, which started in Wuhan city, has since spread to other major cities including Beijing, Shanghai and Hong Kong.
Cases have been confirmed in Singapore, Japan, Thailand, South Korea, Taiwan, Vietnam and the United States.
It has caused alarm because of its similarity to SARS (Severe Acute Respiratory Syndrome), which killed nearly 650 people across mainland China and Hong Kong in 2002-2003.
The National Health Commission said authorities were examining 1,072 suspected cases of the virus that first emerged in central city of Wuhan AFP/Hector RETAMAL
Trains and planes were halted from leaving Wuhan, a city of 11 million, on Thursday as the city was placed under effective lockdown. Passenger boats and buses were also forbidden from entering the city
"This year we have a very scary Chinese New Year. People are not going outside because of the virus," a taxi driver in the city, who asked not to be named, told AFP.
But he was not concerned about potential food shortages in a prolonged shutdown.
"No, because it's Chinese New Year and people have already bought a lot of things to cook at home for several days."
In Zhijiang city, all public venues have been shut down except hospitals, supermarkets, farmers' market, gas stations and drug stores.
Huanggang city, a city of 7.5 million people, has also been locked down and citizens told to not leave the city while Ezhou city has shut its train stations.
Other cities with travel restrictions include Xiantao, a city of 1.5 million, and Chibi, which has about 500,000 people, which will close toll station entrances and halt transport routes.
Indoor entertainment venues in Enshi city have also been shut down, it said.
Buses in cities of Xianning have suspended services.

The World Health Organization (WHO) on Thursday called the outbreak "an emergency in China" but stopped short of declaring the epidemic of international concern.
Hubei province authorities said they were calling off cultural performances and public cultural venues.
Travel agencies in the province have suspended business activities, and are no longer organising tour groups, authorities said in an announcement on Friday.
From 12 noon local time, the province will also stop operating online taxis and impose passenger restrictions on taxis on the roads.
To discourage nationwide holiday travel, the government said beginning Friday anyone who bought a ticket for rail, air, long-distance coach, or water transport could receive a refund upon cancellation.
Beijing has also cancelled massive gatherings that usually attract throngs at temples during the New Year holiday, while the historic Forbidden City will close from Saturday.
There is no vaccine for the virus, which can spread through respiratory transmission. Symptoms include fever, difficulty breathing and coughing.
Follow us on Telegram for the latest updates: https://cna.asia/telegram
Source: Agencies/Nc
............................................................
FINISHED
January 26, 2020