Trips to museums are part of many children's education in the United States. The American Alliance of Museums says museums receive about 55 million visits each year from students in school groups.
Many U.S. school systems are most concerned about students performing well on required math and science tests. Because of this, administrators and teachers might not see the value of art-related museum field trips.
This is where Jay Greene comes in. He is a professor of education policy at the University of Arkansas. He and his research team are studying how attending cultural events help a student's education. The National Endowment for the Arts supports part of their research.
Greene told VOA that his team wanted to learn how a single trip to an art museum affects a student. For this study, he and his team looked at 11,000 students.
"...And we found that students who visited an art museum were more tolerant, more empathetic, and also learned a lot of content about the art they saw and developed stronger critical thinking skills about art."
School children look at art at the Crystal Bridges Museum of American Art, Bentonville, Arkansas
Greene explained that after one visit to the art museum, students averaged an eight percentile improvement on tolerance and empathy. He calls that a "moderate effect," but "impressive," considering that it was after just one visit to the art museum.
Melissa Reyes is with Crystal Bridges Museum of American Art in Bentonville, Arkansas. The museum has been involved with Greene's studies. Since 2012, the museum has had nearly 300,000 students come to visit. It also sends teaching artists to local classrooms.
Reyes said she agrees with Greene's findings on the effects of museum trips. She added that the greatest effect appears to be for students in rural areas, minority students and those who attend high-poverty schools.
Greene's researchers also examined how going to a live theater performance can affect students. This study involved a small number of subjects – about 1,500 students from 40 schools. The students were also older. They all lived in northwest Arkansas.
Green said his team found that students who saw a live performance "experienced improvement in tolerance and empathy."
A different group of students watched a movie version of the same play. Greene said they did not experience the same results as those who went to the live theater. The students who saw the live performance learned the story and related vocabulary better than those who watched the movie version, he said.
"So we think that there's something special about in-person cultural experiences that are different than simply digital experiences of those of those same stories."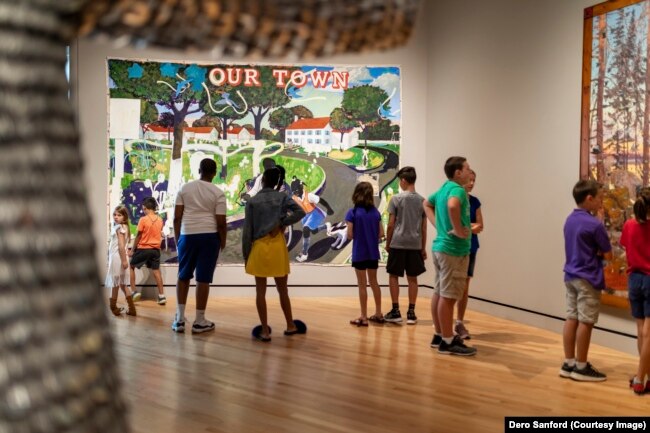 School children look at art at the Crystal bridges Museum of American Art, Bentonville, Arkansas
Greene's team is now carrying out longer-term studies, in which they are following students over many years. He has already seen some promising results among students who have been visiting the Woodruff Arts Center in Atlanta, Georgia.
"Our most surprising result is that we saw improvements in math and reading test score performance for students in Atlanta after they went on multiple enriching field trips. We think that again that has to do with improving their motivation."
Greene says that the fact they did well on the tests "suggests that motivation is a very important part of success in school." This is true for students of all ages.
Students' behavior in school also improved. Greene thinks part of that may be because they were doing something fun in school.
"Because if the school doesn't do it for kids from more disadvantaged backgrounds, then it's possible these kids won't get much exposure to the arts at all."
And that, he says, may hurt their future.
Combining the arts and STEM fields
Some museums, like Crystal Bridges Museum in Arkansas, are looking for ways to offer new programs for schools.
Melissa Reyes said that, in addition to their usual arts field trips, the museum also offers "STEM-based tours." STEM stands for science, technology, engineering and math—areas of great concern to many schools. Reyes explained that these tours look at connections "between art and science, art and math, and art and architecture."
She said, "these experiences complement learning goals in both the arts and the STEM categories."
I'm Anne Ball.
Anne Ball wrote this story. Ashley Thompson was the editor.
What do you think of this story? Do you like to go to the art museums in your city? Write to us in the comments section below.
Quiz - Do Field Trips Help Students with Learning?
Start the Quiz to find out
Words in This Story
museum – n. a building in which interesting and valuable things (such as paintings and sculptures or scientific or historical objects) are collected and shown to the public
tolerant – adj. willing to accept feelings, habits, or beliefs that are different from your own
empathetic – adj. showing an ability to understand and share feelings of another
percentile – n. one of 100 equal parts that a group of people can be divided into in order to rank them
digital – adj. using or characterized by computer technology
multiple – adj. more than one
enriching – v. to improve the quality of something or to make something better
motivation – n. the act or process of giving someone a reason for doing something-- the act or process of motivating someone
exposure – n. the fact or condition of being affected by something or experiencing something
architecture – n. the art or science of designing and creating buildings
categories – n. plural a group of people or things that are similar in some way
...................................................
New Coronavirus: What We Know
People wear masks at a metro station in Taipei, Taiwan, Tuesday, Jan. 28, 2020.
More than 100 people have now died from the new coronavirus. The number of people infected in mainland China increased sharply in one day -- from 2,700 Monday to more than 4,500 Tuesday. The increase comes even as China takes strong measures to contain the spread of the disease.
What is a coronavirus?
Coronaviruses are a large family of viruses that cause disease in mammals and birds. Coronaviruses can cause illnesses that range from the common cold to much more severe illnesses like Middle East Respiratory Syndrome (MERS) and Severe Acute Respiratory Syndrome (SARS).
Experts still do not have a clear picture of the severity of the new coronavirus.
What is a new coronavirus?
Officials are calling the disease a "novel" or new coronavirus because it has not been found before in humans.
The newly identified virus is thought to have spread to humans from wild animals sold at a market in Wuhan, in central China's Hubei province. But it is now spreading between people.
Chinese officials say the disease is able to spread from one person to another even before any actual signs appear. This makes it especially hard to contain.
What are the signs of the new coronavirus?
Signs of the disease among infected patients have included fever, cough, shortness of breath and general breathing difficulties. In more severe cases, the virus can cause pneumonia.
Some people report few or no signs, while others have gotten very sick or even died.
The U.S. Centers for Disease Control and Prevention reports that signs of the virus may appear between two and 14 days after being near someone who is infected.
WHO's recommendations to reduce the risk of coronavirus infections.

Treatment and Prevention
There is no special treatment for the new coronavirus. However, many of its effects are treatable, as long as a patient is in fair health.
Because the virus is so new among humans, there is no available vaccine to protect against the disease. But the World Health Organization advises people to avoid close contact with anyone showing signs of a breathing sickness, such as coughing or sneezing. It also says people should wash their hands often and use safe food practices.
The U.S. Centers for Disease Control also published prevention tips. It says wash your hands for at least 20 seconds with soap and water; avoid touching your face with unwashed hands; stay home when you are sick; and clean objects and surfaces that are touched often.
I'm Ashley Thompson.
_____________________________________________________________
Words in This Story
mammal - n. a type of animal that feeds milk to its young and that usually has hair or fur covering most of its skin
pneumonia - n. a serious disease that affects the lungs and makes it difficult to breathe
practice - n. the action of doing or using something
tip - n. a piece of advice or useful information​
............................................................
6 Minute English
INTERMEDIATE LEVEL
Swimming like a mermaid
EPISODE 180222 / 22 FEB 2018
Swimming is a great activity for getting fit. But for some people, going up and down a pool can be tedious. Now there's a new trend of dressing up and swimming like a mermaid. It's called mermaiding and although it's aimed at teaching kids to be safe in water, it's catching on with adults too. Find out more about this hobby in 6 Minute English.
This week's question:
which of these activities is an example of anaerobic exercise?

a) weightlifting

b) kickboxing

c) dancing
Listen to the programme to find out the answer.
Vocabulary
aerobic
exercise is done over a longer period of time and strengthens the heart and lungs

aquatic
connected to water (eg: aquatic sports)

synchronised
moving together at the same time or speed as someone or something else

mono
(used as a prefix) single / one
cardiovascular
connected with the heart and the blood vessels
social
doing things with other people and usually having fun

Transcript
Note: This is not a word for word transcript
Rob
Welcome to 6 Minute English, the programme where we explore an interesting topic and bring you some useful items vocabulary. I'm Rob.
Neil
And I'm Neil.
Rob
Now Neil, I know you're a keen swimmer.
Neil
I am. I try to get to the pool once a week and do a few lengths, yes.
Rob
That's good to hear because swimming is one of the best sports for keeping fit. It's an aerobic exercise – aerobic means a very active type of exercise that makes your heart and lungs stronger. The opposite of this is anaerobic – and for my question today Neil, I wonder if you know which of these activities is an example of anaerobic exercise?
a) weightlifting
b) kickboxing
c) dancing
Neil
I don't have a clue but I'll pick my favourite sport – a) weightlifting.
Rob
Is that really your favourite sport?! Anyway, we'll find out the answer at the end of the programme.
Neil
So what about you Rob – do you visit the swimming pool very often?
Rob
Only to use the cafe! I don't like anything aquatic – I mean connected to water. I just don't like getting wet - and swimming up and down a pool is just boring!
Neil
Well there are alternatives to plain swimming. There's synchronised swimming…
Rob
Synchronised – that's moving together at the same time or speed as someone else. Like dancing in water I suppose? Hmm, I'm not a good dancer either.
Neil
How about the new craze of 'mermaiding' which is making a splash at the moment – in other words becoming very popular. The idea originated in America but is now popular in the UK and Europe.
Rob
OK. Tell me more!
Neil
Let's hear from an expert – Emma Longden, who's founder of Fin2Fit – which runs classes, teaching the skills of swimming safely like a mermaid…
Emma Longden, founder, Fin2Fit
Mermaiding is putting a monofin on your feet. Putting a beautiful tail on and getting in the water and swimming like a mermaid.
Rob
OK, so I would need to wear a monofin – the prefix 'mono' means 'only one or single' – so a single fin –that's like a mermaid's tail - then I just get in the water and swim like a mermaid – I'm not so sure about that Neil – I don't really know how mermaids swim!
Neil
There's more to it than that Rob. It's actually good for your fitness as Emma can explain…
Emma Longden, founder, Fin2Fit
It gives children's confidence in water a boost, it improves their water strength, it gives you an entire body workout. It works your cardiovascular system, it works your legs, your core – it improves the children's swimming technique, flexibility, balance, co-ordination – you get the reward, you get the social aspect – and alongside all of that, they're learning vital life skills along the way.
Neil
So there are many benefits to mermaiding Rob. Improving confidence, strength, technique and it's good for your cardiovascular system – cardiovascular relates to your heart and blood vessels.
Rob
I like the sound of the social aspect – and by that Emma means being with other people and having fun. It's an activity that's sociable. And it teaches life skills – useful skills that help you deal with everyday challenges. Well that's great for kids – and that's the problem.
Neil
What's that?
Rob
Mermaiding is for kids – so I can't get involved – even if I wanted to… can I?
Neil
You can Rob. According to Emma, it's growing in popularity with adults too – any excuse to live out your fantasies hey!
Emma Longden, founder, Fin2Fit
There are so many adults that actually kind of want to live out their childhood dreams that they wanted to be a mermaid when they were children and they didn't get the opportunity and now it's here and now it's available and... So yes, we do a lot of adult classes as well.
Neil
There you go Rob – living out your childhood dreams – that doing things you wanted to do when you were a child. Like being a mermaid!
Rob
Sorry Neil, that wasn't a dream for me – although I did dream of swimming like a shark once! Anyway, mermaiding is a good form of aerobic exercise – but earlier I asked you what an example of anaerobic exercise is. Is it…
a) weightlifting
b) kickboxing
c) dancing
Neil
I said weightlifting. Was I right?
Rob
You were Neil, well done. Any exercise that consists of short exertion, high-intensity movement is an anaerobic exercise – such as weight lifting, sprinting and jumping. I won't go into scientific detail – but aerobics exercise is done over a longer period of time and strengthens the heart and lungs, thereby improving the body's utilisation of oxygen.
Neil
Thanks for that Rob. Now I think we should sprint through our recap of some of the words we've talked about today – starting with 'aerobic', which you just explained. "Mermaiding is a good aerobic workout."
Rob
Assuming you don't mind dressing up! Next we had 'aquatic' which refers to something connected with water. "Synchronised swimming is an example of an aquatic sport."
Neil
Ah, you slipped in another of our words there – 'synchronised' – which means 'moving together at the same time or speed as someone or something else'. "We synchronised our watches so that we all arrived at the same time."
Rob
Good idea – you're always late Neil. Then we mentioned 'mono' which means 'one' or 'single' and is used as a prefix on words such as 'monochrome' – one colour – or 'monorail' – a train running on a single track.
Neil
Then we heard the word 'cardiovascular' - a word that relates to the effect on your heart and lungs. "Experts say those who quit smoking could also quickly reduce their risk of cardiovascular disease."
Rob
Finally, we also mentioned 'social' – this adjective relates to activities that you do with other people and are usually fun. "Now I live in London, I have a great social life."
Neil
Well you never invite me out Rob! Anyway, that's it for this edition of 6 Minute English. Before you rush off to fulfil your dream of being a mermaid, don't forget to visit our Facebook, Twitter, Instagram and YouTube pages, and of course our website!
Rob
Yes and that's at bbclearningenglish.com. Bye for now.
Neil
Goodbye
Neil
Goodbye.
............................................................
Jan 29. 2020
By The Nation
The amount of PM 2.5 dust particles in the morning was higher than in the evening, the Royal Thai Air Force (RTAF) said after they used a dust sensor-equipped drone to check particulate matter less than 2.5 microns in diameter in the air at Rama II Road in Bangkok.
Members of the Air Force team said that according to the previous statistic, the dust value in the area had exceeded the prescribed standard due to industrial factories and heavy traffic in the area.
"We collected the data of toxic dust at each altitude at different periods -- morning, afternoon and evening," the official said. "After the analysis is done, we will send the data to related authorities to issue measures to tackle the dust problem."
The official said that the dust value will be high during the mornings and it will decrease during the afternoon and evening.
"The RTAF has cooperated with Ministry of Industry's Department of Industrial Works to collect the data of toxic dust for further processing," the official said. "We expect to conduct a flight test using the Department of Industrial Works' dust sensor at the beginning of February."
This operation is under the policy of Air Force commander-in-chief, Air Chief Marshal Maanat Wongwat, applying modern geographic information technology to the RTAF's aviation to mitigate the impact of the disaster.
..............................................
Cabinet okays disability allowance hike from Bt800 to Bt1,000
Jan 29. 2020
By THE NATION
The Cabinet has approved a hike in disability allowance from Bt800 to Bt1,000 per month starting October 1, Government Deputy Spokeswoman Ratchada Thanadirek said on Tuesday (January 28).
"The adjustment was made to help disabled persons cope with the present cost of living," she said. "Statistics show that most of the disabled persons live in rural areas and have an average income of only Bt4,326 per month. The increase in disability allowance is expected to promote a better quality of life for the disabled and reduce the burden on relatives."
Ratchada further added that the prime minister has also ordered related agencies to work together in improving the quality of life of disabled persons in three aspects:
Improve facilities: All government buildings must install equipment to facilitate accessibility for disabled persons such as wheelchair ramps. The Ministry of Interior will be the central agency for approving the designs and considering the budget for installing these facilities.
Career promotion: The Ministry of Social Development and Human Security has been ordered to compile a database of disabled persons divided by their vocational abilities. They are to work with the private sector and the Ministry of Labour to provide appropriate jobs as well as necessary career training for each person.
Benefits: The Office of Social Security and National Health Security Office will together consider providing suitable health benefits to insured disabled persons in case of accident, illness or unemployment.
"As of December 2019, there are 2.02 million persons registered with the Department of Empowerment of Persons with Disabilities," said the spokeswoman. "The adjustment in disability allowance will require an additional Bt4.852 billion budget annually, which will come from the Pracharat Fund for Grass-roots Economy and Society for fiscal year 2021."
........................................................
FINISHED
January 29, 2020