When it comes to U.S. middle school science and engineering, girls rule. Girls took the top five prizes at the 2019 Broadcom MASTERS, a competition for middle school students across the country.
The winners were announced last month.
In first place was 14 year old Alaina Gassler of West Grove, Pennsylvania. She designed a system to make driving safer by reducing blind spots — the areas that drivers cannot see outside their vehicle. Gassler developed the technology while in eighth grade.
"She, along with the entire Class of 2019, are already leaders in their fields of science, technology, engineering and mathematics (STEM)," said Paula Golden, president of the Broadcom Foundation. "These young innovators give every one of us hope for the future."
The Broadcom MASTERS competition is a project of the Society for Science & the Public. The term MASTERS is short for Math, Applied Science, Technology, and Engineering for Rising Stars. The program was set up to motivate young people to attend college and pursue careers in STEM fields.
Many schools across the country have increased classes in STEM subjects. The Broadcom MASTERS was open to students in grades 6, 7 and 8 across the country. In the spring, around 80,000 students competed in about 300 science fairs sponsored by the Society. Only ten percent of those students then go on to compete at the finals in Washington, D.C.
Thirty finalists took home more than $100,000 in awards and prize money. The winners were honored for their STEM successes, as well as for demonstrating skills in critical thinking, communication, creativity and team-work.
This year, all the major awards in the competition went to girls.
The top prize winner, Aliana (Ah-lane-ah) Gassler, says she got the idea for her project after seeing her mother struggle with blind spots in her family's car. Blind spots lead to many accidents — about 840,000 accidents a year nationwide.
Gassler's system helps drivers see "through" the A-frame pillar — the part of the vehicle, in the front, that joins the top and front window. The A-frame pillar is important for safety, and cannot be removed. Gassler used a camera to help drivers look "through" the structure to see what is blocked. The camera sends video to a device that shows images on the other side of the pillar. The driver then can "see" what's in the blind spot.
Gassler said that when she heard her name called as the winner, "it was so unexpected."
The young inventor won a $25,000 prize for her invention. She told Popular Mechanics she can make improvements on her device with that money. Gassler said she wants to improve the picture — making it easy to see in any weather, or time of day. She also told the magazine she hopes to sell her idea.
Here are the other top winners. The 14 year olds each received $10,000 for their projects.
Rachel Bergey, (Bergee) of Harleysville, Pennsylvania, won the Lemelson Award for Invention. The Lemelson Foundation gives it to a student who creates promising solutions to real-world problems. Bergey developed a trap to capture the Spotted Lanternfly, a non-native species causing damage to trees in Pennsylvania. She got her idea when she was climbing on her favorite tree at her family's farm.
Sidor (CIDER) Clare, from Sandy, Utah, won the Marconi/Samueli Award for Innovation. She developed bricks that one day could be made on the planet Mars. That way, astronauts would not have to bring building materials with them when they set up structures on the red planet. She says she will use her money for college.
Alexis MacAvoy from Hillsborough, California, won the Robert Wood Johnson Foundation Award for Health Advancement. It recognizes the student whose work shows the most promise in health-related fields, and an understanding of how social issues affect health. MacAvoy designed a water filter using carbon to remove heavy metals from water.
Lauren Ejiaga who lives in New Orleans, Louisiana, won the STEM Talent Award. It is given to a student for demonstrating excellence in science, technology, engineering or math, along with the leadership and technical skills necessary to excel in the future. Ejiaga studied how certain kinds of light from the sun affect plant growth and performance. DoD STEM, a program of the U.S. Defense Department, presented the award.
The Broadcom MASTERS winners were among 30 finalists -- 18 girls and 12 boys. They were chosen from 2,348 candidate students in 47 states. A group of scientists, engineers and educators selected the winners. Each finalist's middle school will receive $1,000 from the Broadcom MASTERS to support the school's science program.
I'm Anne Ball.
And I'm Bryan Lynn.
Anne Ball wrote this story, with information the Associated Press and Popular Mechanics. The editor was George Grow.
What do you think of this story? Write to us in the comments section below.
Quiz - US Girls Take Top Science Prizes
Start the Quiz to find out
Words in This Story
innovator – n. a person show does something in a new way
pursue – v. to follow or continue
sponsor – v. to provide support for; to finance
pillar – n. a large pole or structure that helps to hold something up something
brick – n. building material used to set up structures and sometimes to make streets, or paths
filter – n. a device that is used to remove something unwanted from a liquid or gas that passes through it
excel – v. to be better than others
.......................................................................
Dead for 64 Years, James Dean to Star in New Film
FILE PHOTO: A portrait of U.S. actor James Dean hangs from a fence near the intersection of Highways 46 and 41 near Cholame, California September 30, 2005.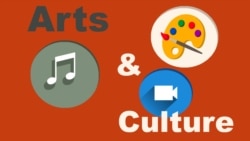 American actor James Dean has been dead for 64 years. The star of Rebel Without a Cause died at the age of 25 in September 1955. Yet, he will star in a new movie about the Vietnam War thanks to digital technology.
The makers of the movie "Finding Jack" announced this month that they plan to use computer-generated images of James Dean in the film. The images will come from old film clips and pictures of Dean. Another actor is to provide the voice.
Other movies have had digitally created performances by dead actors, but most of them had already played parts in the film, like Peter Cushing. He first appeared in the very first Star Wars film. Cushing died in 1994. Yet images of him were digitally recreated for the 2016 Star Wars film Rogue One.
The idea that one of the movies' most beloved former stars would be recreated digitally for a new film has been met with criticism. Captain America actor Chris Evans called the plans to use Dean's image in the film disrespectful and wrongheaded.
"Maybe we can get a computer to paint us a new Picasso. Or write a couple new John Lennon tunes," said Evans on Twitter.
The Hollywood Reporter was the first to report the news.
The producers of Finding Jack got the rights to Dean's likeness through CMG Worldwide. The company represents Dean's family as well as the intellectual property rights of many other famous people who are dead. They include astronaut Neil Armstrong, and the actors Bette Davis and Burt Reynolds.
Mark Roesler is the chairman and chief executive of CMG. He defended the decision to use images of James Dean. He said the company has represented the actor's family for many years. Noting that Dean has more than 183,000 followers on Instagram, Roesler said he is still important today.
Postal and film industry officials view the unveiling of the new James Dean stamp at a ceremony, June 24, 1996 on the lot where Dean filmed "East of Eden" and "Rebel Without a Cause," at Warner Bros. Studios in Burbank, Calif.

"James Dean was known as Hollywood's 'rebel' and he famously said 'if a man can bridge the gap between life and death, if he can live after he's dead, then maybe he was a great man,'" Roesler said. "What was considered rebellious in the '50s is very different than what is rebellious today, and we feel confident that he would support this modern day act of rebellion."
Finding Jack is about the U.S. military's decision to leave behind the dogs that had aided soldiers when the Vietnam War ended. The story is based on the book written by Gareth Crocker.
Anton Ernst and Tati Golykh are the film's directors. In an email, Ernst said they respect Dean's life and history.
The movie "is one of hope and love," said Ernst. "There is still a lot of James Dean's fans worldwide…there would always be critics, and all we can do is tell a great story with humanity."
Ernst added that the Dean family "views this as his fourth movie, a movie he never got to make. We do not intend to let his fans down."
Dean starred in just three movies before he died in a car crash. They are Rebel Without a Cause, East of Eden and Giant.
I'm Susan Shand.
The Associated Press reported this story. Susan Shand adapted it for VOA Learning English. George Grow was the editor.
Write to us in the Comments Section or on our Facebook page.

.....................................................................
6 Minute English
INTERMEDIATE LEVEL
Snowflakes and taking offence
EPISODE 180920 / 20 SEP 2018
The word snowflake has taken on a new meaning in recent years. These days it's used as an insult. It's used to criticise people or groups that are seen to be very easily offended or upset by things that others say. Rob and Neil discuss what it takes to be offended in just 6 minutes!
This week's question:
In which year was snowflake one of Collins Dictionary's words of the year? Was it…
a) 1996
b) 2006
c) 2016
Listen to the programme to find out the answer.
Vocabulary
offensive
(something) rude, insulting and makes people feel hurt and upset
take offence
get upset or angry by something thought to be rude or insulting
snowflake
person who gets offended too easily and unnecessarily
invoke
use (something) to support your point or explain your action
call something out
challenge, highlight and look for justification for something
taboo
something that society says is offensive and shocking
Transcript
Note: This is not a word for word transcript
Neil
Hello. Welcome to 6 Minute English, I'm Neil.
Rob
And I'm Rob.
Neil
Rob, would you say that were a snowflake?
Rob
Wow, I can't believe you said that, that's so offensive. How could you be so rude?
Neil
So I guess that's a yes then? Sorry, I only asked.
Rob
Don't worry, I wasn't really upset, I just wanted to demonstrate the meaning of the word. The word snowflake has taken on a new meaning in recent years. These days it's used as an insult. It's used to criticise people or groups that are seen to be very easily offended or upset by things that others say.
Neil
There is usually a political side to it too, isn't there?
Rob
Yes, people who use the word snowflake tend to be from the political right and they usually use it about those on the political left, particularly millennials - young, socially aware adults.
Neil
Well we'll explore this topic in more detail shortly, but first a quiz question. In which year was snowflake one of Collins Dictionary's words of the year? Was it…
a) 1996
b) 2006
c) 2016
Rob
Well, we said it's quite a recent word so I'm going for c) 2016.
Neil
Well, we'll find out if you're right later on in the programme. The topic of offence is a very complicated one. First what do we mean by offence Rob?
Rob
Thanks for that. That is a really difficult question. Something that is offensive is rude, insulting and makes people feel hurt and upset. What's difficult about it though is that we don't all find the same things offensive. Some people can be deliberately offensive and some people may be offensive without meaning to be.
Neil
Also, different people respond to offence in different ways - some accept it as the price of free speech and some try to stop the people they think are offensive from saying the things they do.
Rob
These terms come up quite a lot in discussions about equality, race, religion and of course, politics.
Neil
The topic was discussed in detail in the BBC Radio programme Sweet Reason. Evan Davis presented the programme and here is the first part of his summary of the discussion. What does he say is the reason some people talk about offence?
Evan Davis
First, on occasion, people probably do invoke offence when really they just have a political disagreement and on occasion groups that suffer discrimination or exclusion perhaps find it exhilarating or uniting to call out that discrimination.
Neil
He says that some people take offence when it's just a political disagreement. He says they invoke offence.
Rob
If you invoke something it means that you use it to support your point or explain your action. So to invoke offence is to say that we are acting this way because we are offended by what you have said, although the offence may only be a political difference rather than something truly offensive.
Neil
Davis goes on to say that groups that do suffer from discrimination may get some feelings of unity when they call out discrimination. They feel more together when they publicise and highlight the discrimination they have experienced. Even though some offence that is taken may not be genuine, that doesn't mean people don't have a right to be offended. Here's Evan Davis again.
Evan Davis
Where the so-called snowflakes surely have a point is this, societies are entitled to make certain things taboo and the millennials use of the word offensive is simply designed to say some views are not just wrong they are in a special category of wrong.
Rob
His point here is that societies can decide that certain things are taboo. In this context something that is taboo is something that is regarded by society as being shocking and offensive and that it is OK for people to be offended by these things.
Neil
And I think the point he makes is a good one. The word snowflake is usually used as an insult - but some people may feel proud to be a snowflake because it means they are standing up for a particular standard, they have a level of decency and social responsibility that is higher than that of those who are calling them snowflakes.
Rob
Well I hope we haven't caused any offence today. Before we review the vocabulary, can we have the answer to today's question Neil?
Neil
Of course, I asked in which year was snowflake one of Collins Dictionary's words of the year? Was it…
a) 1996
b) 2006
c) 2016
Rob
And I said c) 2016. It's got to be right!
Neil
Well, do you want to hear the story? Interestingly the term was coined in 1996 in the book Fight Club, but it was in 2016 that it was one of the dictionary's words of the year. Now let's review our words of the day. First there is offence.
Rob
People can take offence and be offended by something that is offensive. Something that is offensive could be rude, insulting and shocking. It might take the form of humiliation or discrimination against a person or group.
Neil
The term snowflake is a word used by some people to talk about other people who they think get offended too easily and unnecessarily. They don't want to change their language or ideas just because snowflakes get upset. Then we had the word invoke. If you invoke something you use it as a reason to explain your actions and feelings
Rob
To call something out is to challenge it, to highlight it and look for justification.
Neil
And finally we have taboo. Something that society says is offensive and shocking. So there we have it. What do you think Rob of this topic.
Rob
Well it is a very difficult subject, particularly when it comes to politics, religion and society. Free speech is good but at times, particularly on social media, I think can be unnecessarily unpleasant.
Neil
Well, try not to be offended but it is time for us to leave you for this programme. Do join us next time. Remember you can find us on Instagram, Facebook, Twitter, YouTube and of course our website bbclearningenglish.com. And of course, we have a new app which you can find on our website. It's free and it's brilliant isn't it Rob?
Rob
Absolutely!
Neil
See you soon, bye.
Rob
Bye!
........................................................................
Temperature drops in upper Thailand, South sees rain
Nov 13. 2019
By THE NATION
758 Viewed
Another rather strong high-pressure system from China will cover upper Thailand from November 13 to 15 bringing occasional thundershowers followed by cooler weather and strong winds, the Thailand Meteorological Department forecast on Wednesday (November13).
The North and Northeast will see temperatures decrease by 2-5 °C while in the Central and the East, they will drop by 2-4 °C. it will be cold to very cold on mountaintops with minimum temperature of 7-12 °C. Morning fog will blanket the upper part of the country so caution is advised while driving. The northeast monsoon prevails across the Gulf and the South and isolated thundershowers remain in the lower South.
The weather forecast for the next 24 hours is as follows:
Northern region: Cool weather and fog in the morning with thunder showers in 10 per cent of the area, temperature lows of 20-22 degrees and highs of 32-36 degrees Celsius. Temperature likely to drop to 8-13 degrees on hilltops.
Northeastern region: Cool and cloudy weather in the morning with thunder showers in 20 per cent of the area, temperatures lows 18-23 degrees and highs of 28-34 degrees Celsius. Temperature likely to drop to 9-14 degrees on hilltops.
Central region: Cloudy and fog in the morning with thunder showers in 10 per cent of the area; temperature lows of 22-23 degrees, highs 33-35 degrees Celsius.
Eastern region: Cloudy and fog in the morning with thunder showers in 10 per cent of the area; lows 23-24 degrees, highs 33-35 degree Celsius; wave height 1 metre.
Southern region (east coast): Partly cloudy with thunder showers in 30 per cent of the area; lows of 22-24 degrees, high 31-34 degrees Celsius; wave height 1-2 metres, increasing to 2 metres during storms.
Southern region (west coast): Partly cloudy with thunder showers in 30 per cent of the area; lows 23-24 degrees, highs 32-33 degree Celsius; wave height 1 metre, increasing to 1-2 metres during storms.
Bangkok and surrounding area: Cloudy and fog in the morning with thunder showers in 10 per cent of the area, temperature lows of 24-25 degrees, highs 33-36 degrees Celsius.
.................................................................
Third phase of 'Eat Shop Spend' scheme approved, offering 20% cashback
Nov 12. 2019
By The Nation
2,260 Viewed
The Cabinet today (November 12) approved the third phase of 'Eat Shop Spend' scheme, offering 20 per cent cashback and giveaway of Bt1,000 vouchers, said Finance Minister Uttama Savanayana.
The new phase, intended as another stimulus to the economy, will start on Thursday( November 14), he added.
However, there will be no giveaway of 1,000 vouchers to the first wallet as in the first two phases. Users will have to top up for their spending to be eligible for the cash-back reward. For purchases under Bt30,000, users will receive 15 per cent cashback, while the portion exceeding Bt30,000 will be rewarded with 20 per cent cashback.
There will also be adjustments to the location regulation, limiting the areas of shopping for users. For instance, they could no longer enjoy the privileges in their hometowns as in the previous phases.
Registration for the third phase of the scheme is scheduled from November 14 to January 31, 2020.
........................................................................
Kaeng Krachan Park ex-chief, 3 others turn themselves in to fight allegations in 'Billy' murder case
Nov 12. 2019
By The Nation
2,058 Viewed
Former superintendent of Kaeng Krachan National Park Chaiwat Limlikhitaksorn and three "accomplices" with arrest warrants by the Criminal Court surrendered to the Department of Special Investigation (DSI) on Tuesday morning (November 12) in the murder case of Karen activist Porlajee "Billy" Rakchongcharoen.
Billy
was last seen at Kaeng Krachan National Park in Phetchaburi province on April 17, 2014, when he was apprehended by Chaiwat and three of his men for allegedly collecting wild-bee honey illegally. A piece of skull proven to belong to Billy was found in a submerged oil drum near a bridge leading to Kaeng Krachan Dam in April 2019, leading to the issuance of arrest warrants against the four.
The three men are Boonthaen Bussarakham, Thanaseth, or Phaitoon Jaemthes, and Krisanaphong Jitthes.
The four were immediately ushered into the DSI's investigation room upon their surrender.
Chaiwat told the press before meeting the investigation officer that he and his men would fight the allegation in the murder case and that they have no intention to abscond.
"I am a government official who devotes my life to the protection of the national park," he said. "However, this allegation has tainted my name and seriously affected my family, while news outlets have made me a bad guy on social media. Therefore, I will fight everyone who accuses me, no matter who they are, as long as I am still standing."
..................................................................
FINISHED
November 13, 2019