Cameron choke valve – flow control industry standard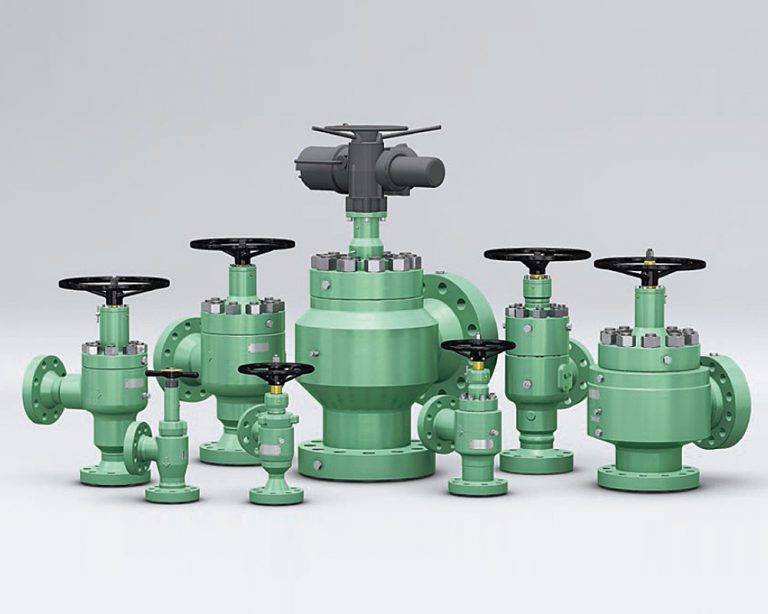 Cameron's choke valve is designed to provide precise flow control throughout their entire operating range, with a well-proven track record in the field :

Overview – Control Choke valve
Cameron's control choke valve is designed to provide precise flow control throughout their entire operating range, with a well-proven track record in the field :
- Control choke valve is suitable for a wide variety of applications, including production, injection, artificial lift, flowback, storage, etc.
- Commonly installed on Christmas trees, manifolds, line heaters, offshore platforms, FPSOs, and other equipment, providing precise flow control under severe service conditions.
- Available with plug & cage, external-sleeve or multistage trim types.
- Multiple flow characteristics, including 'linear' or 'equal percentage', with special trim solutions available in response to specific challenges.
- Special trim solutions include ultra-low Cv, low noise, and well cleanup types.
- Control chokes offer a complete solution from startup to late life conditions, with the flexibility to easily retrofit various trim types as conditions evolve.
- Available in manual and actuated configurations, including multiple actuator types.

Application of Cameron's Control Choke Valve
- Selection of the correct trim size and type is vital to the successful and reliable operation of a choke. Cameron offers a computer-based choke sizing program to optimize choke sizing and selection for you.
- Based on flow and pressure requirements of the application, the program analyzes and specifies the optimal choke size and trim configuration.
- Features of the program include
- capability to size a large number of chokes and flow conditions
- modular sizing program structure that enables the addition of new choke and choke trim data updates as needed
- graphics capabilities
- project worksheet and Cv curve printouts
- choke sizing per ANSI/ISA S75.01 specifications
- flow testing per ANSI/ISA S75.02 specifications
- noise prediction and testing per ANSI/ISA S75.07 specifications.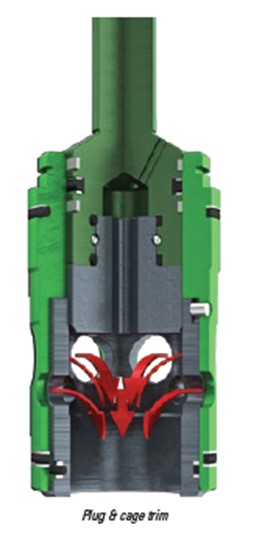 External Sleeve Control Choke for low-capacity, high-pressure-drop applications
- The external sleeve control choke has a sleeve that throttles the flow on the external diameter of the ported cage. The external sleeve trim is particularly suited for low-capacity/high pressure-drop applications. The external sleeve is designed specifically for severely erosive service where the combination of high pressure drops and high sand concentrations can reduce the life of a choke.
- Available in various sizes ranging from CC15 to CC80 choke models.
- Tungsten carbide-lined external sleeve and solid tungsten carbide cage/seat provide optimum wear resistance in erosive conditions.
- Metal body-to-bonnet gasket for absolute pressure containment.
- Reverse angle external sleeve improves flow dynamics within the trim.
- Self-flushing, pressure-balanced ports reduced stem loads and actuator output requirements.
- Heavy-duty thrust bearings reduce operating torque.
- Pressure-balance seals are a key feature of the pressurbalanced trim arrangement, reducing operating forces and enabling greater ease of adjustment.

Features
- Large visual indicator provides position in 1/64 in (bean) as standard.
- External grease port lubricates threads and bearings.
- Stem lock maintains set position.
- Bleed plug assembly vents pressure before disassembly.
- Antirotation key translates rotation from the drive bushing into linear movement of the lower stem/flow plug assembly.
- Two-piece stem is threaded and locked, and is removed from wellbore fluids.
- Large annulus area reduces the risk of body and trim erosion caused by high velocities.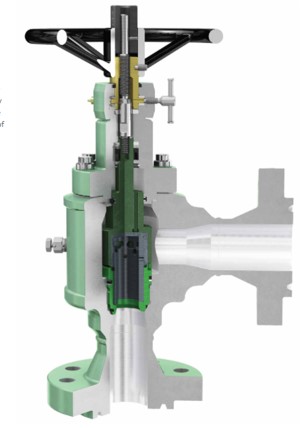 All control chokes are available in manually operated or actuated models. Custom-designed trim components to suit a wide variety of Cv capacities and flow characteristics also are available

Plug & Cage Control choke
- The plug and cage control choke uses the plug as the controlling element and throttles the flow on the internal diameter of the ported cage. The ports in the cage are sized and arranged to give the most appropriate combination of control and flow capacity for each application.
- A major consideration when sizing the choke is the ability to closely manage well startup while optimizing capacity toward the end of well life to maximize production.
- The plug and cage design is highly optimized and incorporates the largest-possible flow area, making it ideal for high-capacity applications. Plug and cage chokes also are constructed with a solid tungsten carbide plug tip and inner cage for extended resistance to erosion. These valves may further be configured with a solid tungsten carbide wear sleeve in the outlet of the body to provide enhanced protection in sandy service.

This trim also includes a thick metal outer cage to ensure maximum protection against solid impacts from debris in the flow. The combined result is a versatile, robust, erosion-resistant trim with suitability for a broad range of challenging applications.

- Available in various sizes ranging from CC15 to CC80 choke models.
- Tungsten carbide plug tip in conjunction with solid tungsten carbide cage optimizes wear resistance in erosive conditions.
- Metal body-to-bonnet gasket for absolute pressure containment.
- Fully guided plug reduces side loading and vibration.
- Self-flushing, pressure-balanced ports reduce stem loads and actuator output requirements.
- Heavy-duty thrust bearings reduce operating torque.
- Pressure-balance seals are a key feature of the pressure-balanced trim arrangement, reducing operating forces and enabling greater ease of adjustment.
- Metal outer cage protects from impact damage.

The control choke model
CC15 Control Choke Valve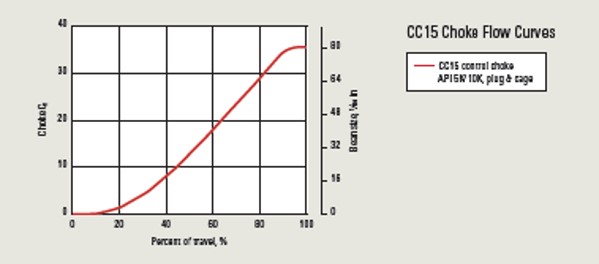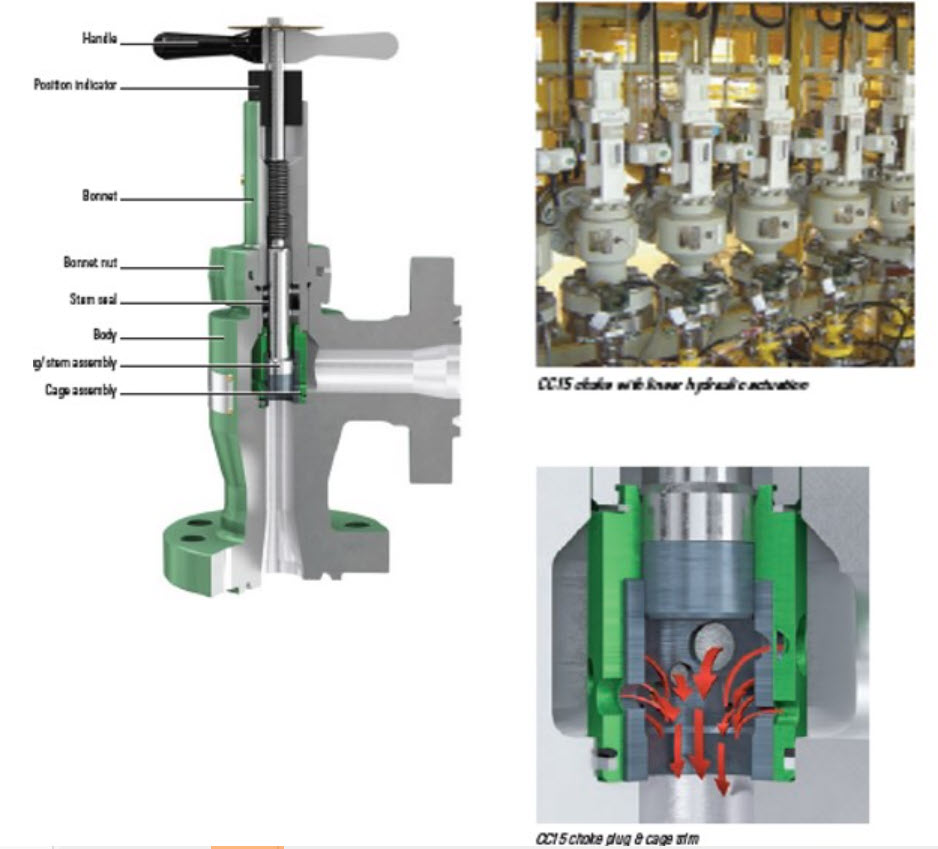 CC20 Control Choke Valve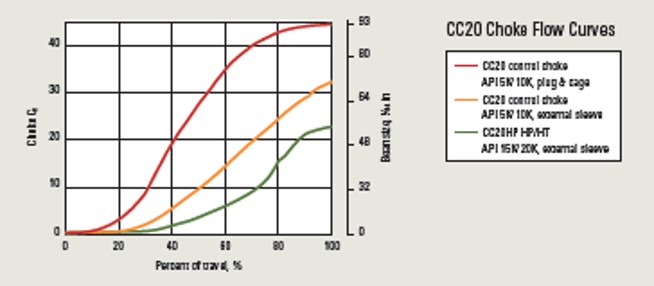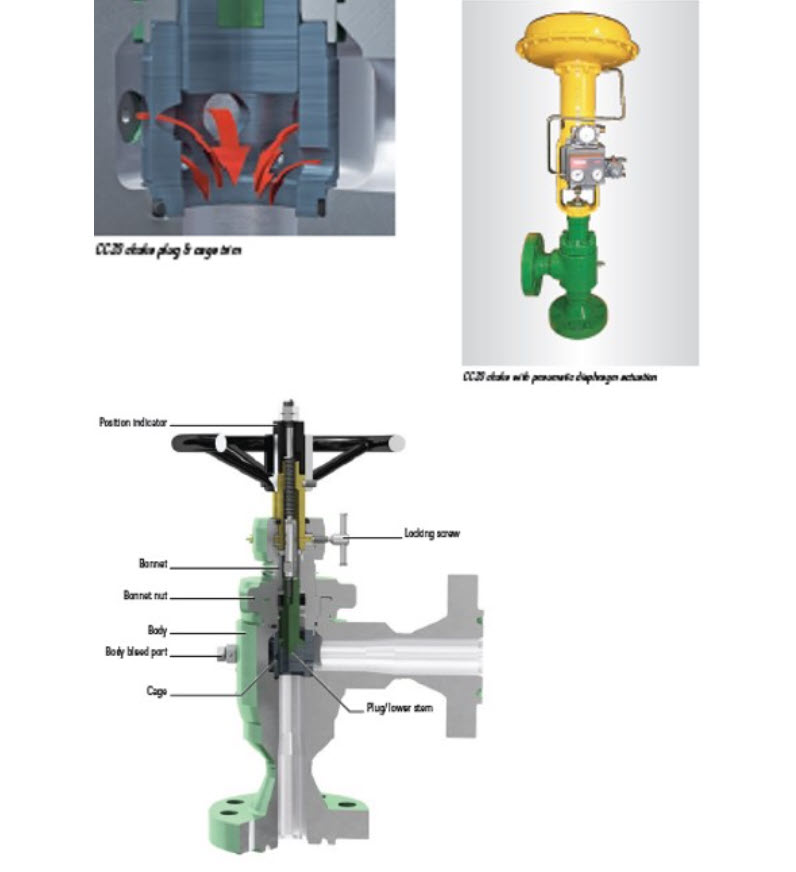 CC30 Control Choke Valve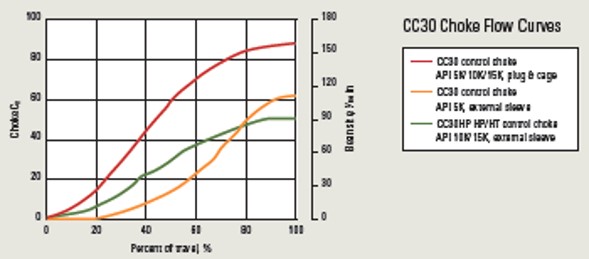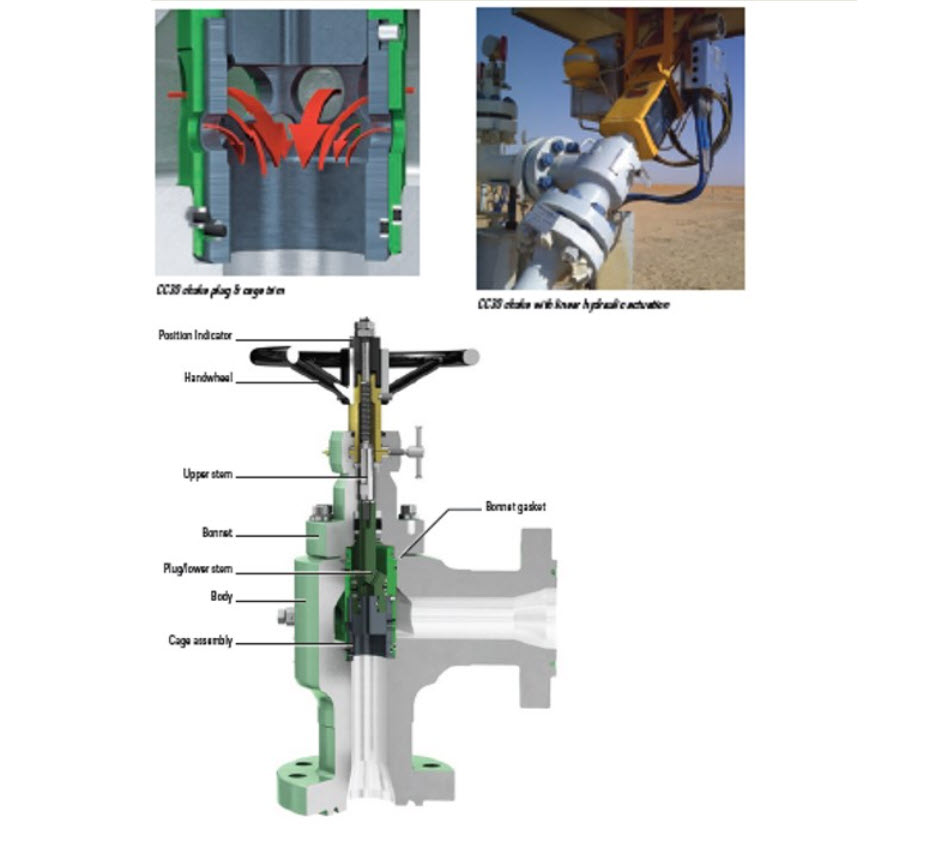 High Temp and High Pressure Application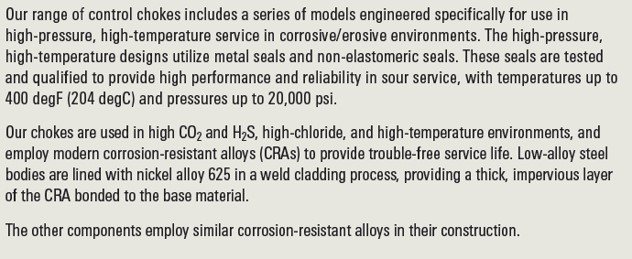 https://www.gmsthailand.com/product/cameron-control-choke-valve/